KATE GORDON '94 BRINGS AN "ASTUTE POLICY MIND" TO CLIMATE-CHANGE ECONOMICS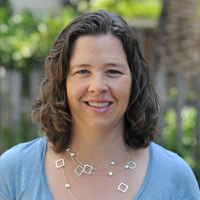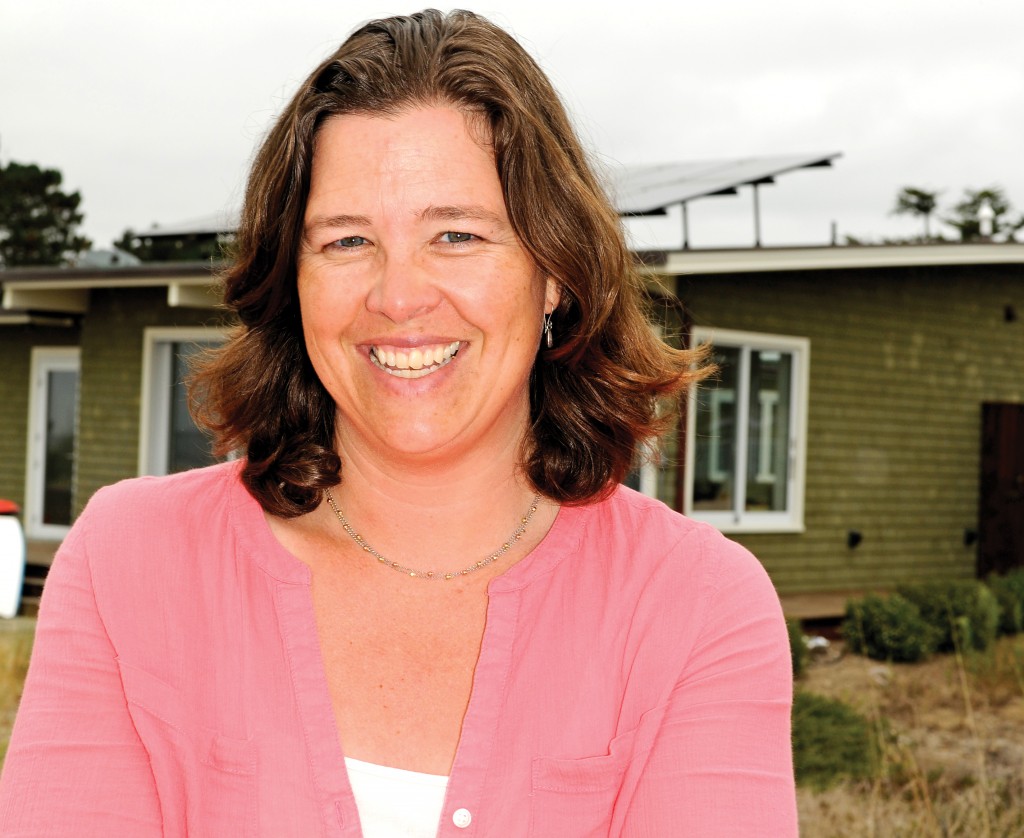 By Andrew Faught
The November 2012 World Bank climate report carried a calamitous message: By the end of the century, unchecked global warming could drive up Earth's temperature by 39 degrees Fahrenheit, triggering a "cascade of cataclysmic changes" not limited to epidemic heat waves, flooding, and malnutrition.
"It essentially said everything will burn," Kate Gordon '94 recalls of the findings in Turn Down the Heat. "It wasn't very helpful for those of us who are actually trying to do something about it. In my experience, getting too apocalyptic turns people off."
The paper was one of a stream of dire reports that inspired Gordon, then senior VP and director of the Energy & Climate program for the nonpartisan San Francisco think tank Next Generation, to develop a climate change assessment in a collaboration with a bipartisan group of political leaders—including former New York Mayor Michael Bloomberg; investor-turned-climate-activist Tom Steyer; and erstwhile Treasury Secretary Henry Paulson Jr.
The result was Risky Business, released with considerable media fanfare in June 2014 as a thorough assessment of climate change risks in the United States on a regional basis—in some areas, county by county. The report, which was based on models developed by Rhodium Group and RMS, noted that millions of homes along the nation's coasts might flood repeatedly, that the Corn Belt might suffer as farming shifts northward, and that construction and tourism industries could be disrupted by dangerously high heat and humidity.
The Wall Street Journal reported that the study authors were seeking to depoliticize the climate-change debate and frame it as an economic risk to U.S. businesses.
"People had been talking about climate change as a risk issue, but no one had done the underlying research on what the risk looked like at a granular level in parts of the country and sectors until our report," says Gordon, who was the project's executive director. "We wanted to break down the risks, identify them, and start talking about what to do with them."
In its use of risk as the appropriate lens for viewing climate change, Risky Business adopted an approach first introduced in 2007 by the Intergovernmental Panel on Climate Change (IPCC), says Gary Yohe, Huffington Foundation Professor of Economics and Environmental Studies, who has been instrumental in bringing risk to the forefront through his participation and leadership in the IPCC. Since then, states and urban areas have adopted this approach, as well as the National Academy of Sciences and the National Climate Assessment of the United States (Yohe participated in the NAS study and was vice chair of the Climate Assessment).
"Risky Business was the first to try to add it all up for the United States," he says. "They were careful and did their own analysis, and they worked with some of the most influential people in the country. They were constrained by existing analytic and data limitations and, if anything, their estimates are low."
Gordon has been helping to drive the conversation about climate change for more than 15 years, including during her three years as vice president for energy policy at the Center for American Progress (CAP), another environmental think tank. A nationally recognized energy and climate analyst, Gordon works at the nexus of economic and environmental issues in the United States, calling for clean energy alternatives to coal, which scientists say is the top cause of global warming.
Her writings, including the biweekly blog "Kate's Cliffnotes," have a national following, and she's twice testified before Congress on energy and the environment. The Wall Street Journal publishes her musings as one of its "energy experts."
"You can't have sustained economic growth and prosperity without having a low-carbon and resilient economy at this point," Gordon says. "It has been cheap for a long time to use fossil fuels to drive the economy. We're realizing now that while they created some impressive growth, it came at a cost."
In June, Gordon started work as vice chair of climate and sustainable urbanization for the Chicago-based Paulson Institute, a think tank that promotes sustainable growth and environmental protection in China and the United States. The countries account for 40 percent of all global greenhouse gases, industrial emissions that contribute to global warming.
Her charge: combine the institute's air quality, climate, and urbanization work into a single comprehensive program that focuses on sustainable economic growth in both countries. Paulson, who founded the institute in 2011, calls Gordon "an extremely effective leader."
"With Kate's sophisticated understanding of political process and pragmatic approach to promoting change, we hope to build even stronger foundations for this important work," he says.
To illustrate the challenge, authors framed their findings as if they were part of a business' cost-benefit analysis, "looking at the global costs and benefits of addressing climate change, or not addressing it," Gordon says. "That's what the financial sector does every day."
The report doesn't promote solutions, but it has served as a valuable tool for policy-makers. It also helped add to Gordon's renown. Campaigns & Elections magazine named her among the top 50 "influencers to watch ahead of the 2014 election cycle." Those who know her say that Gordon is highly skilled at creating consensus on an issue, even one as fractious as the climate.
Says Tom Kenworthy, a former senior fellow and member of the CAP energy team that Gordon oversaw: "The energy team was kind of a difficult collection of personalities at the time. Kate had the personal characteristics to work well with everybody. Often when people are as smart as she is, they are not all that collaborative."
"Kate brings an astute policy mind to the conversation," adds Susan Frank, president and chief operating officer of Better World Group, a California firm that provides strategy and coalition management around environmental issues. "She brings experience and understanding to moving policies forward and bringing people along."
It's a skill she developed at Wesleyan, where, as an American studies major, Gordon became fascinated with economic development and housing inequality, topics she studied in courses taught by Rob Rosenthal, John E. Andrus Professor of Sociology.
Further, Gordon's American studies coursework required ample critical studies and deconstruction of texts, "thinking about what a reader brings to a text that isn't entirely what the author intended." The experience, unbeknownst to Gordon at the time, would inform her later climate work.
"This was important to me because it feeds into this very strong view I have of starting with where people are and really understanding what biases they bring to a situation when trying to figure out how to talk to them," she says. "Wesleyan was definitely the beginning for me of thinking about the structures of society and how they work together."
Gordon went on to earn a master's degree in city planning and a law degree from the University of California, Berkeley, where she now lives. She occasionally can be found at Ben & Nick's bar ("it's got really good Wi-Fi") in nearby Oakland, where she's been known to pen "Kate's Cliffnotes" over a glass of Tempranillo. "If I'm not there, then I'm somewhere drinking an insane amount of coffee," she quips.
Her writing focuses on California's efforts to become a world leader in clean energy development, while also discussing economic policy in the United States and China. The 6,000 subscribers to the blog include policymakers and members of the media, as well as representatives from nongovernmental organizations.
In Gordon's role at the Paulson Institute, she travels three times a year to China, a country she says is making a major commitment to green energy. China also has pledged to peak its carbon emissions by 2030. In the United States, a political divide has thwarted the adoption of a national climate policy in Congress (in August, President Obama announced a broad plan to cut carbon emissions) but Gordon says there are "cool, innovative state and local solutions for people on the front lines who are actually doing something about it."
California's so-called Climate Change Scoping Plan, for example, seeks to expand and strengthen energy efficiency programs, while also making renewable energy account for one-third of all energy used in the state by 2020.
"I think China can actually teach the U.S. a lot about how to articulate these big goals and move forward in a really significant way," Gordon says. "And I think the U.S. can teach China a lot about how to allow for bottom-up innovation and local action on these issues."
Look for Gordon at the head of the class. — Andrew Faught
Andrew Faught is a freelance writer in central California. He has written widely on issues and ideas of higher education.