MESSAGE FROM THE CHAIR: JOIN A WESLEYAN PROFESSIONAL NETWORK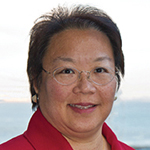 What is the first word that comes to mind when you think about our Wesleyan Alumni Network? For me, that word is "indispensable!"
Whether you are a Wesleyan undergraduate looking for an internship, a recent graduate seeking to advance your career, or a seasoned professional exploring a career transition, Wesleyan's network of more than 30,000 alumni is ready to support you!
Are you taking full advantage? I hope so. I certainly am!
The Wesleyan Professional Networks provide a platform for alumni within an industry to gather, share best practices, and discuss emerging trends, while also offering guidance and support to current students and recent graduates.
Currently, four Professional Networks operate under the Alumni Association umbrella: the Wesleyan Lawyers Association (WLA), Wesleyan Alumni in Philanthropy and Public Service (WAPPS), Digital Wesleyan (DigitalWes), and Wesleyan Alumni in Finance, Banking and Investment-Related Careers (WesFAB).
Interest and demand for additional professional networks has inspired plans to launch three new groups within the coming year: the Education Professional Network, the Real Estate Professional Network, and the Wesleyan Women's Professional Network.
The charter for these groups is simply to provide regular programming and networking opportunities for alumni, meaningfully connect with students, and give back to our alma mater. How do they do this? Facilitating beneficial alumni connections is just one example. For instance, in June alone, both WesFAB and Digital Wesleyan hosted successful networking receptions in New York City, bringing together alumni of all ages and stages. The networks also support undergraduates by sharing expertise, facilitating internships, and providing WEShadow opportunities that give all students a chance to explore career paths by shadowing a Wesleyan alum or parent during winter break.
How can you join?
If you work in one of these industries, and Wesleyan has your current employment information, you are already in the network! But the success of the network is dependent on your active participation and leadership. Don't underestimate the immeasurable impact your collective expertise, knowledge, creativity, and insights can have on fellow alumni and Wesleyan students!
I encourage you to seek out the LinkedIn group aligned with your interests (you can find them under the Wesleyan University Alumni Association page) and I hope you will become an active participant to help us expand these networks.
Together we can support each other and ensure the success of future generations of Wesleyan alumni!
Daphne Kwok '84
Chair, Wesleyan Alumni Association