PUTTING LIBERAL EDUCATION TO WORK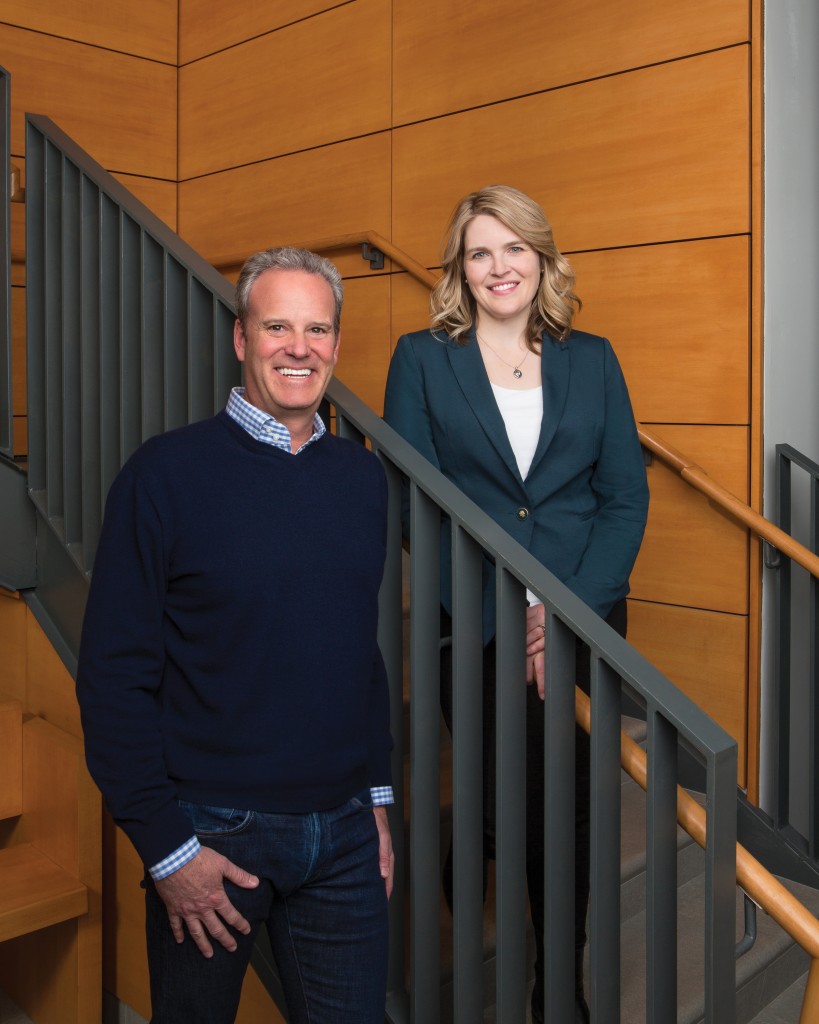 It's nearing 5:30 p.m. on a mild Friday evening in late January, but weekend relaxation is not on the minds of a group of about 20 Wesleyan students. For the past 90 minutes they've been listening intently to a presentation by a panel of Deloitte employees and peppering them with questions.
Stephen Thompson '95, a senior manager and eight-year veteran of Deloitte, is leading the company panel, which includes three newly minted Wesleyan alumni and a current student who recently completed a summer internship at the prestigious consulting firm. Deloitte hired five members of the class of 2015, including one who had interned the prior summer, making Wesleyan one of the firm's favorite stops in the search for potential employees. The younger members of the panel are all, by their own admission, Type A personalities: enthusiastic extroverts who field questions articulately and with gusto. In short, just the sort of people you would want representing your firm.
The path to an internship with Deloitte is not a simple one, and students who hope to land a position with the firm benefit both from the ability of the Gordon Career Center to arrange sessions such as this one and from the center's guidance in helping with follow-through.
"It's a way of leveling the playing field for students who don't have family connections that can help them secure great jobs—in consulting or in any other field," says Barbara-Jan Wilson, vice president for university relations. "The Gordon Career Center can prepare students to compete successfully for the most highly sought-after internships and jobs."
The center connects students with an extensive variety of employers from large corporations to small nonprofits. Some of the top employers last year were the consulting firm Booz Allen, Teach for America, the high-tech Epsilon (an Alliance Data company), Citigroup, and Epic (healthcare software). The center supports students interested in fields as diverse as data analytics and entertainment and has a strong advising program for those interested in healthcare or legal professions. Lately, it has been enhancing its support of the many students interested in business, including finance and consulting. It has also been increasing its outreach to academic departments, athletic teams, and student groups, an effort spearheaded by Persephone Hall, associate director for career development and campus outreach.
Today's event is taking place in the Gordon Career Center, which will be formally dedicated during Reunion & Commencement Weekend in honor of Andrew Brandon-Gordon '86, a participating managing director at Goldman, Sachs & Co. in Los Angeles. Gordon, also a Wesleyan trustee, has supported students with generous gifts to financial aid, and he is a firm believer in the benefits of career advising.
"This is a leadership-skills building," he says. "We want Wesleyan graduates to be leaders in whatever they do, and the career center is crucial to their development. It's where you can work on your skills and make mistakes before meeting with potential employers."
Gordon is quick to underscore that the education offered by the career center is situated within a larger educational context at Wesleyan. The center helped him step into a Wall Street job, but it was a class offered by Dick Miller, professor of economics emeritus, that provided him with a seminal moment when, responding to an assignment to write his own eulogy, he thought deeply about the importance of giving back. And an art history class led by John Paoletti, professor of art history emeritus, gave his life an added dimension that eventually led him to serve as chair of the board at the Los Angeles County Museum of Art.
The center's move in 2012 from the outer reaches of campus to the remodeled former squash building on College Row (now Boger Hall) produced a more than 50 percent surge in undergraduate traffic.
"Whether or not they walk through the door, students cannot avoid seeing us," says its director, Sharon Belden Castonguay.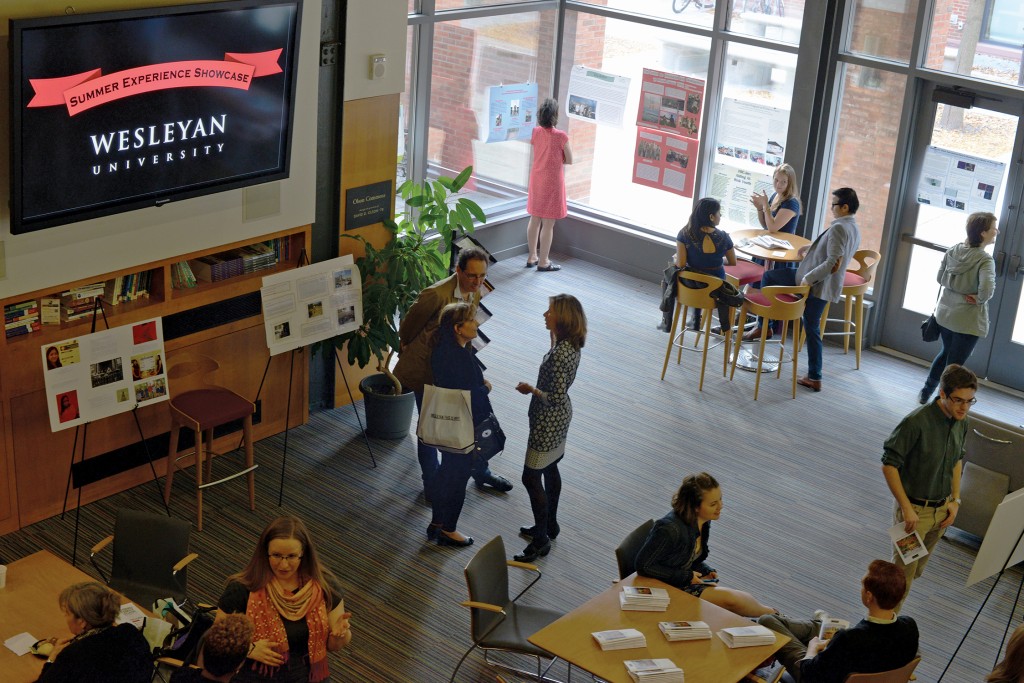 The building's interior design is spacious and contemporary, with leading-edge technology for presentations and teleconferencing. The intent, says Castonguay, is both to make a statement about the importance of career planning and to offer visiting companies a well-appointed professional setting. An exterior wall of glass encloses the central meeting area. While the Deloitte team is presenting with the aid of a state-of-the-art big screen, anyone walking by can see that the center is humming with activity.
All students are welcome at the career center. Castonguay runs a Careers by Design seminar every January geared toward students who need to take a deep dive into who they really are and what they really want before the subject of potential careers can usefully be broached. The weeklong intensive course brings in concepts from human-centered design, and the idea, she explains, "is to get students to understand everything affecting their career decisions, including family issues, Wesleyan culture, American culture, and anything else they can identify.
"The student response to this has been positive—gratifyingly so," she adds. "One student thanked me for making career development fun."
Castonguay is currently working on an iTunesU version of the course for a much larger audience than she can reach at the center.
The importance of the services available at the career center is evident in statistics from the class of 2015. Fully 67 percent of the class* was employed as of December 2015, while others were continuing their education or seeking full-time employment. [*Based on a knowledge rate of 81 percent of the class] Of those employed, 14 percent had obtained jobs in media and communications, 13 percent had positions in technology/engineering and science, and 13 percent in the financial services sector. Also popular were consulting (12.5 percent) and education (10 percent). In today's highly competitive job market, students who take advantage of the center's many services are going to have an edge over the competition.
The first step on the career ladder is often an internship, and the career center has been actively sourcing new ones. Jim Kubat, associate director for job and internship development, stresses that all students can benefit from internships. For some, such as those hoping to work in film or finance, an internship may be the best path to full-time employment. Kubat often works with University Relations and the Patricelli Center for Social Entrepreneurship to source internships worldwide. He's regularly in contact with alumni, parents, and employers for both entry-level jobs and internships, but particularly  for  summer internships. Wesleyan recognizes that many desirable internships are unpaid or low paid, so the university offers students who receive financial aid the opportunity to apply for grants of up to $4,000 to live, for example, in Los Angeles for an entertainment industry internship.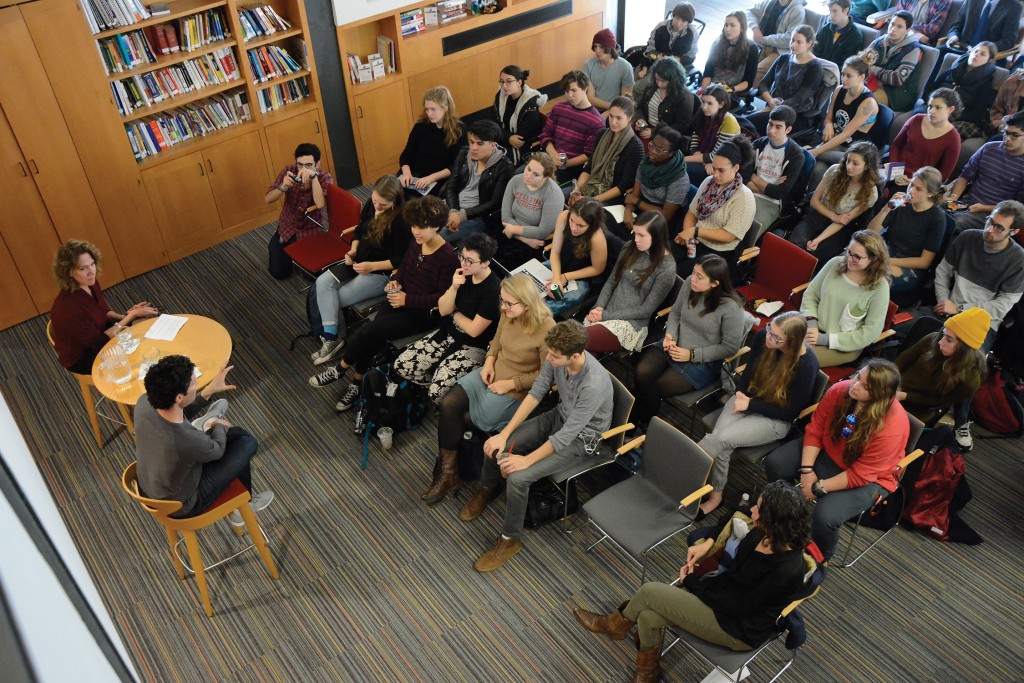 Some employers, whether through alumni or Wesleyan parents or because of their familiarity with Wesleyan's level of talent, specifically seek Wesleyan students to fill internship positions, which are then designated "Cardinal Internships." Last summer 104 students captured Cardinal Internships. "Employers who know us really want Wesleyan undergrads for internships," Kubat says. "Many have had great experiences with students who have gone on to be excellent employees, and they want to keep drinking from that well."
Victor Jin Chieh Goh '16 helped gain career direction through a Cardinal Internship this past summer with Ascend Learning, a network of nine charter schools in Brooklyn devoted to elementary and secondary education in low-income neighborhoods.
Goh was interested in applying his skills in data analysis (honed through Wesleyan courses and further work on Coursera) to an educational environment. "Educational opportunity holds a lot of meaning for me," he says.
At Ascend, Goh helped senior administrators analyze student test scores. He particularly appreciated that he was given projects to follow from beginning to end, which gave him a sense of ownership. Not that the internship was all work: Betsey Schmidt '89, chief curriculum and innovation officer at Ascend, held informal get-togethers at her house for the mostly young employees, and Goh enjoyed the camaraderie.
His internship, Goh believes, was instrumental in helping him acquire relevant experience that led to a job with Argus Information & Advisory Services, an analytics company providing services to banks and regulators that has a strong Wesleyan employee network.
Although the career center encourages all students to visit and understand its services, Castonguay notes that needs vary across a spectrum of Wesleyan students. The committed organic farmer may not require much career guidance beyond, possibly, some alumni contacts. Students who see themselves in business, medicine, or law, however, have a more complicated path to pursue and, in Castonguay's words, "need to be properly aligned to reach their goals."
"If you want to get into a top-flight MBA program down the line," she says, "there are things you need to be doing as early as sophomore or junior year."
The Deloitte discussion turns to life-work balance, with the sense that it might be a key issue for some in the room. Management consultants travel a lot and work long hours. Thompson is frank about the demands of the job but insists that Deloitte takes seriously the need for employees to have a life outside the office and to have time for socializing with their colleagues. Still, not everyone is cut out for this kind of work, and Deloitte engages in a rigorous screening process.
The heart of the interviewing process is a case-study session in which a candidate is presented with a business problem and is expected to ask probing questions, demonstrate logical thinking, solve math problems on the fly, and maintain composure.  It's not the only hurdle—a candidate's behavioral profile and fit with the firm are equally important—but it is the aspect of the interview most likely to produce white knuckles.
Castonguay says this methodology has become typical of consulting firms. Students don't land these internships by signing up for an interview the day before. She suggests they brace themselves for up to 100 hours of prep time, especially by conducting practice case studies with like-minded friends.
It wasn't long ago that spending 100 hours of prep time for interviews would have seemed absurd—and unnecessary. Firms hired promising liberal arts students and figured they could pick up the business side easily enough once on board.
"All they wanted were really smart kids," says Castonguay. "That changed at the time of the dot-com bust. A lot of companies were doing away with training programs and asking for graduates who could hit the ground running." That gave a distinct edge to graduates of schools with strong pre-professional finance programs. "There is now a re-understanding that the liberal arts are important, that firms need people who can see all the disparate parts and put them together creatively."
But consulting firms still use the case study in interviewing, and investment banks want graduates who can analyze companies in ways not typically covered by Wesleyan courses.
Under Castonguay's leadership during the past three years, the career center has taken a number of steps to help students prepare for the rigors of this process and compete with top students elsewhere, including instituting a two-day crash course in business essentials during the January winter term and hiring a specialist counselor to work with students interested in business careers—a position that complements Wesleyan's existing support for pre-law and pre-health students.
Preparation helped Claire Wright '16 land a full-time job with Deloitte. She spent time during the summer before her senior year reflecting on her goals and concluded that—motivated by her experience in the College of Letters—she wanted to work on "complex problems, engage with peers in collaborative projects, and be intellectually challenged." Deloitte appealed particularly because it has a strong Wesleyan alumni network and is engaged in public policy work.
Wright prepped with another Wesleyan student, going through case studies every week. She also met with career center staff on a regular basis, so when consulting companies came to interview, she was ready. The firm, she says, "came purposefully to look for liberal arts students."
Wright will be taking a detour before she joins Deloitte: a two-year fellowship at Oxford with a highly prestigious Keasbey Scholarship that will give her the opportunity to examine international responses to violence against women from the perspective of building public policy.
Purnima Kumar '16—the panelist who had completed a summer internship after her junior year—is also taking a job with Deloitte, starting in the fall. Kumar opted for Deloitte after attending a number of information sessions at the career center and after meeting with Kubat, who helped her explore what would be a meaningful career path.
"He made the process of networking seem less scary," she says. "It became something I did repeatedly—just talking to people about how they got where they are."
During her internship, Kumar was thrown into intensive work with a small number of colleagues, each tossing out ideas during the course of a day and adapting on the fly. "I'd never been in an environment where so many things were happening at one time, and I learned a tremendous amount," she says.
Her experience encapsulates the under-lying goal of the Gordon Career Center: It's not just about landing a job; it's about educating the whole person.
"We see ourselves as part of Wesleyan's educational enterprise," Castonguay says. "Our goal is to help students take what they've learned at Wesleyan and discover how they can secure internships or full-time employment that they, and the world, will find meaningful."
SELF-DISCOVERY THROUGH AN INTERNSHIP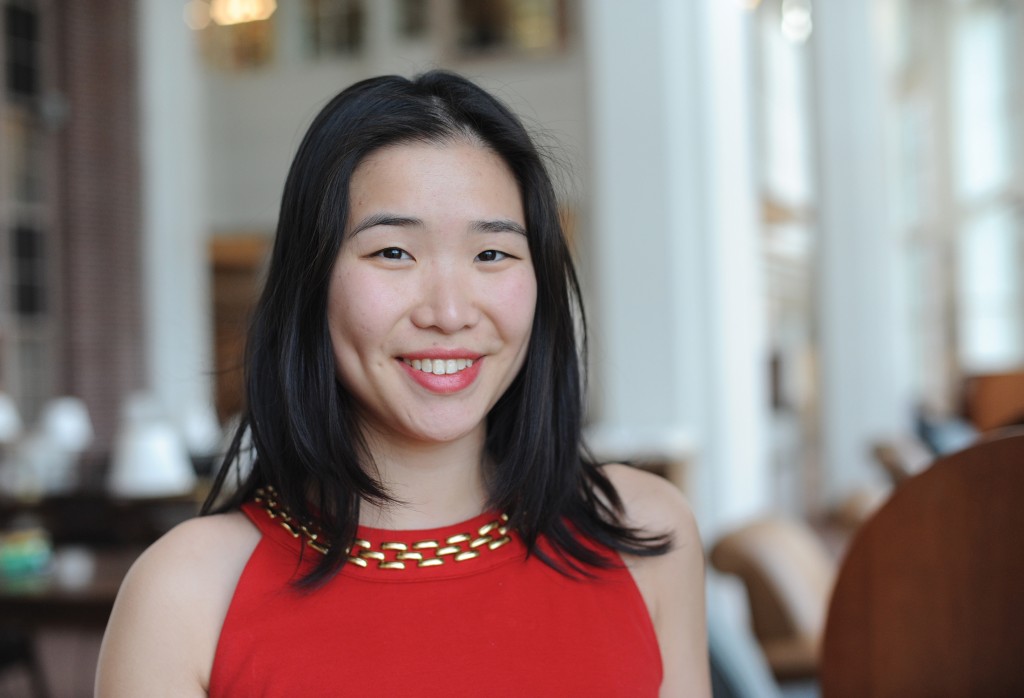 Melissa Leung '16 is a one-time pre-med student who will be taking a job with IBM in the fall, consulting for its public sector operations. Her path illustrates the value of internships.
Weighing her pre-med interest against her curiosity about business, she worked after her sophomore year as a management intern developing production budgets for an entertainment company. Days of number-crunching, she decided, were not in her future.
Her next internship after junior year married her interest in business and healthcare. She arrived at Kaiser Permanente in Portland, Oregon, "determined to add value." After a shop-around period organized by her mentor, Andrew McCulloch '76, president and CEO of Kaiser Foundation Health Plan/Hospitals, she dug into the task of organizing a leadership conference for regional and national executives of Kaiser Permanente. The experience required her to attend weekly meetings of the organization's board, which boosted her confidence in her ability to work with senior executives as colleagues.
She was particularly influenced by taking "Golden Hour" tours with a hospital CEO, who would visit patients, ask about their satisfaction with care, and give them his personal cellphone number.
"I saw that you could do business and still help people," she says.
McCulloch's organization takes on about 65 interns each year, and he views the program both as an opportunity to help young people develop and as an investment in Kaiser Permanente's future since many eventually return to work there.
"They are not making coffee," he says. "I tell them: This is a big sandbox and I'll find you an opportunity to work on something that is close to your interest."
Every intern gets a mentor, and he always has a spot for at least one Wesleyan student, he says, adding:
"Our interns come from every discipline you could imagine under the healthcare umbrella. They contribute as team members, and we value hearing the point of view of younger people."