CONTEMPORARY CHINESE ART EXHIBITION AT ZILKHA—FIRST AT U.S. UNIVERSITY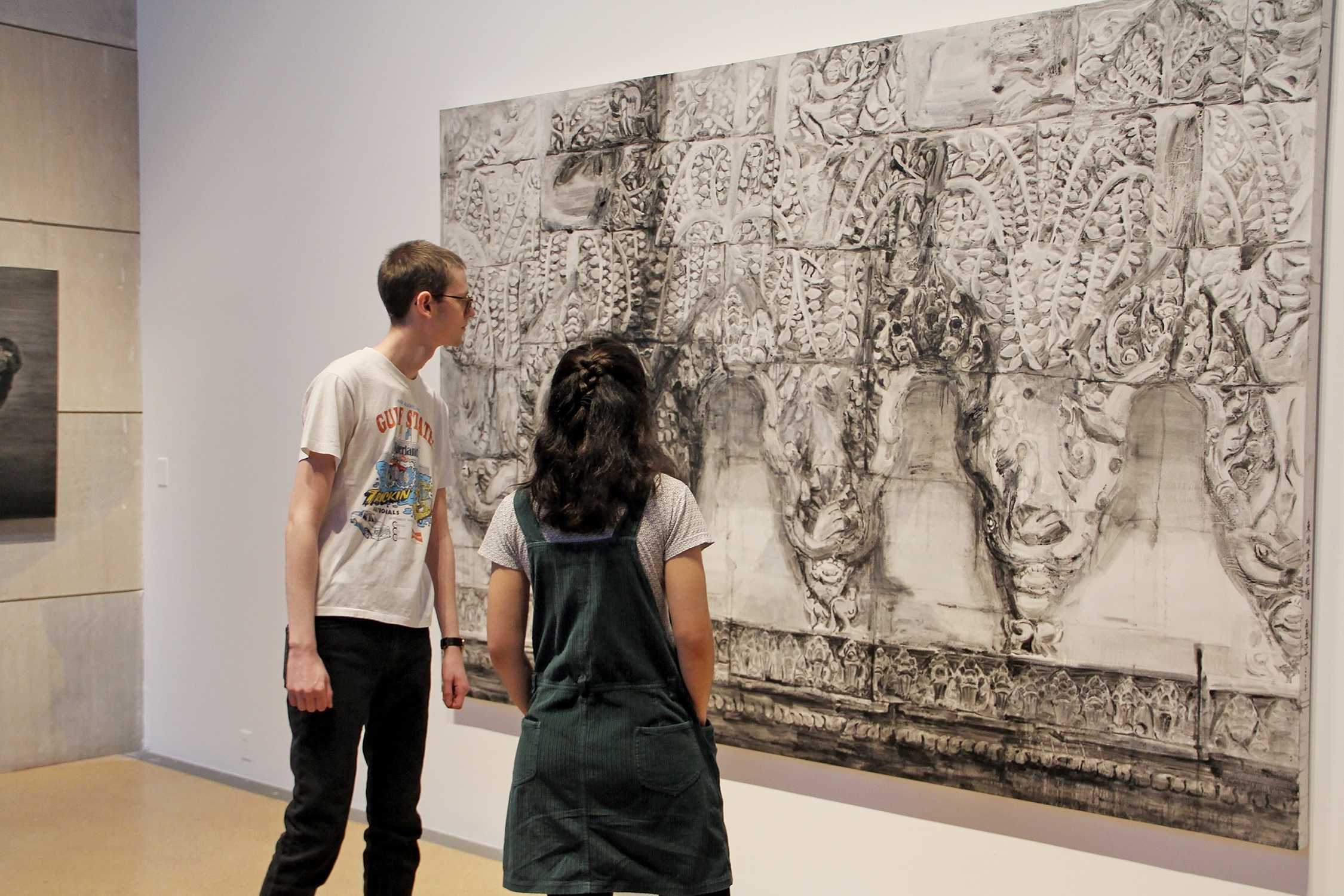 We Chat: A Dialogue in Contemporary Chinese Art, the first gallery exhibition highlighting artists born after the Cultural Revolution, offered a variety of academic opportunities. Photo by Olivia Drake MALS '08.Two years ago, Director of the Center for the Arts Pamela Tatge '84, MALS '10, P'16, was fascinated by an exhibition then at the Tampa Museum of Art. My Generation: Young Chinese Artists was the first museum exhibition in the country to focus solely on the new post-Mao generation of Chinese artists. Naturally, she wanted to bring it to Wesleyan.
"I called up the museum—because I do that," she admitted to the crowd gathered in the Ezra and Cecile Zilkha Gallery in January, "and I asked them, 'Do you ever tour your exhibitions to university galleries?'"
The answer was a resounding "No!" for the complex, multifaceted work it encompassed. However, as evidenced by the artists  present and their work covering Zilkha's walls that day, Tatge had managed to turn that "no" into a "yes." At the suggestion of the Tampa Museum, she contacted the exhibition's curator, Barbara Pollack, directly.
Pollack, as it turns out, had an already established relationship with Wesleyan. The writer, artist, and journalist—and one of the leading experts on contemporary Chinese art—had written the foreword to a catalogue for Associate Professor of Art Julia A. Randall, for Oral Fixations: Drawings by Julie Randall.
"So we invited Barbara Pollack to create the first gallery exhibition to focus on this same generation of Chinese artists—artists who have been exposed to international art movements and who are working in a society that is becoming increasingly global. It's a society with a robust social networking tool called WeChat, which is China's answer to Facebook," explained Tatge.
We Chat: A Dialogue in Contemporary Chinese Art reflects the state of China today from the point of view of young people born after the Cultural Revolution who are challenging traditional notions of Chinese identity and inventing new ways to shout out in the global arena. Three of these artists spoke at the opening: Bo Wang and Pixy Liao, who currently live in Brooklyn, as well as Jin Shan, who traveled from China to build his installation, "No Man City."
"In this exhibition, I think you get a real dose of what China today is like. It is diverse, it is international, it's open to a world of influences, and it's sophisticated in its understanding of contemporary art," said Pollack. "Relate to this exhibition as a window into contemporary China."
Tatge concurs, noting that Pixy Liao had commented that this was the first time she'd been included in a group of Chinese artists. Typically, the photographer finds herself with young, contemporary artists of all nationalities. Tatge also applauded the strong feminist theme that presented in the exhibition, including UterusMan (2013), a video game by Lu Yang.
While the exhibition was up through late February, several additional elements explored issues raised in the exhibition. Pollack returned to campus in late February to moderate a panel discussion about issues facing the post-Mao generation in China. Panelists joining her were Eric Fish (author of China's Millennials: The Want Generation), Stanley Rosen (professor of Chinese Politics and Society at the University of Southern California), and Michelle Yun (curator of the Asia Society Museum). Additionally, performance artist Yan Xing enjoyed a week in residence, and as part of Assistant Professor of Asian Languages and Literatures Ao Wang's class, he helped put on a "happening" in Olin Library. He also participated in Professor of Government Mary Alice Haddad's class on Chinese politics, where he discussed the role of Chinese artists within the political framework.
It was an important moment for her students, says Haddad, who also chairs the College of East Asian Studies at Wesleyan. "Most East Asian Studies programs around the country focus almost exclusively on language and literature, so the subject of East Asian culture becomes purely an object of study," she observes. "In contrast, Wesleyan's East Asian studies program is very interdisciplinary in our engagement with East Asia, and arts infuse many of our classes."
Tatge concurs. "We often underestimate the impact of exposing young scholars to other educational systems," she says. "Our students gained so much from Yan Xing's residence—and it also gave him a new understanding of American liberal arts education. I think we saw with this exhibit and these cross-campus collaborations that education at Wesleyan is holistic and explorative."
We Chat will travel to the Asia Society in Houston where it will have a two-month run from the end of March through July.