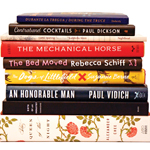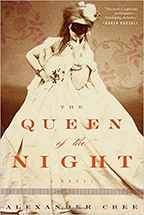 Alexander Chee '89
Queen of the Night
Houghton Mifflin Harcourt, 2016
Alexander Chee's long-anticipated follow-up to his Whiting Award–winning debut, Edinburgh (2001), is an operatic epic as rich and soaring as his protagonist's voice: a rare "falcon" soprano. Set in 19th-century Paris, Queen of the Night tells the story of Lilliet Berne, an American orphan turned traveling equestrian circus performer turned courtesan who discovers her true voice in Paris. But while she longs for an original role to make her own, when one is finally offered, it is based on a hidden piece of her shadowy past. With prose as extravagant as its Belle Époque setting, Chee takes readers on a lavish adventure. Meticulously researched and peopled with historic characters, from Giuseppe Verdi and Empress Eugénie to Comtesse de Castiglione (the eccentric mistress to the emperor, whose photograph is featured on the front cover of the book), Queen of the Night is, as the Wall Street Journal says, an "extravagant five-act grand opera of a novel."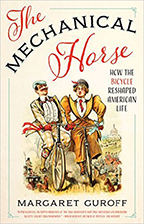 Margaret Guroff '84
The Mechanical Horse: How the Bicycle Reshaped American Life
University of texas Press, 2016
Guroff, a magazine editor and writing teacher at Johns Hopkins University, tells the fascinating and little-known story of how the bicycle shaped American life in The Mechanical Horse. Filled with engaging stories covering 200 years of two-wheeler history, the book traces America's on-again, off-again love affair with the bicycle and the changes it inspired. From the draisine, a two-wheeled pedal-free vehicle that arrived on U.S. shores in 1819, to women throwing off their cumbersome Victorian dresses (and their subscribed gender roles) to ride freely through the streets; from the paving of roads in response to the bicycle's popularity, to its long and winding road from the transportation of choice for the elite to the plaything of children in the early 20th century, to today's urban bike-sharing programs, it is, as Kirkus Reviews opines, "A bright, enthusiastic cultural history."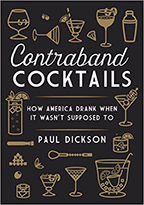 Paul Dickson '61
Contraband Cocktails: How America Drank When It Wasn't Supposed To
Melville House, 2016
Cocktail culture began on January 16, 1920, the precise date Prohibition began. So claims Paul Dickson in his delightful Contraband Cocktails, which charts the roaring rise of cocktail culture in the 1920s. Replete with a mix of historical facts and literary references and loaded with cultural curiosities and drink recipes that are best shaken, not stirred, Contraband Cocktails is an intoxicating narrative, from speakeasies to bootleggers, of how Americans drank during Prohibition.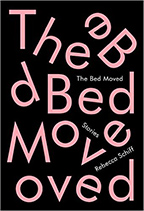 Rebecca Schiff '01
The Bed Moved: Stories
Knopf, 2016
Rebecca Schiff's bold literary debut, a collection of short stories, tackles the intimacies of growing up and finding (or not finding) love. If it sounds simple, it isn't. With incisive humor that cleaves through layers to expose our shared humanity, Schiff introduces us to teen and 20-something narrators who are looking for love in all the wrong places ("she forgot all sex she had as soon as she had it, she didn't really have it when she had it, and she hadn't for a long time") and dealing with death and the passage of time. Still, when she writes "I only know about parent death and sluttiness. What else do I know?" in the book's final story, "Write What You Know," the simple answer is: plenty. Kirkus Reviews, in a starred review says, "Schiff's startlingly honest, deliciously wry stories herald the arrival of a beguiling new talent."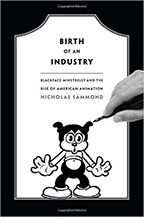 Nicholas Sammond '83
Birth of an Industry: Blackface Minstrelsy and the Rise of American Animation
Duke University Press, 2015
In Birth of an Industry, Sammond, an associate professor of cinema studies at the University of Toronto, provides a critical analysis of the role of race in the history of animation to examine how popular early American cartoon characters derived from blackface minstrelsy helped naturalize destructive racial stereotypes. "Where did Mickey [Mouse] and Bugs [Bunny] get their gloves, their huge eyes, and their capricious and voracious mouths, and why have they kept them for so many years?" asks Sammond in his introduction. While the visible links between cartoon characters and the minstrel stage have faded with time, Sammond explores how cartoons continue to help illuminate the place of race in America. The book includes a fascinating online companion at http://bit.ly/sammond.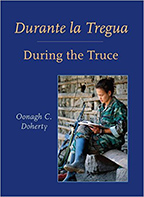 Oonagh C. Doherty '86
Durante la Tregua/ During the Truce
Levellers Press, 2015
As a Wesleyan student in 1985, Doherty spent a semester abroad in Bogatá during a brief truce between the government and guerilla groups. Durante la Tregua/During the Truce, Doherty's slim memoir about that time, paints a vivid picture of Bogatá and the enormous disparity between rich and poor that would bring the army into the streets during her stay. "It is 12:25 a.m. in Bogatá. The only people awake are the street children, the whores and the trash people. The trash people live in the dumps. . . . There are entire trash families, all black with filth and covered in filthy rags. They sleep in heaps. Once we heard them singing and clapping round a bonfire of garbage—they made the most beautiful music." Because of the truce, Dorherty was able to spend time with people from all walks of Colombian life, including activists with a guerilla group that would later demand Colombia's president stand trial for violating the cease-fire agreement. Doherty's foreword and afterword discuss the country's history before and since, as well as her belief that the truth about Columbia isn't as simple as we are led to believe.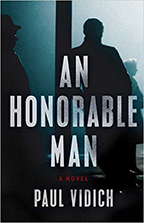 Paul Vidich '72
An Honorable Man: A Novel
atria/Emily Bestler, 2016
Chosen by Publishers Weekly as one of the top mystery books for spring 2016, Paul Vidich's debut novel is filled with all the things you want from a Cold War spy thriller: political intrigue, a unique sense of place and time (Washington, D.C., in 1953) and a tense and twisted tale in which all is not what it appears to be. Inspired by real events, An Honorable Man centers around George Mueller, a dedicated CIA agent entrusted to dig out a Russian mole who has infiltrated the agency. Mueller seems like the perfect choice for the task, until his personal skeletons lead to suspicions. Kirkus Reviews calls An Honorable Man, "Noir to the bone," while Library Journal says, "This looks like the launch of a great career in spy fiction."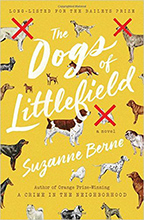 Suzanne Berne '82
The Dogs of Littlefield: A Novel
Simon & Schuster, 2016
A suspenseful, sympathetic, sometimes scathing, look at suburbia, Suzanna Berne's The Dogs of Littlefield is, in a word, smart. Berne, a creative writing teacher at Boston College who won the Orange Prize for her first novel (A Crime in the Neighborhood), tells the "tail" of life in the fictitious town of Littlefield, Mass., one of the "20 best places to live in America." But all is not leafy-green goodness in Littlefield: A marriage is failing, an attraction has been kindled . . . and someone is poisoning the town's dogs. But who—and why? The Sunday Telegraph (U.K.) calls The Dogs of Littlefield a "well-observed shrewd satire . . . sharp, funny and painful. Berne takes the domestic and turns it into the majestic."
If you are a member of the Wesleyan community with a new book, please let us know by contacting Laurie Kenney at lkenney01@wesleyan.edu. Please send a review copy of your book to Laurie Kenney, c/o Office of University Communications, South College, Wesleyan University, Middletown, CT 06459.