MESSAGE FROM THE CHAIR: REFLECTING ON THE PAST TWO YEARS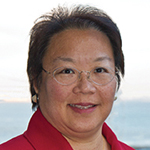 As my term as chair of the Wesleyan Alumni Association draws to a conclusion, I've been thinking a lot about the past two years and all of the wonderful alumni I've had an opportunity to meet—both on campus and off.
My passion—and the overarching goal of the Alumni Association—has always been to help connect alumni to Wesleyan, alumni to alumni, and alumni to students. Over these past two years, I've attended dozens of alumni gatherings around the county. I've witnessed the growth of our existing professional networks, as well as the formation of the new Real Estate, Education, and Wesleyan Women's networks. I've met with groups of students on campus who are doing amazing things both in and out of the classroom.
And I couldn't be more proud to call myself a Wesleyan alumna.
During May 19–22, the Wesleyan community will be coming together to celebration Reunion & Commencement Weekend. Alumni with class years ending in "1" and "6" will be celebrating Reunions, but all alumni are welcome. If you are a regular R&C Weekend attendee, I look forward to seeing you then! If you haven't been back to campus in a while, now is the time.
Every year, I invariably meet someone who hasn't visited Wesleyan in decades. They love alma mater but, for whatever reason, just have not been as engaged as they would like. A student caller, an invitation from University Relations, an e-mail from a classmate on the Reunion Committee . . . something piques their interest. They return to Middletown and, in no time at all, it's like they never left.
That's what it's like to be part of the Wesleyan community: A sense of belonging.
In June, you will be hearing about the "Voice Your Choice" year-end push and the conclusion of the THIS IS WHY campaign. So far, more than 75 percent of alumni have made a gift to the most successful campaign in Wesleyan's history, demonstrating the power of collective giving. Have you?
Whether you choose to support financial aid, trailblazing teaching, mentoring, and research, or student internships, service learning, and related research, Wesleyan students will benefit directly from your generosity.
I hope you will join me in doing your part. Here's to Wes!
Daphne Kwok '84
Chair, Wesleyan Alumni Association