BOB YORBURG '77: HORSING AROUND … AND AROUND … (See Video Below)
At the New England Carousel Museum in Bristol, Connecticut, Bob Yorburg '77 visited the exhibits and repaired their band organ. His work is frequently highlighted in Carousel & Automatic Music News, which featured a Wurlitzer organ he carved on the cover. (Photo by Cynthia Rockwell)Bob Yorburg '77 is a carousel horse's best friend—not only does he repair and carve the wooden steeds, but he also restores the music-makers at the center of their spinning circle.
We caught up with Bob Yorburg '77 in March, as he was heading into his workshop to re-create the legs for an antique carousel prancer that a collector had discovered in an old barn. As Yorburg entered the small, cluttered room, he flipped on carousel music. "To get in the mood," he explained, as he picked up his tools and the block from which he was coaxing a hoof.
Yorburg also creates his own carousel horses. "I never put my horses in military regalia," he says. "And my horses are always smiling." Many will be decorated with flowing scrolls of carved acanthus leaves, the subject of his book, Acanthus Carving and Design ( Schiffer, 2010). "Not a single straight line or semicircle; it's an ever-decreasing circumference," he explains.
This scrollwork is also an integral part of other key projects, including repairing façades of band organs. "I've cornered the market on this job," he says. "I'm it." Of the 25 large band organs that Wurlitzer built around the beginning of the 20th century, only 11 remain, and of those, Yorburg has helped restore three to their glory days—but don't ask how long this takes. "I have no idea. The first six months, I'm doing research. I never work when I'm tired or not feeling it. I'll go on to another project while I'm figuring out a problem. I work until it's done." And what does that mean? "Until I'm happy with it."
As we cross the yard to Yorburg's house, a small railroad crossing sign reminds us to stop, look, and listen. It's part of a system—one-eighth scale—that Yorburg created, with two engines (diesel and electric) that travel around the perimeter, through an arbor and across a bridge. "We boast a 100-percent on-time schedule. Better than Amtrak."
The prototype was a steam engine that Yorburg had begun in high school and completed while at Wesleyan. "I was obsessed," he says. Night classes in mechanical engineering at a nearby trade school complemented his liberal arts studies at Wesleyan. He was a double-major in psychology and sociology, with plenty of theater courses in the mix.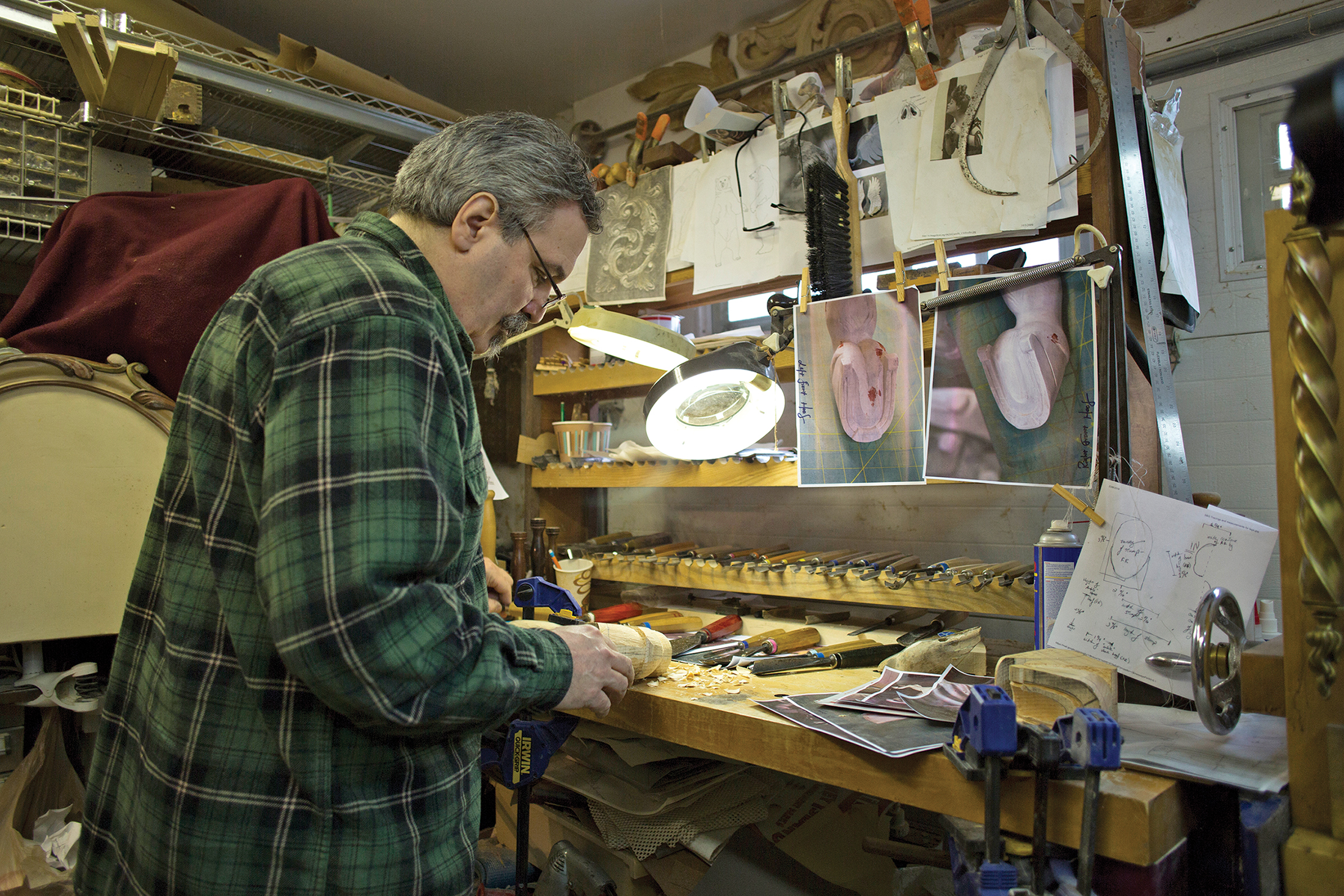 Inside the house, the carved visages of jesters (identical twins) grin from above the back window, a carousel rabbit (in mid-hop) poses behind the couch, and a Yorburg horse (smiling) rests off to the side.
Yorburg offers a magic show to his guests, baffling them with disappearing balls beneath cups. Folding up the barker's box, he absently fishes out a curved piece of wood from the drawer, and says, as if to himself, "Hmm. I thought I threw this away." It's a boomerang. We get the joke.
As a child, he'd been part of a Saturday magic club in New York City, mentored by former vaudevillians who would sit around a table reprising their tricks. Noting his aptitude ("Sleight of hand was my specialty"), the prestidigitators passed along their trade secrets to him.
At Wesleyan, where his father had graduated in 1944, he planned to be "a serious student," but somehow, classmates got wind of his hobby and pestered him. Opening at the '92 Theater, and wearing the traditionally elegant magician's top hat and tails, he performed to a modern soundtrack. Other shows followed. Eventually he teamed up with David Bickford '75 and the two toured their act ("Bob & Bic—Discover Where Vaudeville Went and Why!") around the college circuit.
At Bickford's urging, Yorburg auditioned for a commercial role as a magician. To his amazement, he got the part and two days later flew to Los Angeles to work with his childhood TV hero ("Mark Wilson, of The Magic Land of Allakazam") and be the original Magic Burger King for the fast-food chain.
It was also through Bickford that Yorburg met his wife, Laura. The two clicked when she agreed to turn into a lion as part of Yorburg's act after his original assistant got cold feet.
The couple moved to New York— where their corporate events company prospered and was written up in the Wall Street Journal in 1999—until they retired and moved away from the city.
As we talk in the room under the jesters' scrutiny, the Yorburgs' phone rings frequently—plans for attending a magic show convention that weekend. It's one of many events that the couple attends, with their favorite being Coney Island History Day, always the first Saturday in August.
"I had thought about repairing furniture," he says. "But it wasn't fun. I wanted to work on something that had magic in it, something that brought people joy."
(Video by Melissa Rocha, Patrick Bohan, and Dennis Hohne; videography at Hartford's Bushnell Park Carousel permission courtesy of New England Carousel Museum, Bristol, Conn.)