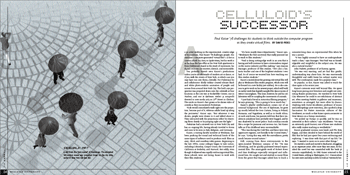 AS AN ARTIST WORKING ON THE EXPERIMENTAL EDGE OF HIS MEDIUM, Paul Kaiser '78 challenges people. His medium—computer-generated "virtual film"—is hot in cinema (think Toy Story or Spider-Man), but his work is as far from the box office as his New York apartment is from Hollywood. Based in the study of movement, his digital creations are emotive, distinct, and memorable.
You probably haven't seen Kaiser's productions unless you're an aficionado of modern art or dance, or if you walk the streets of New York, in which case you may have run into them—literally. For Pedestrian he and collaborator Shelly Eshkar created vibrant black and white photo-realistic animation of people and scenes from around New York City. The bird's-eye perspective was projected down onto the sidewalk at four locations in the city: two at Rockefeller Center, one in Harlem, and one at Eyebeam Atelier (a nonprofit devoted to new media art) on 21st Street in Chelsea. The smile on Kaiser's face grows as he shows video of crowds as they encountered Pedestrian.
"Kids would immediately walk right into the projection, become part of it, whereas adults lined up along the perimeter," Kaiser says. "But wherever it was shown, people were drawn to it and talked about it. They interacted with the projections either by observing them closely or by jumping right into the light."
Pedestrian had a six-week run in New York City and has an ongoing life, having already traveled to Korea and soon to be seen in Italy, Belgium, and Germany.
Kaiser, a visiting faculty member at Wesleyan, has been pushing the visual and technical limits of the same types of software used to produce such films as Antz, Shrek, and countless video games. Beginning in the late 1990s, some colleges began to take notice, including Columbia, Cooper Union, the University of California at Berkeley, and Harvard. But oddly, even though Hollywood was rapidly embracing virtual film, these schools were not hiring Kaiser to work with their film students.
"It's been mostly dance departments," Kaiser says. "Wesleyan's the first university that really pursued me to teach to film students."
"Paul is doing cutting-edge work in an area that is having and will continue to have a tremendous impact on the movie industry and film making," says Jeanine Basinger, professor of film studies. "He's also a fantastic teacher and one of the brightest students I ever had. So of course we wanted him here teaching our film studies students."
Kaiser is excited about the growing role virtual film will play in Wesleyan's film studies program, which soon will be housed in a new facility [see sidebar]. He is also anxious to get to work on his newest project, which will build on earlier work that digitally sampled the dance moves of Merce Cunningham. This time, however, he and his collaborators will be sampling the movements of animals.
"I just had a friend in Antarctica filming penguins," he says grinning. "This is going to be so much fun."
Kaiser's playful intellectualism comes out of an unusual background. The son of diplomats, he grew up mostly behind the Iron Curtain, living in Poland, Rumania, and Yugoslavia, as well as in South Africa. At each new home, his parents told him that their residences and phone lines probably were bugged, and he was shadowed by secret police. Such scrutiny sounds like a recipe for paranoia and nervous tics, but Kaiser talks as if his childhood were unremarkable.
"This was during the Cold War, and these were very oppressive regimes, not friendly to the United States," he says. "Living this way, with the surveillance, pretty much became second nature."
Still, coming from these environments to the open-minded Wesleyan campus of the '70s was refreshing, and he quickly gravitated toward experimental film. The avant-garde work of Robert Breer and Stan Brakhage especially intrigued and influenced him. He sought out and studied so many films from the genre that Basinger asked him to teach a semester-long class on experimental film when he was a junior.
"It was highly unusual to have an undergraduate teach a class," says Basinger. "But Paul was so knowledgeable and insightful in the subject area. He was also a natural teacher."
John Paoletti, professor of art history, agrees.
"He was very exacting, and yet had this gentle, understanding way about him. He was enormously thoughtful and really knew his subject matter very well. The combination made for a popular class."
So popular, in fact, Kaiser was asked to teach the class again in his senior year.
Kaiser's interests went well beyond film. He spent long hours poring over literature and sought out interesting theater productions. He traveled to New York City whenever he could to see exhibitions of abstract art, often meeting Paoletti in galleries and museums, sometimes as arranged, but more often by chance. Studying with David McAllester, professor of music and anthropology (now emeritus), also sparked a deep fascination for Native American cultures of the Southwest, so much so that Kaiser spent a semester in New Mexico on a Navajo reservation.
"He picked up Navajo so quickly, and he was so interested in their culture," says McAllester. "He was an extremely quick learner, one of those rare students who really makes teaching so worthwhile."
Kaiser graduated summa cum laude and Phi Beta Kappa, and then decided to leave behind the world of film that he had just spent four years embracing and exploring. "I was done with that part of my life," he says. "I wanted to move on to some other things."
He started a novel and moved to Bucharest, struggling as an expatriate artist. After more than two years, he finished the novel but was unsatisfied with the book (it remains unpublished). In 1982 Kaiser returned to the United States, settling in Washington, D.C. Unsure about his next move and deep in debt, he took an "extremely boring" job as a legal researcher. At a party he had a chance meeting with an administrator from the Lab School in Washington. He began talking about the school's students: severely learning disabled children and adolescents. The conversation led to an interview for an open position at the school. Within a few weeks Paul Kaiser was back to teaching, working in a new medium: computers.
The terms "digital artist" and "virtual film" hadn't even been coined, and computer animation wasn't much more sophisticated than green and black graphics featured in a new sensation, a simple video game called Pong. Still, Kaiser saw great potential for his new students.
"These kids had a lot of problems communicating through traditional methods," Kaiser says. "I'd heard a bit about computers, and I thought they might offer some interesting alternatives."
With Kaiser's encouragement, the students were using some of the drawing software to share their thoughts and ideas graphically. This was especially heartening because many of them were attending the Lab School specifically because they had extreme difficulty communicating.
He has archived some of his students' work. One, created by a nine-year-old, tells the story of a fighter pilot shooting down another plane. Though crudely created, the images are cinematically complex in their execution and cut deftly from one perspective to another. Another, drawn on the computer and narrated by a six-year-old, tells the story of a wolf that lives in a forest. One day a man enters the forest searching for berries. The sharp-fanged wolf attacks the man and kills him. "And the wolf lived happily ever after."
Kaiser laughs when showing this one.
"I loved it, because it turns the whole traditional fairy tale perspective on its head," he says. "These drawings showed me that these students who were so hard to communicate with had very rich inner lives. What also amazed me is that this generation had unconsciously mastered all of film grammar: cutting, point-of-view, and so on. And it pleases me to think that it's this same generation I'm now teaching at the college level. It helps explain how quickly and inventively they take to the medium."
After 10 years at the school, Kaiser decided it was time for a fresh challenge. He and his wife, Kathy, also a teacher whom he had met at the Lab School, moved to San Francisco, where he worked with computer-driven museum kiosk installations. His work garnered a Computerworld/Smithsonian Award in 1991, which led to more museum exhibitions and recognition from a wider and increasingly influential audience.
"One day I got a call from Robert Wilson's foundation," he says. "They'd seen some of my work, and they wondered if I would be interested in a collaboration. I mean, Robert Wilson! He was mentioned the same way in theater as John Cage was viewed in music or Merce Cunningham in dance. It was very exciting."
Soon Kaiser was engaged with other groundbreaking work. These included You Walk? and Ghostcatching, digitally animated video and projection collaborations with renowned choreographer Bill T. Jones; Hand-drawn Spaces, BIPED, and Loops with choreographer Merce Cunningham; and the narrative Trace, a collaboration with Bell Labs scientist Nicolas Tsingos, which included selected footage from Kaiser's old Wesleyan films. His list of exhibitions is also impressive and includes the Pompidou Center, the Whitney Museum, MASS MoCA, The Brooklyn Academy of Music, and Lincoln Center. He has received numerous awards, including a ComputerWorld/Smithsonian Award in 1991, and, in 1996, he was the first to receive a Guggenheim Fellowship for virtual film.
With all his talent, a degree in film studies from Wesleyan, and with an ever-growing list of projects, which employ the same type of software and technology that Kaiser has learned to bend and apply in ways outside the mainstream, would he ever be tempted to dip his toe into the Hollywood pond?
"I don't think so," he says. "The only thing that really intrigues me in mainstream filmmaking right now are credits. I hear people get a fairly free hand in putting those together. That might be fun to do, and it would offer a chance to reach a wide audience in an unusual way. But it really would have to be the right project."
He smiles.
"To tell the truth, right now I'm very happy working on my own stuff and teaching. I really love them both."
FOR ME, having Paul Kaiser here to teach virtual filmmaking is exciting, because I'm learning something new. There's nothing more wonderful for any teacher than to walk into a classroom and have students surprise you with something fantastic that you haven't seen before or thought about. Having Paul open up these new places in my mind, and seeing how he stimulates the students to think and grow, has been great for all of us in the film studies program.
Of course, we are still committed to 16mm production, the "handmade film." For students learning the intellectual issues of perception and directing a viewer's thinking process, working in what some people now call the "old-fashioned way" is fundamental to the liberal arts tradition. Because our alumni are so successful in the film business, people sometimes forget that our major is not a production major. It's a history/theory major that includes production. However, we owe it to our students to keep up with current technology, to make available to them the tools they'll find when they leave here. Mostly, we owe it to them to challenge them intellectually with these new tools. We have added not only virtual filmmaking, with Paul, but also digital video filmmaking with our new production teacher, Jacob Bricca.
The exciting thing is the cross-pollination we are seeing from 16mm to digital to virtual. Last year we had two senior theses shot in digital that incorporated virtual, and one virtual that incorporated digital. We also had two 16mms that included virtual components. These creative challenges and mixes stimulate the thinking of our students in new ways. And there are other advantages: it is cheaper to work in digital video and virtual, so students who might not have felt they could afford to try an individual filmed project previously now can do it at a reasonable cost.
I have always been a believer that everything in the classroom is really about ideas, hard work, and effective interaction between teachers and students. But in a medium like film, which is technological, you do need proper tools. I don't believe in upgrading tools just to be able to say, "We're at the cutting edge." The "cutting edge" always has to be in the mind, and if it isn't, your tools are just going to sit there. We moved forward to add both digital video and virtual filmmaking to our program only when we knew we could do it at the very highest level and with the very best people.