Leo Durocher: Baseball's Prodigal Son
By PAUL DICKSON '60
BLOOMSBURY, 2017
In his newest book, Paul Dickson '60 tells the story of one of the most memorable characters ever to walk onto a baseball field: Leo Durocher. As a shortstop, Durocher was a member of two of the most celebrated teams in baseball history— the 1928 "Murderers Row" Yankees and 1934 "Gashouse Gang" Cardinals— as well as the Brooklyn Dodgers. When his playing days ended, Durocher moved on to a stellar career as manager of the Dodgers, Giants (with which he won the 1954 World Series), Cubs, and Astros. He was posthumously inducted into the Baseball Hall of Fame in 1994.
Known for his combative style both on and off the field—Durocher ranks fourth on the all-time list of most-ejected MLB managers, regularly instructed his pitchers to hit batters, and was known to bully teammates and fans alike—Durocher was baseball's quintessential bad guy. Questionable behavior aside, he was also a key player in racial integration in baseball, helping Jackie Robinson gain acceptance and providing much needed support to a slumping rookie named Willie Mays. His keen sense of humor led to roles playing himself on Mr. Ed, The Munsters and other television shows of the era.
As Dickson notes in his introduction, Durocher's penchant for periodically changing his own story sometimes makes it hard to separate fact from the more colorful fiction, including the origin of one of our culture's most iconic phrases: Nice guys finish last. But pinstripe-grey areas aside, Dickson keeps his eye on the ball to give readers an insightful look at one of baseball's most pugnacious personalities.
---
Global Christianity and the Black Atlantic: Tuskegee, Colonialism and the Shaping of African Industrial Education
By ANDREW E. BARNES '75
BAYLOR UNIVERSITY PRESS, 2017
In Global Christianity and the Black Atlantic, Andrew E. Barnes '75 examines how African and African American Protestant leaders joined together at the turn of the 20th century to promote an industrial education system based on the principles upon which Booker T. Washington's Tuskegee Institute was founded.
"I did not begin seeking to illuminate the importance of Booker T. Washington for African Christians," says Barnes. "But I became intrigued by the glorification in African newspapers of Washington as a Christian trailblazer and of Tuskegee as a new 'Geneva,' that is, a training school for leaders of a new, consciously African form of Christianity."
By examining previously unused African sources, including newspapers suppressed at the time by colonial authorities, Barnes tells the fascinating story of how two groups on opposite sides of the Atlantic developed a shared vision in an effort to produce a black Christian community that could withstand white dominance.
---
Love Unites Us: Winning the Freedom to Marry in America
By KEVIN M. CATHCART AND LESLIE J. GABEL-BRETT '76, EDITORS
THE NEW PRESS, 2016
While the landmark Obergefell v. Hodges decision in June 2015 gave same-sex couples the legal right to marry in the United States, that moment was just the latest step toward equality in a movement that began many years, and cases, before.
Love Unites Us shares the fascinating, many-layered story of the struggle and triumph for marriage rights for same-sex couples, as told by more than 40 attorneys, activists, and plaintiffs who played a part in its history—from Jack Baker and Michael McConnell, who applied for a marriage license in a Minnesota courthouse in 1970, to today. Though there are still many challenges to face on the road to equality, as Gabel-Brett, the director of education and public affairs for Lambda Legal, notes in the introduction, "Our movement, like every other civil rights movement, keeps moving forward by seeing and naming the barriers to justice and using every available strategy to overcome them."
---
Life from Scratch: A Memoir of Food, Family and Forgiveness
SASHA MARTIN '02
NATIONAL GEOGRAPHIC, 2016
"This is not the book I meant to write," begins food blogger Sasha Martin (globaltableadventure.com) in the prologue for Life from Scratch, a finely wrought, emotionally resonant examination of food, family, and the search to find one's place in the world. When Martin first conceived the idea for the book, she set an ambitious goal for herself: to eat her way around the world, visiting 195 countries and learning 195 recipes in 195 weeks, with her husband and young daughter in tow.
On the way from inception to execution, though, what began as Martin's own culinary travel challenge morphed into a personal narrative that gives new meaning to the term "comfort food." Within the pages of Life from Scratch, Martin explores how food shapes our memories and our relationships, sharing the tumult and tragedy of her own childhood—punctuated by her mother's instability, time spent in foster care, and, eventually, placement with family friends and a devastating loss—while celebrating the power of food to discover, to bond, and, ultimately, to heal.
---
Love Hurts: Buddhist Advice for the Brokenhearted
LODRO RINZLER '05
SHAMBHALA, 2016
Meditation guru Rinzler (The Buddha Walks into a Bar…) draws on Buddhist wisdom and personal experience to help those suffering from loss of any kind in this pocket-sized compendium full of hope and humor that will resonate with anyone who's ever been hurt by romantic, familial, or other worldly attachments. (That means everyone.)
"Our whole life is a training for heartbreak, whether we acknowledge it or not," says Rinzler in Love Hurts. "By showing up for it, day in and day out, we learn to make it a part of our spiritual path as opposed to something we have to hide from."
With brief chapters focusing on everything from anger and betrayal to forgiveness and compassion, Rinzler portions out single servings of succinct, highly useful advice to heal what ails you and set you back on your path to finding your spiritual center. Rinzler, a meditation teacher in the Shambhala Buddhist lineage, is the founder of MNDFL, a drop-in meditation studio in New York City.
---
Lucidity: A Novel
DAVID CARNOY '87
THE OVERLOOK PRESS, 2017
David Carnoy's third foray into the thriller genre results in a supremely satisfying bicoastal page-turner that follows retired police detective Hank Madden on a quest to solve a 20-yearold California cold case and bring a presumed killer to justice. But just as Madden gets started, the murder of editor Max Fremmer's client in New York puts the focus on the strange goings-on at an institute for lucid dreaming on the Upper West Side. When details of the two cases collide, Madden and Fremmer join together in an attempt to expose the darkness that lies beneath the façade of the Lucidity Center and solve the mystery that links their two cases together.
---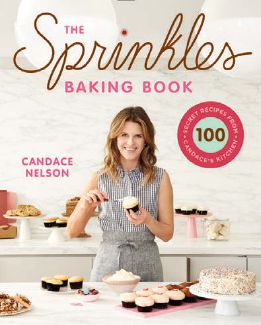 Cupcake queen Candace Nelson '96 shares her baking know-how in The Sprinkles Baking Book: 100 Secret Recipes from Candace's Kitchen, featuring recipes for Nelson's iconic cupcakes—including red velvet—as well as cakes, cookies, and other sweets. (HACHETTE BOOK GROUP, 2016)
---
EMPOWERING GIRLS TO CHANGE THE WORLD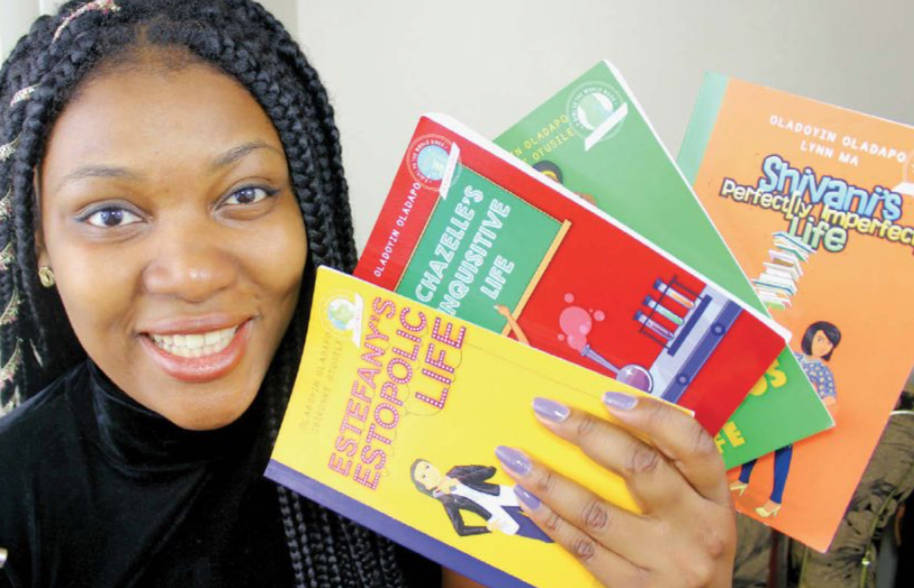 Oladoyin Oladapo '14 is on a mission: to bring diverse, empowering stories to young girls around the world with her Girl to the World book series. "We want to awaken the future female presidents, businesswomen, and scien- tists, and open up the world to them," says Oladapo, publisher and creator of the four-book series that introduces young readers to a multicultural cast of strong and spirited female charac- ters. Find out more about the series— and the many Wesleyan alums behind it—at girltotheworld.com.
---
HENRY JOSTEN '46 SHARES A LIFETIME'S WORTH OF MEMORIES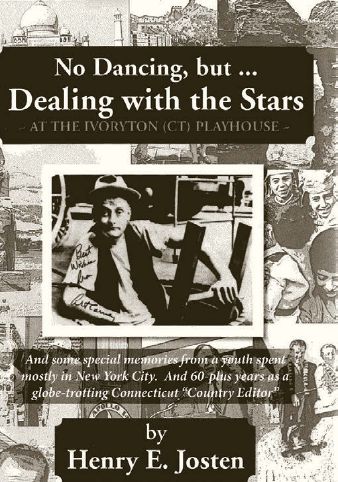 No Dancing, but . . . Dealing with the Stars at the Ivoryton (CT) Playhouse, by 93-year-old Henry E. Josten '46, is an all-access pass to memories from Josten's 25 years spent as publicist for the Ivoryton Playhouse, where he rubbed shoulders with some of the entertainment industry's biggest stars—from Marlon Brando and Eartha Kitt to Mae West and Katharine Hepburn— from 1948 to 1973. A former president of the Connecticut Editorial Association and New England Press Association, Josten also shares stories from his 65-year career in the newspaper business, as well as fond memories of his time circling the globe as a travel writer with his beloved wife, Elsa.
---
If you are a member of the Wesleyan community with a new or upcoming book, please contact Laurie Kenney, books editor, at lkenney01@wesleyan.edu. Review copies can be sent to Laurie Kenney, c/o Office of University Communications, South College, Wesleyan University, Middletown, CT 06459.