WINSTON HONORED BY GERMAN GOVERNMENT
Krishna Winston, the Marcus L. Taft Professor of German Language and Literature, has been awarded the Order of Merit of the Federal Republic of Germany. The award is the highest tribute paid by Germany to individuals for services to or contributions enhancing that country's standing abroad and its relations with other countries. Winston received the honor for her scholarly and literary translations of more than 35 works of fiction and nonfiction written by acclaimed German-language authors including Johann Wolfgang von Goethe, Günter Grass, and Peter Handke, author of The Moravian Night, Winston's latest translation. Ralf Horlemann, the Consul General of Germany to New England (pictured with Winston), bestowed the Order of Merit of the Federal Republic of Gemany on Winston during a ceremony held in Allbritton Hall in February.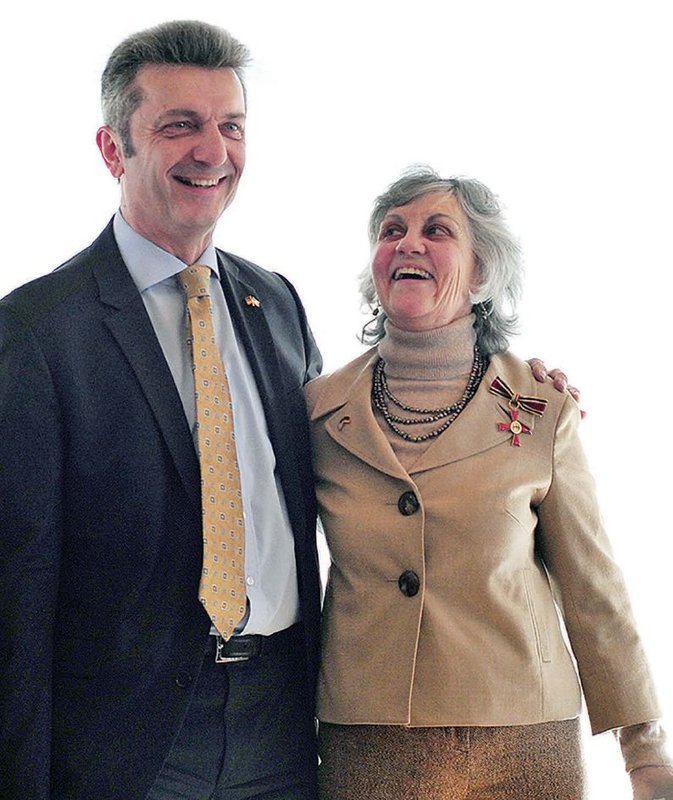 IN TRANSLATION
Growing up as the child of a couple who collaborated as freelance translators, Krishna Winston learned early on about the self-discipline and habits of mind the profession required.
"Language and languages figured prominently in our family conversations, and often my father would run upstairs to fetch a volume of the 11-volume Century Dictionary that would help resolve a question involving word usage or derivation that had just come up," Winston recalls. "Sometimes authors would visit us on our farm in southern Vermont. Most of them were refugees from Hitler's Europe, living from hand to mouth, and at a young age I could already sense how difficult it was for them just to get their work published and translated in the U.S., let alone understood and appreciated by critics and the reading public."
Winston began translating while she was still in graduate school. Her first project: a scholarly book about Thomas Mann's Doctor Faustus. Many years and many projects later, Winston continues to be recognized both for her work as a translator and as a member of Wesleyan's German Studies Department, where she has served since 1968.