What Is . . . Sustainability Activism?
The term "sustainability" pops up in our daily discourse, appearing everywhere from boardroom memos to ballot agendas. We're often told that making small changes in our personal lives—like recycling plastics and walking instead of driving—will solve global environmental problems.
These changes are a fantastic start, but sustainability activism requires coming together to address larger, systemic sustainability problems like dwindling environmental resources and the dangerous effects of climate change.
Sustainability activists use their collective voices to advocate for environmental, social, and economic change, from protesting the destruction of natural habitats to supporting business and government policies that promote renewable energy alternatives.
Wesleyan supports sustainability activism through its Sustainability Strategic Plan. This plan acts as a road map to help the University achieve carbon neutrality by 2035, equip students with the necessary education and skills to become environmental and social leaders, and integrate sustainability into our community actions.
Students, faculty, and staff are hard at work implementing this plan with students leading several initiatives to put it into action. Kiran Kling '24, an eco-facilitator in the Sustainability Office, worked with Middletown city officials on a proposal to provide Bird e-bike and e-scooter rentals to members of campus and the larger community. The city launched a partnership with Bird in September 2022, reaching over 10,000 rides in fall of 2022.
Emma Singleton '23, an anthropology and environmental studies double major, designed a composting toilet for her senior project. The zero-waste receptacle will be built by Elijah Huge's Spring 2023 Architecture II class.
The 2022–23 Community Impact Residency, coordinated by the Jewett Center for Community Partnerships, paired Sophie Taubman '25, Anoushka Saluja '24, and Nathalie Hansen '23 with environmental justice efforts in Middletown relating to transit, energy, and access.
Learn more about Wesleyan's Sustainability Strategic Plan
—Jen Kleindienst, Sustainability Director at the Wesleyan Sustainability Office; Dylan Campos '24; and Mao Kato '24.
Strengthen Your Sustainability Activism Muscles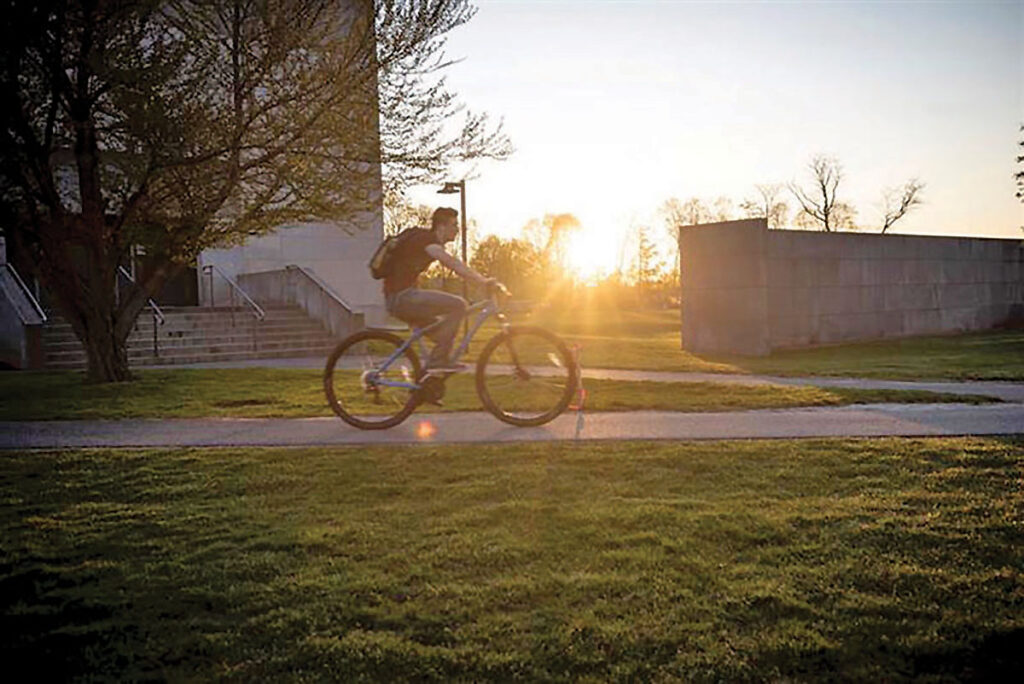 Whether you're looking to implement some sustainable habits in your life or galvanize your community to take action, here are some ideas to get you started:
GET STARTED
Walk or bike to work or school




one or more days a week.

Purchase renewable energy credits (RECs) through your electricity provider.

Visit green-e.org/certified-resources to see what's available in your area.

Practice self-education through resources like Yale Climate Connections.
CREATE CHANGE
COME TOGETHER
Start a conversation about sustainability and environmental justice in your community, working with an organization like Living Room Conversations to bridge divides.

Amplify the voices of environmental justice advocates by sharing their content on social media.

Volunteer with a local conservation group to restore natural habitats in your community by removing invasive plants or planting trees

.