FRIES CENTER FOR GLOBAL STUDIES COMMITTED TO CITIZENSHIP IN INTERDEPENDENT WORLD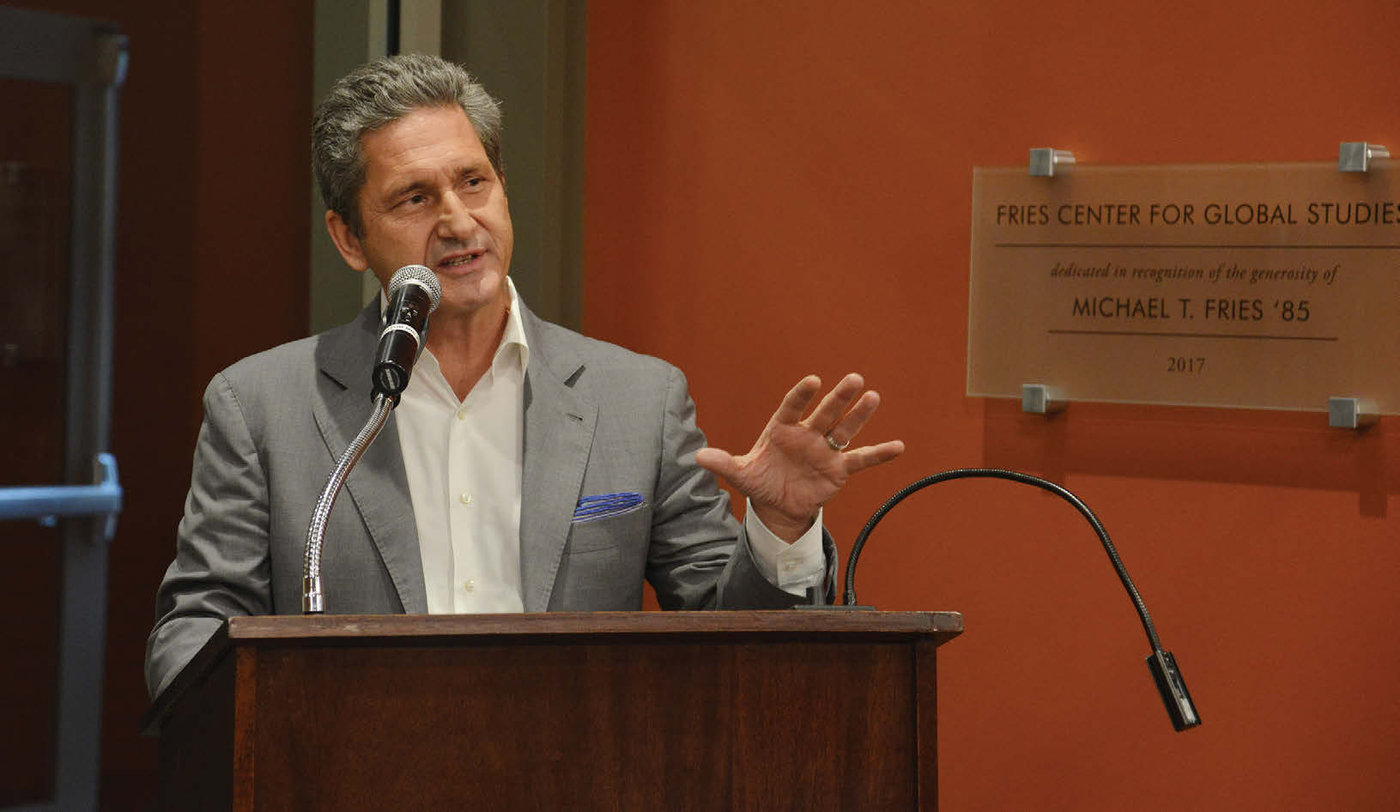 Faculty, staff, students, and alumni recently gathered for the dedication of the Fries Center for Global Studies.
Housed in Fisk Hall, the center includes the Office of Study Abroad; Fellowships, Internships and Exchanges; Language Resources and Technology; and Language and Intercultural Learning. The center was dedicated in recognition of the generosity of Board of Trustees member Mike Fries '85, vice chairman and CEO of Liberty Global, the world's largest international TV and broadband company with operations in over 30 countries and 45,000 employees outside the U.S.
In his remarks at the dedication, Fries recalled Wesleyan's role in helping him become a global citizen. "When I arrived in Middletown I was pretty myopic about the world. I had no clue I would someday launch a multinational business like this, but Wesleyan gave me the confidence and perspective to see beyond borders and tackle anything. The Center for Global Studies provides an incredible platform for generations of Wes students to make the world smaller, embrace new challenges and opportunities and define their own role as global citizens." Fries also noted that he is committed to helping all members of the Wesleyan community achieve the knowledge, language skills, and sensitivity to exercise effective and responsible citizenship in an increasingly interdependent world. He had also spoken about his career with Gordon Career Center Director Sharon Belden Castonguay in a Careers By Design podcast titled "Take A Risk." Listen at: wesleyan.edu/careercenter/cbd_interviews.html.
Director of the Fries Center for Global Studies Antonio Gonzalez, professor of Spanish studies, noted, "Our emphasis on intercultural communication, experience, and knowledge reflects the value Wesleyan places on adaptability, compassion, and cultural self-awareness with respect to the world beyond our borders. These qualities and practices put Wesleyan's liberal arts program at the forefront of global education and are the hallmark of responsible global citizenship."
The Fries Center for Global Studies offers space and technology for a wide range of learning styles and activities. A generous commons area can be used as a venue for special events and provides large displays for presentations or watching international events. Students will find places to study and to convene, both in the commons area and in the Language Resources and Technology (LRT) area, a multipurpose space that provides flexible seating, located across the hall and equipped with desktop computers and laptops to accommodate the needs of an entire class. Student attendants staff the LRT, which can be used for teaching, testing, workshops, and study. A multimedia classroom with telepresence equipment allows Wesleyan easy collaboration with other schools in the United States and abroad. The audio visual workroom enhances the center's production capabilities, complete with a recording studio, a digital editing workstation, and a video production studio.