THERE'S NO APP FOR A GOOD SWING DANCE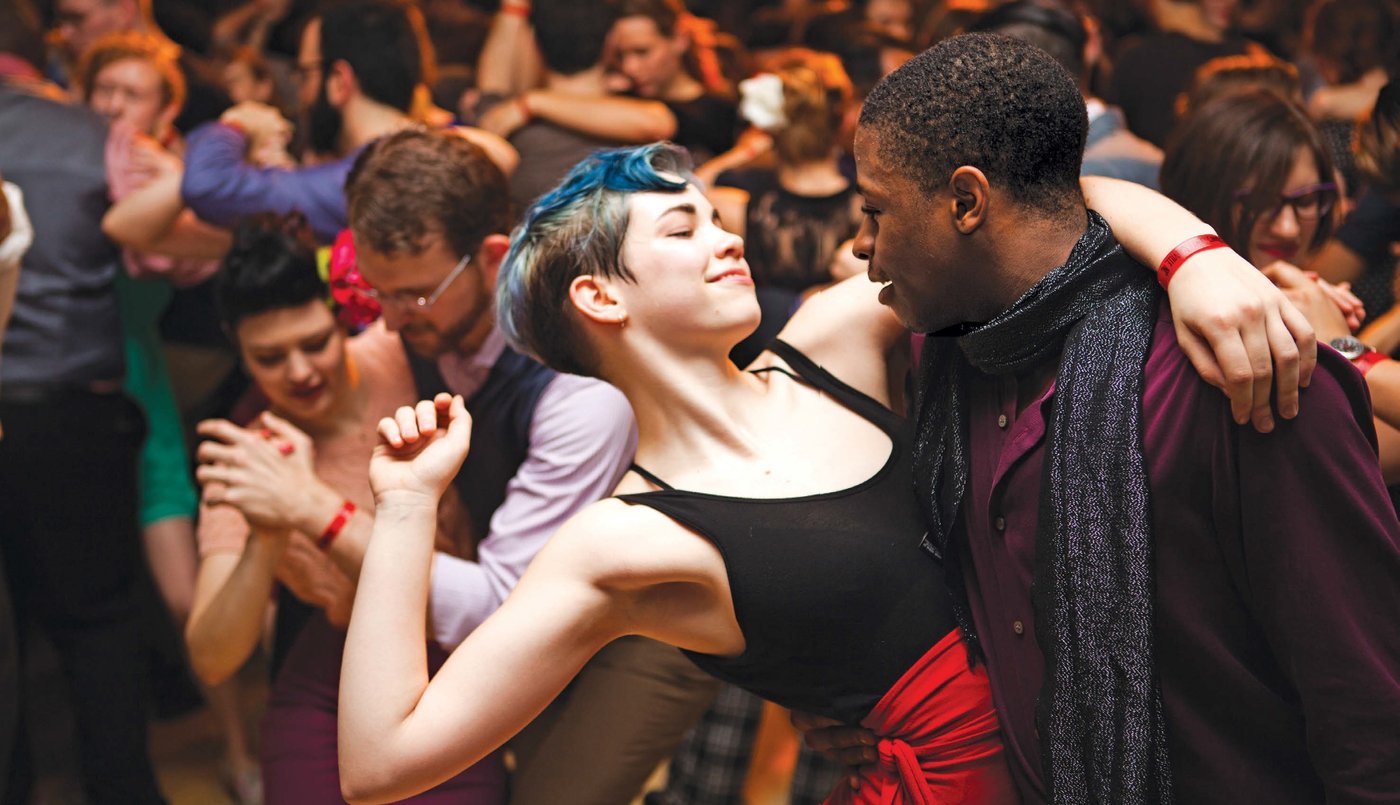 In Alive and Kicking, the Lindy Hop documentary from which this still is taken, writer/director Susan Glatzer '87 created an experiential high-energy film—and included Magen Jennings '04 and film studies alumni Zoe Broad '14, Andrew Cohen '14 , Jana Heaton '14, Amanda Marks '88, and Gabriel Urbina '13 on her crew.
Alive and Kicking, a documentary by writer/director Susan Glatzer '87, offers the Lindy Hop as an antidote for what ails us in the electronic age.
ALIVE AND KICKING, Susan Glatzer's documentary on the current popularity of the Lindy Hop, a swing dance born on the streets of Depression-era Harlem, may convince you that the dance is the tonic to cure a host of modern-day ills—from an individual's social isolation, PTSD, and depression, to society's racial and political polarization. She has individual testimonials on these. Not only that, but the documentary itself, with its jazzy soundtrack and fast-paced footwork by eclectic real-life aficionados, will most likely leave you humming a jazz tune, snapping your fingers in an eight-beat rhythm, and looking for the nearest Lindy Hop dance hall.
Glazter, a film major as an undergraduate, is a producer—as well as a former film studio executive at Paramount and past board member of the International Documentary Association (IDA)—but the impetus to make this film was never a hidden desire to step behind the camera lens, she says. Instead, she was pulled into directing by her passion for swing dancing, a hobby she picked up in the late '90s during a difficult time, when "I knew that if I could just drag myself to the dance each week, I'd have joy in my life again."
Initially, she had the idea for a short film "about a couple in their 80s whom I knew in the swing dancing circuit—and everybody wanted to dance with them." She tried to interest colleagues on the IDA board, but had no takers, so "since I wasn't a film maker and I had a very big day job, I just let it go."
But it didn't let her go. A visit to The Big Easy, its history steeped in jazz, swing, blues, and dance, lured her back to the concept and amped it up. "In New Orleans, the culture is just so vibrant and rich," she recalls. "It's sensual in every manner of speaking. And it just hit me that this documentary should actually be feature. I still didn't think I'd be directing it."
Eager to entice a friend to direct the movie she imagined, Glatzer brought her to a couple of events. "She told me, 'This is really fantastic, but I won't be able to get to it for a while.'" So Glatzer started shooting, just a bit, getting footage she hoped could be used in a sizzle reel to raise money for production.
Time went by; her friend's timeline got pushed back; Glatzer kept on shooting. "Finally, I realized that I was directing it." says Glatzer. "Or, as I like to say, 'I got a little pregnant with it and took it to term.'"
In retrospect, Glatzer is glad. "I think a nondancer would have come up with a very different film." For instance, the "big competition" would have been an easy trope, yet a film pitting dancers against each other seemed at odds with the familial ethos she loved about this community. Instead, she focused on depth within individual storylines: Steven and Chanzie, L.A. dance partners who team up to make a career in competition, hoping to leave their day jobs and teach full time; the Swedish Decavita Sisters, Emelie and Rebekah, former psychologists who enjoy the appeal the duo finds on the circuit and struggle with a health setback; and Evita, a passionate dancer and Lindy Hop teacher who travels the world.
Perhaps the most succinct expression of Glatzer's theme comes from Evita: "Swing dancing is the pursuit of happiness," she declares. It's reiterated by other dancers and the host of experts Glatzer interviews, including legends such as Frankie Manning, dubbed the 'Ambassador of Lindy Hop.' Born in 1914, he was one of the original Harlem dancers who appeared in the 1941 film, Hellzapoppin', and when the 1980s saw a resurgence of swing, the retired postal worker was summoned back to the limelight, teaching the moves he'd created so long ago to a new generation of feet eager to jump and jive.
Glatzer also interviews those who are bringing swing dancing back to its roots in Harlem and to other predominantly black communities—noting that cultures as unlikely as Sweden and South Korea have built a strong base of Lindy Hop aficionados. Still—"I didn't want to make an educational film about swing dancing," says Glatzer. "We told you the things that you absolutely needed to know, and everything else, you could experience." The settings run the gamut: international competitions, intimate practice sessions, weekend "camps," hotel-room parties, and beginner classes. Glatzer provides the access and sits back with the viewer to marvel at the breathtaking acrobatics performed uptempo. She recalls the time their assistant editor, Gabriel Urbina '13, was viewing dailies of a competition and stopped to stare at the screen. "That is not how gravity works," he insisted.
As she continued, Glatzer realized she had a further reason to direct. "I wanted to use the lens of swing dancing to address some troubling aspects of our society," she said. "We use screens to communicate: we work, go home, watch TV, get on our computers. That is not a life. You cannot do a swing dance without connecting with other people, conversing with them, touching them. There is no app for a good swing dance.
"Frankie Manning would talk about a dance as a three-minute romance. The Lindy Hop is improvisational, so you are communicating with the other person all throughout, reading their body language, figuring out what they'll do next and what you'll do, too. At the end of the dance, you feel like you could finish each other's sentences. It's a street dance, so it's about having fun, making your partner laugh, and being as goofy as possible. Obviously our film focuses on amazing dancers—but this dance is for any age, any size, any background, any gender."
Begun in 2011, the film premiered at South by Southwest in 2016 and was picked up for distribution. Initially Glatzer was disappointed when it was put off until 2017, but "it's been a blessing to have the film come out, post-election. People have been responding to its message in very heartfelt ways.
"The Lindy Hop cuts through factions and layers of mistrust," she says. "Once you've danced with someone, you see beyond stereotypes. It's in coming together that we realize we're more alike than we are different."