YOUR SECRET'S SAFE WITH ME: DIPLOMATIC THRILLER WRITER MATTHEW PALMER '88
Matthew Palmer '88 is director of the Oce of South Central Europe in the State Department's Bureau of European and Eurasian Aairs. He is a lifetime member of the Council on Foreign Relations and a distinguished graduate of the National War College who counts positions on the Policy Planning sta and at the National Security Council, in Washington, D.C., as well as diplomatic assignments around the world, among his previous assignments. A 25-year veteran of the U.S. Foreign Service, he is the best-selling author of four diplomatic thrillers, including his latest, Enemy of the Good.
How did your time at Wesleyan prepare you for a life in diplomacy?
I was an East Asian studies major at Wesleyan and did my junior abroad in Japan on the terrific Associated Kyoto Program. I joined the Foreign Service in 1992—having focused on nothing but Japan during my entire academic and professional life. My plan was to join the State Department's "Chrysanthemum Club" of Japan hands who bounce back and forth between positions in Tokyo and on the Japan desk in Washington. At the end of my training, I was assigned to a job in Beijing via Chinese language training and given a little Chinese flag to mark the occasion. I was lucky. That fit in very neatly with my plans. The very next day, human resources called to tell me that the job was being eliminated.
"How do you feel about Belgrade?" the assignments o'fficer asked.
"Is that next alphabetically?" I responded.
"No. It's Beirut. But there's nothing open there."
Such are the vagaries of life in the Foreign Service. I never did make it back to Japan.
All of your books, including your newest, Enemy of the Good, are diplomatic thrillers. Were you always a fan of the genre?
I always enjoyed a good spy story, but I chose to write in the thriller genre largely because of the influence of my father, Michael Palmer [Wesleyan Class of 1964]. He was a physician and the author of 20 medical thrillers, including Extreme Measures and Natural Causes. My brother is a novelist as well. He and I learned from our father how to tell a story, develop characters, and build dramatic tension. On the day my first book, The American Mission, was published, I walked into the local Barnes & Noble and there, on the new releases shelf, was my book sandwiched between my brother's book and my father's. Sadly, Dad had passed away about eight months before—but he would have loved that.
You're a lifelong diplomat. How has your diplomatic career influenced your writing?
My primary protagonists in all four of my books are Foreign Service O'cers—FSOs, in the acronym-heavy State Department argot. One of the goals I have with my writing is to demystify diplomacy. The American public has pretty good reason to believe on the basis of the books they read and movies they watch what soldiers and spies do for a living. But the diplomats in popular culture are typically pusillanimous cookie-pushers in striped pants, or soulless bureaucrats doing a deal with the devil—quite literally, in the case of Gregory Peck's character in The Omen, Robert Thorn, ambassador to the Court of St. James.
The FSOs it has been my honor and privilege to work with are patriots: dedicated public servants who typically work in di'fficult and dangerous conditions to advance the interests of the United States. My heroes wrestle with the moral dilemmas that are inherent in wielding national power. The question of how to maintain a moral compass while struggling to balance competing interests in circumstances that are murky and ambiguous is a consistent theme that runs through all of my novels, as well as through my own professional life.
Being immersed in your field, and having so much firsthand knowledge of the subjects you write about, how much research do you typically do before starting a new book project?
Quite a lot for my first two novels. The American Mission was set in the Democratic Republic of Congo and Secrets of State was about the India–Pakistan dynamic. I knew something about those countries, but I was hardly an expert. Interestingly, my third book—The Wolf of Sarajevo— was set in Bosnia, a country I know very well. This turned out to be something of a problem for me as a storyteller. I had to struggle against the temptation to include too much detail—too much nuance—to show off how much I knew. That's bad for story. And story, along with character, are what really matter.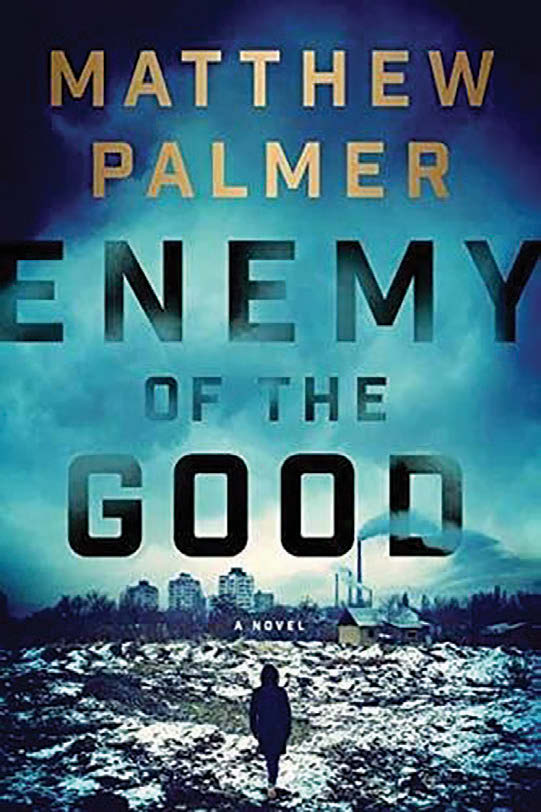 Sometimes, though, I wonder how much I really need to worry about getting the details right. My most recent novel, Enemy of the Good, is set in Kyrgyzstan, a country one reviewer from a reputable publication called "fictional" in what was otherwise a glowing write-up. In fact, the reviewer commended my "highly realistic" description of the place. You'd think, however, that if I was going to simply invent a country, I might have chosen something easier to spell. Maybe even one with a vowel.
Because of your profession and the subject matter of your books, are you required to go through an offiŽcial vetting process before you can publish your work? And if so, have you ever been asked to change any of your story settings, plot points, or character descriptions because you came too close to revealing a secret truth?
I have to submit all of the manuscripts for review. The reviewers are looking for any classified information that might have somehow snuck into the story. And, yes, I have been asked to make changes which, predictably, I can't describe. Nothing fundamentally damaging to the story, however.
Did you always want to be a writer, or did your experience as a diplomat make you think, wow, that would make a great book or a terrific character?
I knew for a long time that I wanted to try my hand at writing fiction…eventually. But I needed to find the right story. About 15 years ago, I started working on the issue of conflict diamonds and developing a mechanism for tracking the stones from the mines to the jewelry stores. This eventually grew into something called the Kimberly Process that has helped restrict the trade in so-called "blood" diamonds. This, I realized, was the story I had been looking for. My first book, The American Mission, ultimately featured the trade in conflict minerals like coltan—a metallic ore vital to the electronics industry—rather than diamonds, but I drew heavily on my experiences from the Kimberly Process. And it still took me the better part of ten years to write that first book.
Tell us about Enemy of the Good and its heroine, Katarina "Kate" Hollister. Is she based on anyone you met during your career?
Absolutely. And I expect she knows who she is. Kate is an idealist who struggles against the imperative in our profession to compromise. The title of the novel comes from the admonition that one should never let the best be the enemy of the good. In other words, perfection is unattainable and if you insist on holding out for the ideal you risk coming away with nothing. Diplomacy, like politics, is the art of the possible. Kate rebels against this principle of compromise, and she pays a price for her idealism.
With all the work that goes into creating your characters, can you bring yourself to choose a favorite among them?
I think I'd choose Andy Krittenbrink, the supersmart, kind of schlubby intelligence analyst in Secrets of State. For some reason, I really just liked the guy. Of course, that didn't stop me from killing him on page 178. Uh…spoiler alert. Sorry.
All four of your books seem ripe for cinematic telling. Do you have plans to turn any of them into movies, at this point in time?
Not plans so much as daydreams, right now. It's the one thing in publishing that can transform a writer's career. It hasn't happened yet, but I think the books I write are su'fficiently cinema-graphic that they'd translate easily to the screen. If any of the famous Wesleyan mafia in Hollywood are reading this, give me a call.
One last question, while we're on the subject: If you had your choice, who would you cast as Kate in a movie version of Enemy of the Good?
I think Emma Watson would do a fabulous job of capturing Kate's combination of braininess and intensity. Emma: if you're reading this, give me a call.
READ AN EXCERPT FROM ENEMY OF THE GOOD AT MAGAZINE.WESLEYAN.EDU.