Spotlight on Alumni: Architecture as Slow Gratification, by Himeka Curiel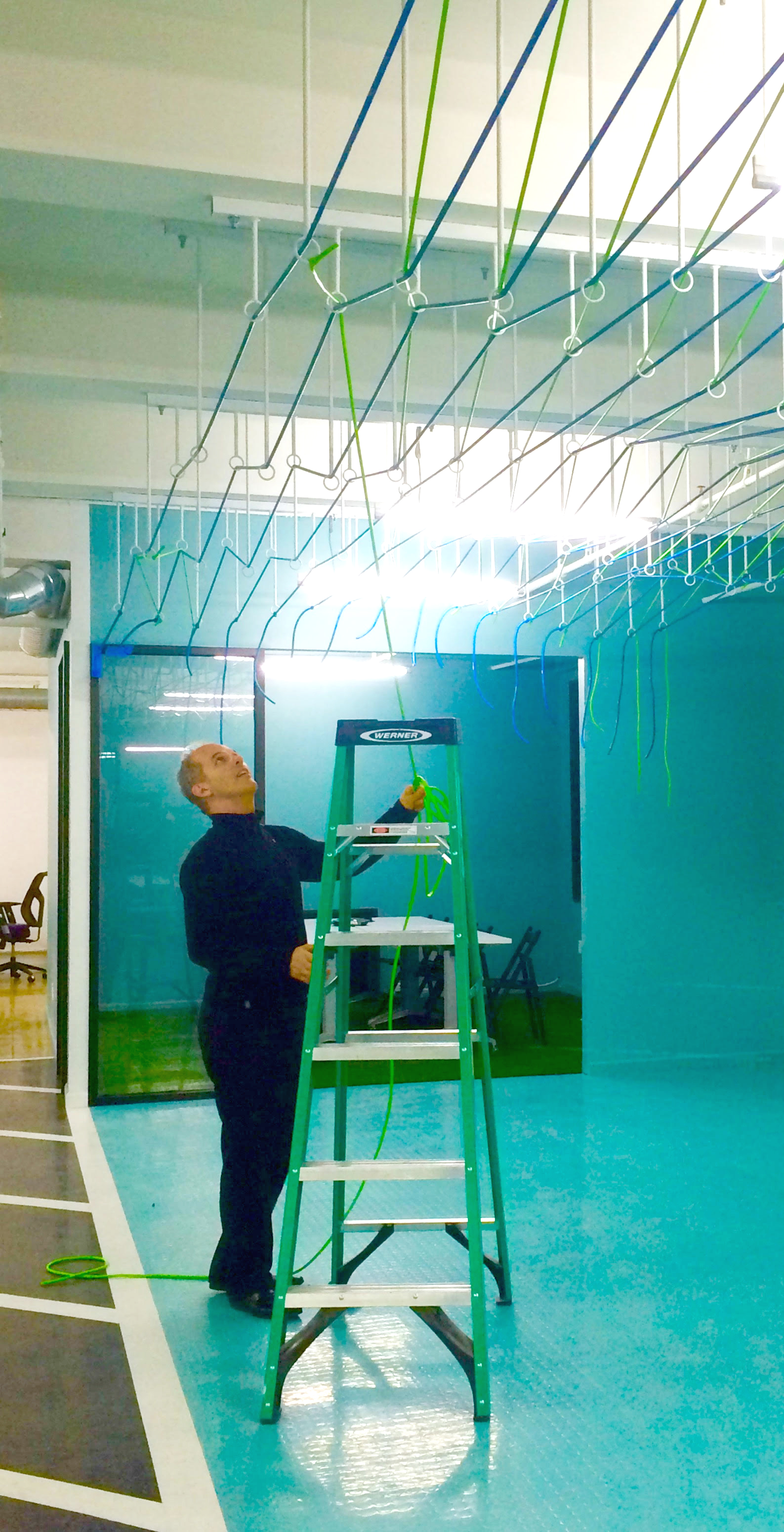 Alex Levi '90 discusses "slow architecture" and putting collaboration and connection at the heart of each project.   
THERE'S A CERTAIN SENSE OF effortlessness that Alex Levi '90 remembers from his rowing days at Wesleyan—that feeling of being perfectly in sync and in so doing achieving something better and greater than any individual effort could reach alone.
That feeling came back to inspire Levi in a recent project, designing a collective office space that serves as the administrative hub for four sports-based youth development (SBYD) nonprofits in New York City.
The 10,000-square-foot open workspace in the middle of Manhattan's Garment District is home to the offices of Vita Sports Partners, the collective umbrella under which Row New York (rowing), Play Rugby (rugby), I Challenge Myself (cycling and fitness), and Beat the Streets (wrestling) come together to share administrative resources and a common mission expressed in their tagline: Elevating humanity through sports.
Levi and his design partner and spouse, Amanda Schachter, were tasked with creating a practical space that could appropriately serve the needs of all four groups, while also evoking a sense of fun, light, and airiness so that the groups didn't feel crowded—all within the constraints of a typically anemic nonprofit budget.
It was a challenge perfectly suited to Levi's unique architectural process and his commitment to social outreach, sustainability, and meaningful design.
"When we design something for a client, it's sometimes one of the most important moments in that person or institution's life," he explains. "We try to slow it down enough to embody the spirit of that ambition, to make something beautiful that will last them as long as they need it rather than taking a fast cookie-cutter approach or making it the answer to a formula about market or profit."
Levi traces the seeds of his interdisciplinary people-centered approach to his years as a visual arts major at Wesleyan and his volunteer work teaching painting and visual arts to prisoners in Hartford's Morgan Street Jail. From Wesleyan he moved on to architecture school and practicing in Spain, before returning to the States and opening up SLO Architecture (a play on "Schachter Levi Office"), a full-service design studio that links urban and architectural design with artistic production and social action.
The Vita Sports project, in typical SLO Architecture fashion, was a collaborative effort that combined elements of innovative design, community engagement, youth involvement, reclaimed materials, public interest, and building relationships.
With an extremely tight budget, Levi and Schachter were challenged to think innovatively, designing pieces with multiple functions and creating efficiencies in shared desk spaces and fun phone booth–type quiet conversation areas separated from the general workspace. Tire treads on the lounge bleachers provide cushioning and evoke movement. Multicolored resistance training bands crisscross the ceiling, echoing the core strength (physical and intellectual) that the underserved youth in the program learn to develop. Translucent partitions "float" from the ceiling, delineating different work areas while also mimicking the flying sensation of rowing across the water—a nod to Levi's Wesleyan crew days and a metaphor for the exhilaration and harmony that comes from working together as a team.
Assembling specially designed pieces became another opportunity to not only save money, but to also strengthen the bonds among the groups within the collective. Levi and Schachter organized a series of "painting weekends" bringing together group volunteers, fans, the kids in the programs, coaches, and alumni to help put the space together.
"That was part of the design—to get together, to design the excuse to get together," says Levi. "We're very unorthodox, but in all our work, we aspire to have rigorous fun and make sure that fun is the highest form we reach. There's a strong bond you create with your clients; you become part of a network of spirits. Kindred spirits with people who have a mutual understanding about this mission. You're not just providing a mere service; you're teaming up with someone in the long run to make the world better."
To learn more about SLO Architecture and its myriad projects (including art installations, service projects, ex situ preservation pieces, and conventional commissions), visit SLOarchitecture.com.