The Hard Truths of Investigative Reporting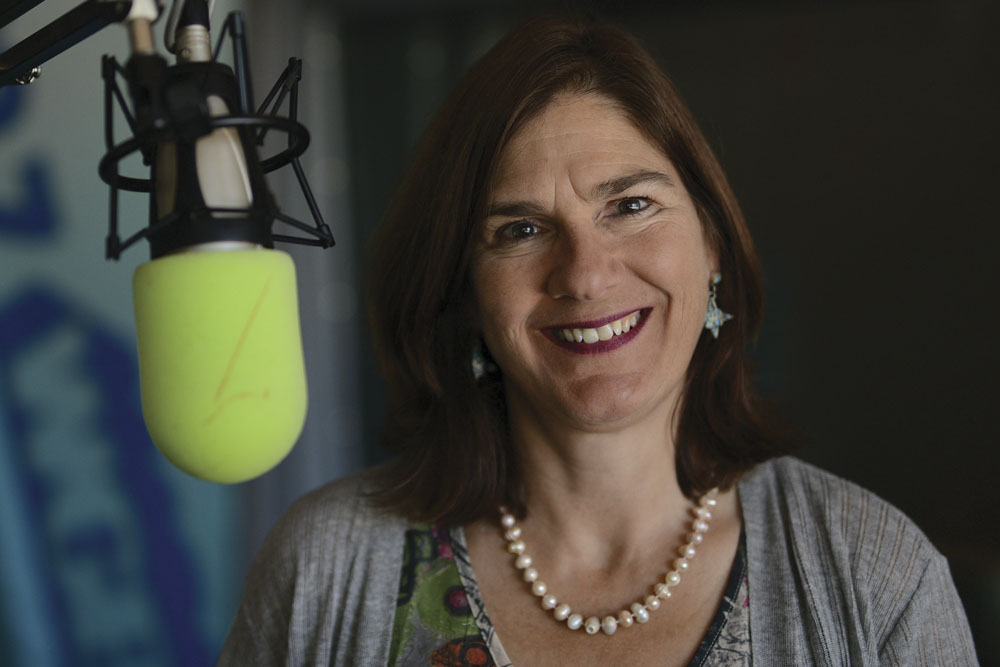 Prizewinning investigative journalist Jenifer McKim '88 teaches the next generation of watchdogs how to question authority, find the facts, expose the truth—and change lives for the better. (Photo by Meredith Nierman, WGBH News)
Thirty years ago, Jenifer McKim '88, walked into a news room in San Juan, Puerto Rico, and "fell in love," she recalls. "I loved the idea of interviewing people, asking questions, and learning every day—and making a difference. One of the first stories I wrote was about a homeless family. The next day the mayor called to say he'd found them a home.
"It's amazing what can happen when you get people—particularly vulnerable, marginalized people—to tell their stories."
McKim is now a prize-winning investigative reporter with the New England Center for Investigative Reporting (NECIR). The organization enjoys partnerships with Boston University and WGBH, with which it shares a building in Brighton, Massachusetts, just outside Boston. NECIR and the university share a mission to teach the next generation of reporters dedicated to "exposing injustice and holding the powerful accountable" with classes and internships. The public broadcasting station provides crucial editorial support, collaborating on content and presenting it on air.
On the day I arrive, McKim will be talking with radio anchor Barbara Howard, about a project that McKim and journalism intern K. Sophie Will have explored: Are elderly inmates too vulnerable to be housed with the general prison population?
Their subject is William S. Sires, a 72-year-old convicted murderer, who was ambushed and killed by other inmates almost four years ago in one of the state's maximum security prisons. McKim had launched the topic in her Boston University journalism class, sending students out to look at the court files for evidence that would be compelling to their audience. A video showed the murder had unfolded over the course of half an hour, while guards on duty were oblivious to the elderly man's distress.
"The video was pretty telling," says McKim, who led her class in developing a series on aging in prison, now featured on the NECIR site.
"The type of work you can do by really digging into documents and data is what sets investigative reporting apart."
She recalls a story on the dangers in state-licensed childcare, which she worked on years earlier, at the Orange County Register. Led by Kimberly Kindy (now at The Washington Post), the team needed access to records on the daycare sites, which were only accessible within the state offices—but Kindy had a plan: "We rolled two big photocopying machines into the office and we spent two weeks photocopying every single state licensing report about all the childcare facilities in California."
The project also included site visits. "I'd gone to a daycare, told them I was writing a story, and asked to come in," she recalls. She pocketed a few pieces of chipping paint from the walls. Sure enough: it tested high in lead. The team's four-part series prompted state legislation to improve safety standards at each site.
McKim wasn't through, though: "I had this question—What else can we know about lead poisoning? I wrote a public records request with the county health department to see how kids were getting poisoned in Orange County."
She had expected stories of lead paint and slumlords. What she found was candy imported from Mexico. On a two-year project, McKim and her team of six traveled to Mexico several times and discovered that a sweet and spicy treat contained tamarind that had been stored in lead-painted pots. The treats were then wrapped in paper coated with lead-based paint.
McKim's article was translated into Spanish and featured a poster of all the candies that the FDA had found toxic.
"For years I would get calls from health care professionals about this piece. It was probably the most ambitious investigative story I've ever done; we had an editor who kept pushing us with 'What else do we have to ask?'"
The story was finalist for the Pulitzer Prize in public service and the poster was plastered everywhere, from in childcare centers in California to public housing projects in New Jersey.
Now back in her hometown of Boston, McKim says her passion is exploring issues related to children. When she was working at the The Boston Globe, she discovered a press release about a pimp who got 25-years-to-life for sex trafficking minors. McKim delved deeper, finding the names of the young women who testified that, as children, they had been trafficked.
"I wrote letters and called," says McKim. "One of the young women finally picked up. 'Who are you, what do you want, and how did you find me?' she asked. 'I want you to tell your story.' I said."
McKim flew to Tennessee to talk to the woman, who feared for her life and insisted on anonymity. Gaining her trust, McKim convinced her to be photographed, but only with her face in shadows and the photographer's byline omitted.
"I felt I really was able to help her tell her story and, through that, I was able to discuss larger issues in the article," says McKim. For her work, she was also awarded a Casey Medal for meritorious journalism. Further positives: Advocates who read McKim's piece invited her subject to work at a D.C.-based nonprofit. "I wrote a follow-up: 'From Victim to Advocate, Out of the Shadows.' Asia Graves is no longer afraid of using her name and telling her story."
Five years into her work at the Globe, McKim left the paper she had admired since childhood for a job with NECIR.
"Journalism is changing—and nonprofits have become part of the picture," she says, recalling that earlier in her career, The Orange County Register had been able to support a team that would take over reporters' beats when they went off on time-consuming, expensive investigative projects. Now, such projects at most newspapers are done in odd hours, after one's regular beat is completed for the day.
Still, the market shows a keen interest in investigative reporting. Beth Knobel, author of The Watchdog Still Barks: How Accountability Reporting Evolved for the Digital Age, writes in the Columbia Journalism Review: "Numerous papers I studied for my book actually saw their circulation increase and their financial fortunes improve after they rededicated themselves to the watchdog role. … While newspapers have to watch the bottom line, there is much more at stake here. Nothing newspapers do is more important than keeping the powerful in check."
Awaiting her call into WGBH radio anchor Barbara Howard's studio, McKim reflects on her career. "People always ask me if investigative reporting is emotionally hard work. One of the first things I did here was a project on child fatalities at the hands of parents or caretakers.
"It took us a good part of a year and $4,500 to get information from Child Abuse Prevention and Treatment Act, CAPTA: the age and gender of the child, if they had services from the Department of Child Services, and if they had died of abuse and neglect at the hands of a caretaker."
Finally, her team learned that within a five-year period, 110 kids had been murdered or died at the hands of a caretaker by abuse or neglect.
"Reading through those documents day after day was really hard," she says. "We tried to track down every family to find out what happened and we put each child's picture on the wall.
"Some of our interns would come in crying, 'I can't do this anymore,' but I'd tell them, 'You're doing these stories because they make a difference.' And it really did. Ultimately, our work prompted the governor to eliminate a two-tiered supervision track that the Department of Children and Family Services used, because the children who supposedly needed a lower level of oversight were some of these 110 children killed.
"So you write these stories because they will make a difference in someone's life. It's hard work and very expensive. And while most major newspapers still have I-teams—the Globe has Spotlight—it's tough for smaller papers. So places like the New England Center for Investigative Reporting, ProPublica, and Reveal provide a place to foster this work."
Many newspapers charge for reading online, she says, and she feels conflicted: "While you can't give content away free—it costs money to do this work—you do want your stories to be read. Think how much everybody pays for their television subscriptions every month. Think how much it costs to have a newspaper. And think about nonprofit donations you make."
Being housed at WGBH, she says, encourages her to believe that, even while newspapers are shrinking and closing, the nonprofit radio model is gaining strength.
"It's kind of exciting to watch," she says. "We are all challenged to tell these stories: they are important; they make a difference."