The Outstanding Tennis Game of Eudice Chong '18, by Jeremy Mindich '87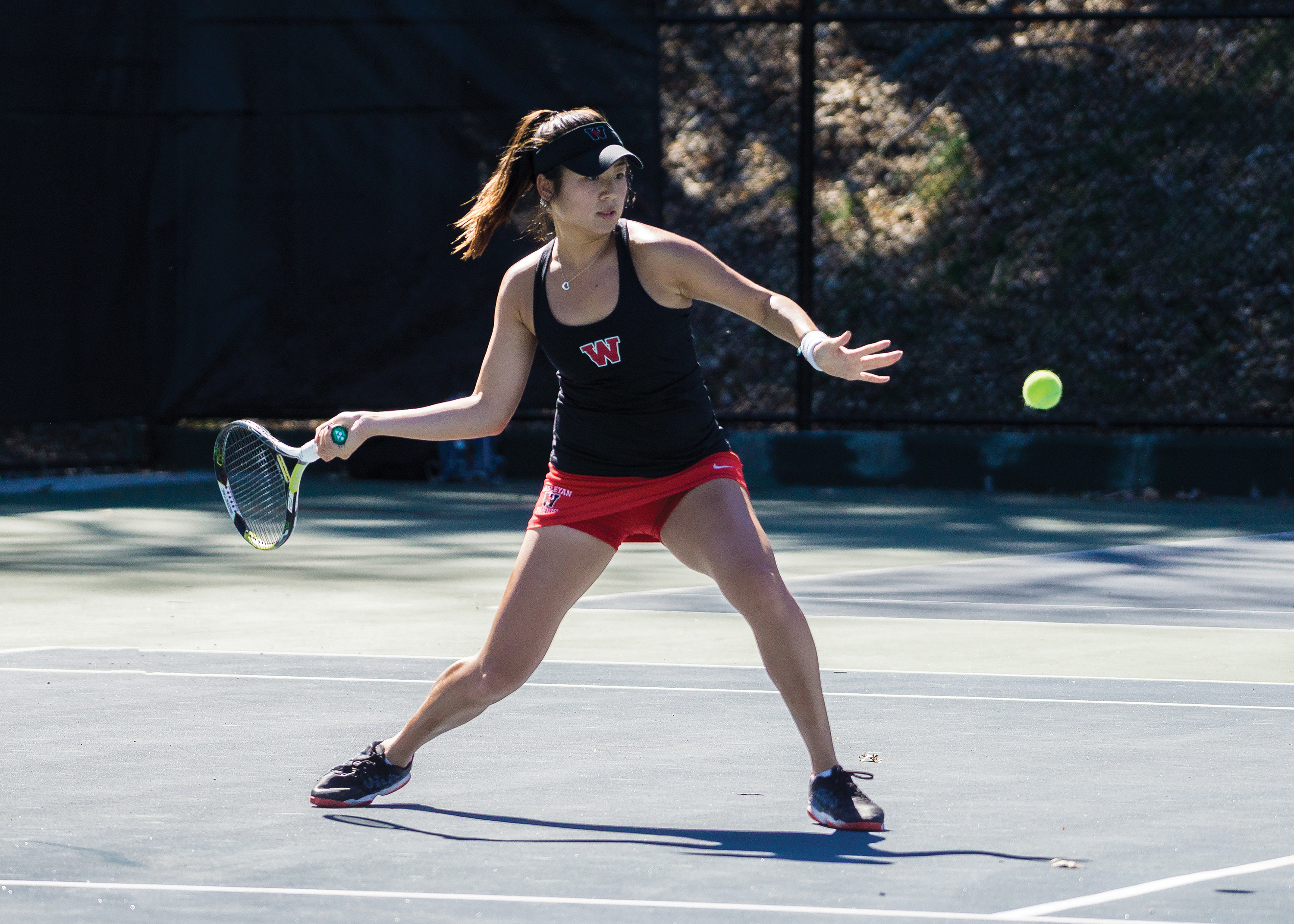 This spring Eudice Chong '18 won an unprecedented fourth NCAA Singles Championship. Jeremy Mindich '87 had a courtside view of Wesleyan's scholar-athlete excellence. Character is central. (Photo courtesy of Wesleyan Athletics)
Jeremy Mindich '87,  former captain of the Wesleyan tennis team, reflects on his recent involvement with the team and his admiration for its most outstanding player. Winner of her fourth consecutive National Collegiate Athletic Association Singles Championship, Eudice Chong '18 was also named Division III Honda Athlete of the Year, as well as garnering a number of other honors. Mindich writes:
Four years ago I began getting involved in Wesleyan tennis. Coach Mike Fried had been sending excited letters to tennis alumni about the strength of the players he was bringing to campus.
I tried to explain to him that Wesleyan tennis alums couldn't care less about national recruits because few of us had ever played at that level—but added: "If you tell me that they are the same kinds of quirky, interesting kids that we played with, then I would be interested."
"They are!" he said.
To test his hypothesis, we set up a "pro-am" tournament that fall where current team members could play with alumni. It was a huge success. What struck us all was not just what great players were on the team, but what amazing, gracious, idiosyncratic young men and women they are. Eudice is a prime example. Poised, confident, articulate, she is everything you would want in a classmate and friend. Getting to know Eudice and her teammates, helping them plan careers, and following their athletic success has been an incredibly gratifying experience for me and other involved tennis  alumni.
Tennis is a funny sport. It doesn't naturally lend itself to a team structure, especially in this era of individual coaching and tournament training. The dynamic can be even more pronounced if the top player is on a higher level than the rest of the team. The star can become a prima donna with a mercenary attitude: "I won my matches. What did you do?"
Eudice is, of course, the very opposite of this, despite her individual success. As Coach Fried noted, Eudice would have been the most valuable player on the Wesleyan team even if she were playing at the bottom of the lineup. The captain of the team, her commitment and leadership are so tangible, visceral; she inspires her teammates to be their best. What consistently blew me away is how she found opportunities to cheer on her teammates. At intense moments in her matches, or just absentmindedly as she is warming up, she will let loose a "Come on, Wes!" Her authentic support for her team above herself was so clear and inspiring at those moments—it was breathtaking.
As a longtime Yankee fan, I followed Eudice's career at Wesleyan with feelings I had watching the legendary Mariano Rivera pitch. It was an honor to be in the presence of such greatness. His excellence was not just in his technical ability, but in his composure, the way he carried himself, the way he strode the earth. Eudice, too, matches extraordinary talent with humility and selflessness.
It has been a privilege to watch her play, and an inspiration to watch her lead. We will follow her pro career with fascination, and we know that in whatever she chooses to do, the talents that have driven her success as a player and leader at Wesleyan will serve her very well.
Extra: Read a Q&A with Eudice Chong '18 here.