The Podcast Person: Mia Lobel '97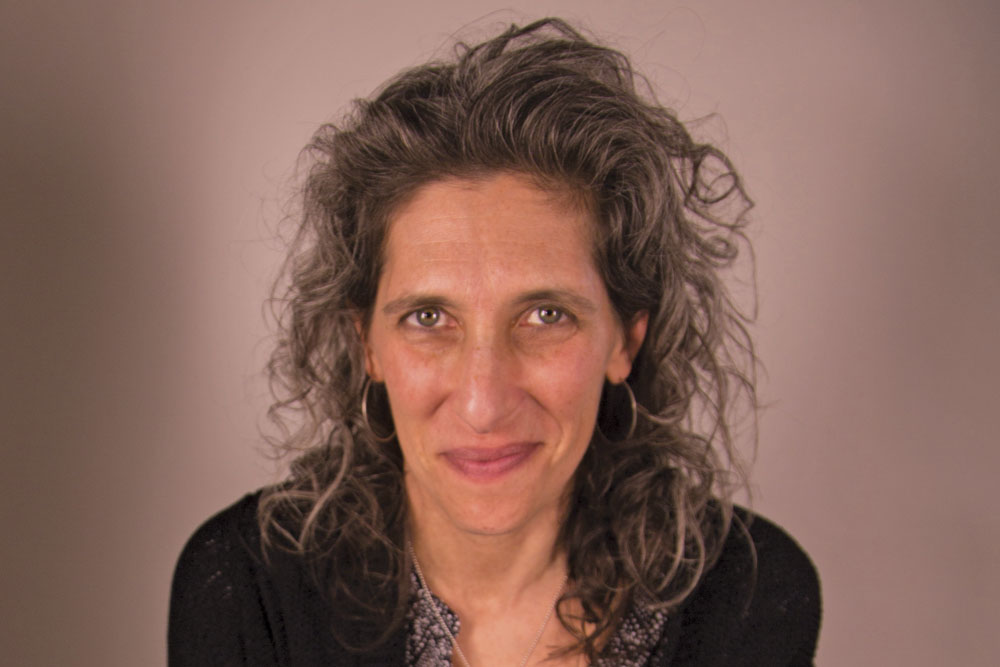 Mia Lobel '97 has audio stories she wants to tell—and she had been waiting for technology to catch up. (Photo by Tatiana Flowers)
Mia Lobel '97 marks 2014 as the year the general public began to share her excitement for podcasts. An anthropology major at Wesleyan, Lobel earned her graduate degree in journalism, specializing in audio formats in 2001. ("Radio, at that time," she says.) She and her classmates created shows, but they were only available on the web, which, at that time, meant on computers.
Then in 2014, Serial came out and smartphone technology made the series accessible to people everywhere, whenever they wanted to hear a good story.
"People were reintroduced to the power of sound alone—where you make all these pictures in your head," she says.
This spring, Lobel produced Empire on Blood, a seven-part serialized podcast from Panoply. The series investigates a 1992 double homicide in the Bronx, exploring the judicial process that led to a conviction. That conviction has now been overturned after Calvin Buari spent more than two decades in prison for these murders, which he did not commit.
The show, says Lobel, is the result of veteran journalist Steve Fishman's six-year quest to determine the facts of the case.
"Steve brought us this incredibly complicated story he'd been working on," recalls Lobel. "He had courtroom papers and 80 hours of taped interviews with all the key players. It was so exciting for me as a producer. The show takes a really deep look at the moral complexity of the criminal justice system: What happens if you are, actually, a criminal—but convicted of a crime you didn't commit?"
She, herself, was "hugely influenced" by S-Town, a podcast set in a small town where one man claimed a murderer was at large. Lobel recalls, "It made me really want to try my hand at serialized, narrative nonfiction—one story told over multiple episodes."
That is exactly what she and the team at Panoply achieved. Each of the Empire on Blood episodes highlights one of the main characters. Additionally, "the host, Steve, is a character himself. He's been obsessed with this and got so deeply connected to his characters that his audience will, too—even though a number of the people we profile are convicted criminals.
"You come to feel real empathy for Calvin Buari because Steve allows us to know him in all his complexity—not just a '90s-era drug lord. We worked really hard to do that for all the characters."
And it was not a process without harrowing moments. At times, the crew wondered if they—or their tapes—would be subpoenaed. That was resolved, though: just before the series went on air, the district attorney asked the judge to entirely dismiss the case against Buari.
"So Calvin is completely free now," says Lobel. "But after 22 years behind bars, you can't just jump back into your life—so the story investigates that, too.
"That's why I've loved working on this show; it has a real social justice angle—and it's a story that's Shakespearean in nature. There's treachery, it's complicated, it's bawdy, and also it's fun at times. It has everything you are looking for in a great story: it has a purpose—but is also entertaining."