Eudice Chong '18: Post-Grad Goes Pro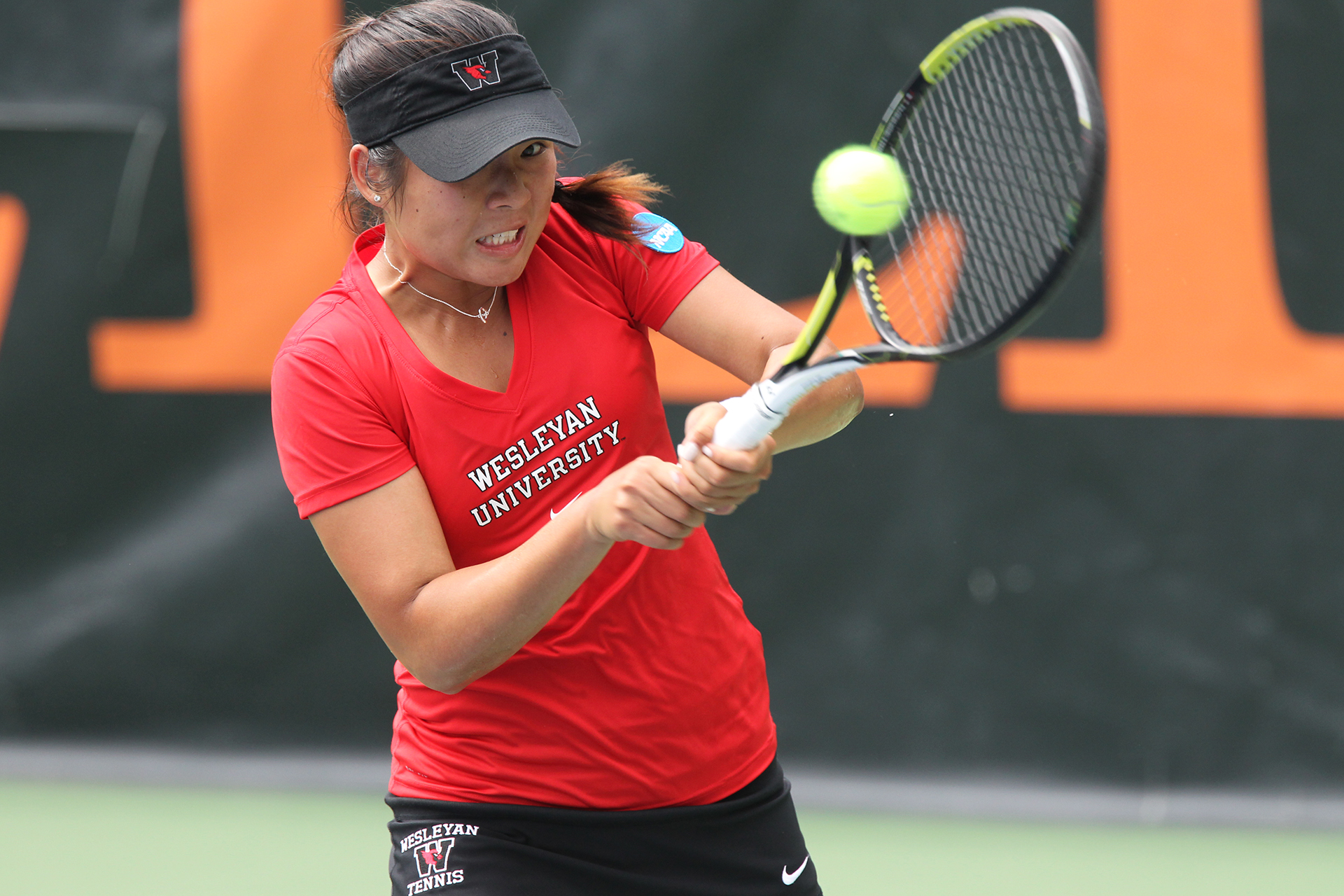 When tennis pro Eudice Chong '18 walks onto the court, it's not obvious that she took a non-traditional route to get there. The emerging tennis star, who has top-250 ranking in women's singles tennis and qualified for a spot in the 2023 Australian Grand Slam, didn't play tennis at a Division I program. Nor did she decide to skip school altogether to go pro. Instead, she chose to come to Wesleyan University with the goal of having a solid tennis playing experience, but one that wouldn't sacrifice her education for the sport.
"My parents have always emphasized the importance of a good education and having a strong alternative plan to tennis," she said. College choice came first over tennis, and she fell in love with Wesleyan at first sight. "I remember finishing my visit and telling my parents I was set. I didn't want to visit any other schools anymore."
Chong was born in the United States and moved to Hong Kong, China, when she was three years old. She picked up tennis at a young age, and played in various junior tournaments representing Hong Kong, starting when she was 13 years old.
As a young high school student, she didn't know about Wesleyan and its reputation as an excellent liberal arts school, but her father did, she said. So, when she got an email from Mike Fried, head coach of the men's and women's tennis teams at Wesleyan, during the recruiting process, it wasn't entirely out of the blue. "Wesleyan just felt so warm and welcoming. I loved the campus, and Coach Fried also made it an easy choice as well. He understood my goals and was very convincing with what I could bring to the table for the athletic program," she said.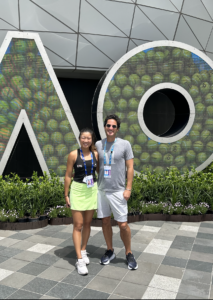 Fried first saw Chong play when she was in the United States for a tournament and for recruiting events. "Clearly she was an extraordinarily good tennis player. Then as I got to know her, and then more so over her four years here, I also saw what an extraordinary person she is," he said.
He knew the school was lucky to bring her to a D-III school when she had the potential to play at a larger program. "We thought we had one of the possibly better recruits in the country," he said, but it wasn't "glaringly obvious" how good she was, nor that she'd become one of the greatest individual competitors in the history of Wesleyan athletics. He credits her work ethic, as well as her drive to get better and make the team better, as two major reasons she excelled here. She also trained with the men's teams and "worked very hard on the mental side of her game during her time at Wes, developing skills to manage pressure and her emotions on-court," Fried said.
While at Wesleyan, Chong won four NCAA Singles Championships, becoming the first player in NCAA individual tournament history to win four consecutive titles of any division in college tennis. As a senior in 2017-18, she also won the Intercollegiate Tennis Association (ITA) National Senior Player of the Year and D-III Honda Athlete of the Year.
"In any college, especially D-III, you have to find it in yourself to do what you can and motivate yourself," she said. "That's something that really helped me in finding my ground, in trying to be a good leader and role model for other students coming up."
She finished her career as Wesleyan's all-time leader in singles victories, with an overall 103-6 record.
"She's a tremendous ball striker. She has weapons for everywhere," said Fried of her strengths, then and now. "She is also a great competitor and manages the mental part of tennis at an extremely high level. The combination of those two things makes her pretty formidable."
While sport was an important part of her collegiate life, it didn't take over. "The best thing about Wesleyan was that it gave me a lot of time to explore other things besides tennis," Chong said. In addition to working towards a degree in psychology with a minor in the College of East Asian Studies, Chong took part in Mabuhay, a Wesleyan Pan Asian Culture Show, and joined a dance group.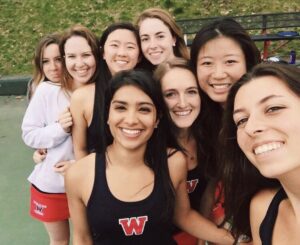 Despite her rock star status, Fried said Chong never acted like she was better than anyone else on the team. "She never saw playing here as a blatant steppingstone to go play pro tennis," he said. She didn't leave for a D-I school. "The culture of the team was important to her."
Her success after graduation shows her lasting impact. "The level of tennis that she was playing put us on the map," Fries said. He adds that Chong helped recruit athletes who came after her. She and her teammates "set the level of tennis we were playing, and our commitment to each other and to the team culture for the program. What they had is indelible and continues to this day."
In 2018, Chong's first year of profession play, she won one tournament on the ITF Women's Circuit. Then in 2019, she won six doubles titles. When COVID shut down tennis, she moved into the Hong Kong Sports Institute for about 18 months with few breaks at home.
When she came out of lockdown and started playing pro matches again in October 2021, she wasn't even ranked in the top 500 of women's players. But she put in a "huge amount of work—on and off-court—through the stretch when she couldn't travel," said Fried. Her ranking also shot up with her return to tournaments (and taking points) after an extended absence. She started back on the tour with two titles and two defeats in finals. For 2023, she set a goal of qualifying for all four Grand Slam tournaments. In January, she played in the 2023 Australian Open, moving up to No. 216 on the women's singles list ranking and 189 in women's doubles.
Despite playing in the Australian Open, the professional tennis life is more of a grind than a life of glamour. "I'm traveling alone, or most of the time, it's just me and my coach," Chong said on a brief stop home after playing in London, and before heading out to the next tournament. She plays 25 to 30 weeks of tournaments a year, which requires constant traveling without necessarily getting to take in the sights.
Chong is committed to the hard work and isn't afraid to push herself. While the Australian Open was her only Grand Slam appearance this year, she has her eye on eventually qualifying for all four tournaments (Australian Open, French Open, Wimbledon, and US Open). Her goal is to be consistently ranked in the 100—even top 50—in the world. "I want to make sure I'm giving myself room to grow," she said.
By Jen A. Miller