A University Citizen Retires: Barbara-Jan Wilson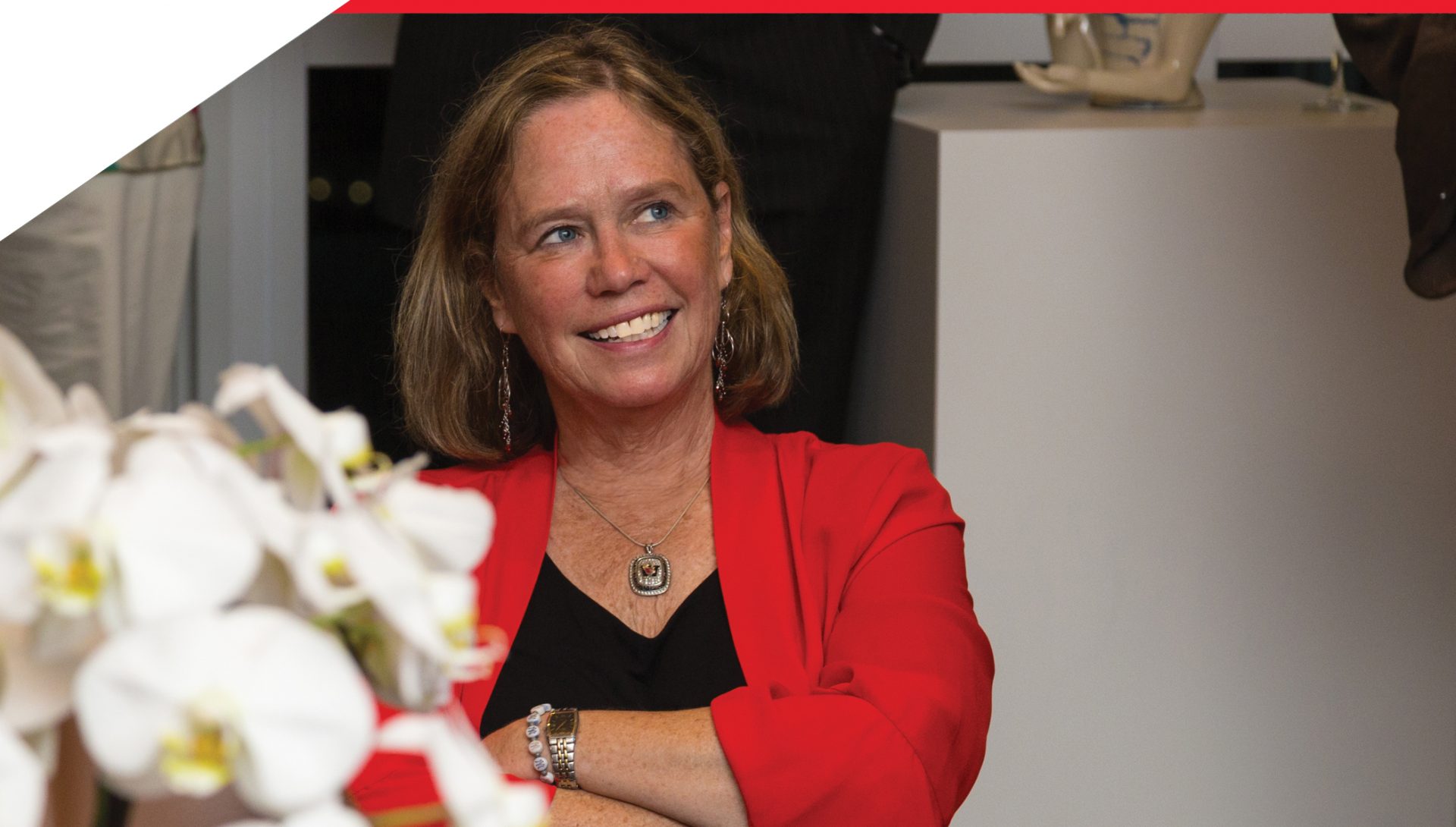 "For so many of us, Barbara-Jan represents the heart and soul of Wesleyan," said Donna Morea '76, P'06, chair of Wesleyan's Board of Trustees. "Whether she admitted us, found us our first job, or met us through her fundraising activities, it is her personal touch that has kept our connection to Wesleyan vital and meaningful. Her genuine love for the institution is infectious, but it is the way that she makes us feel that is her greatest gift. She cares about our success, our families, and our lives. Barbara-Jan has hundreds, maybe thousands, of people like me who genuinely believe we are one of her very best friends. And we all are."
At the end of the 2018–19 academic year, Wesleyan will bid adieu to Barbara-Jan Wilson, a stalwart in its administration for more than 36 years and an institution unto herself, serving as director of Career Planning, dean of Admission and Financial Aid, and, since 1999, vice president of University Relations. Ahead of her departure, she was kind enough to share some insights gleaned from her time on campus.
What advice would you have given yourself when you started at Wesleyan? What would you tell a first-year student?
Enjoy every moment. All my roles, at Wesleyan and elsewhere, have presented huge challenges. In my experience, those challenges work out in the end. But when you're going through them, sometimes you lose sight of the bigger picture—how much you're helping and how lucky you are to be doing what you're doing. It's only looking back that you think, "Oh, wow. I should have enjoyed being interviewed by the Argus more."
What was your favorite job at Wesleyan?
Hands down, I felt the most rewarding job I ever had was director of Career Planning. The relationships I had in those years have lasted my entire career. Those are now people who are intimately involved: naming buildings, giving huge gifts, volunteering. That has made the 36 years incredible.
Admission wasn't as rewarding in the same way. You get books written about you, you're on television, people want to sit with you at dinner—all these things happen when you're the dean of Admission because they want to pick your brain. But you're also dean of Rejection, and that didn't fit my personality quite as well because I like to be more of a cheerleader.
University Relations has been the perfect combination of those things. I can keep in touch with those students whom I've helped to get jobs, keep in touch with those whom I've admitted. I can have a lifelong relationship with many of them. I have loved every second of it.
What's the best way you've found to relax?
For me it is very simple: a glass of Kendall Jackson Chardonnay (or rosé, depending on the season); a great book; and the Yankees on the radio. Those three things, and you actually do need all three.
If you taught a new course at Wesleyan, what would it be?
Philanthropy 101. We need to teach every generation about giving back. Giving back means your time and talent, but also your money, your resources. We do a wonderful job teaching math and science and literature. But a Wesleyan education should include teaching people about the importance of giving back, and what a powerful statement that act makes.
If someone were to play you in a movie, who would you want it to be?
My old softball coach said I looked just like Mary Tyler Moore. But I suppose it could also be—it has to be Diane Keaton. I think Diane Keaton's great.
If you could invite three people to dinner, living or dead, who would they be?
First, I would pick Jane Austen. People might be surprised to hear it, but she's a huge role model of mine. If I could have a living sports hero, I would pick Derek Jeter. Hands down. Then I think I would put Barack Obama in there, even though I've been lucky enough to meet him already. That shows the three parts of my life—the sports side, the literary side, and then somebody I really admire. I think that we would all do well to follow Barack Obama's example and advice. That's a good trio.
What three qualities do you admire most in friends and colleagues?
Honesty. Straightforwardness. That's the kind of person I am. And loyalty. That's something other people would probably say about me: that I'm incredibly loyal, which is why I stayed here so long. And lastly, the ability to have a good time, whether it's a wine tasting, or it's going to a game, or going to a play. People who are fun to be around.
What's most on your mind these days?
I am quite worried about the world. I used to be someone who read the paper diligently and happily every morning. Now I pick and choose what I read in The New York Times because I just can't stand it. I watch 30 minutes of news at night, and no more. I do worry about the political world we're leaving our children, never mind the environmental one.
What's a dream you have yet to achieve?
I used to say, "Winning the Little Three in football," but I can check that one off. I hope to make retirement as rewarding and fun as these years have been. I never would've thought I'd stay this long. But every time I got bored, a new job came along. That said, I don't want to run another campaign.
I'm joining the board of trustees at a small college, Colby-Sawyer in New London, New Hampshire. So, I'll be on the other side.
When my colleague Ann Baker left Wesleyan she said, "What you have taught me is to be an institutional citizen." That's what I'm proudest of. Whatever president, whatever board chair, whatever job I was in, I did what I thought was best for the University. You make some mistakes and you have some home runs. But it was all for Wesleyan.
Photo by David Bruno
"In her more than 30 years at Wesleyan, Barbara-Jan has improved every area in which she has worked. And she has worked in so many! She helped students discover careers in which they have thrived. Alumni she admitted years ago are now fulfilling the potential she saw in them, leading their fields and bettering the world. And the generosity and loyalty she's inspired have enabled the University to raise more money under her leadership than under all our other fundraising chiefs combined! Her legacy here is profound, and it will continue to grow. Wesleyan's gratitude to Barbara-Jan is deep, almost as deep as her affection for and impact on this university she loves."—President Michael S. Roth '78