A Smooth Crossover: From the Court Room to Defending NBA Players' Rights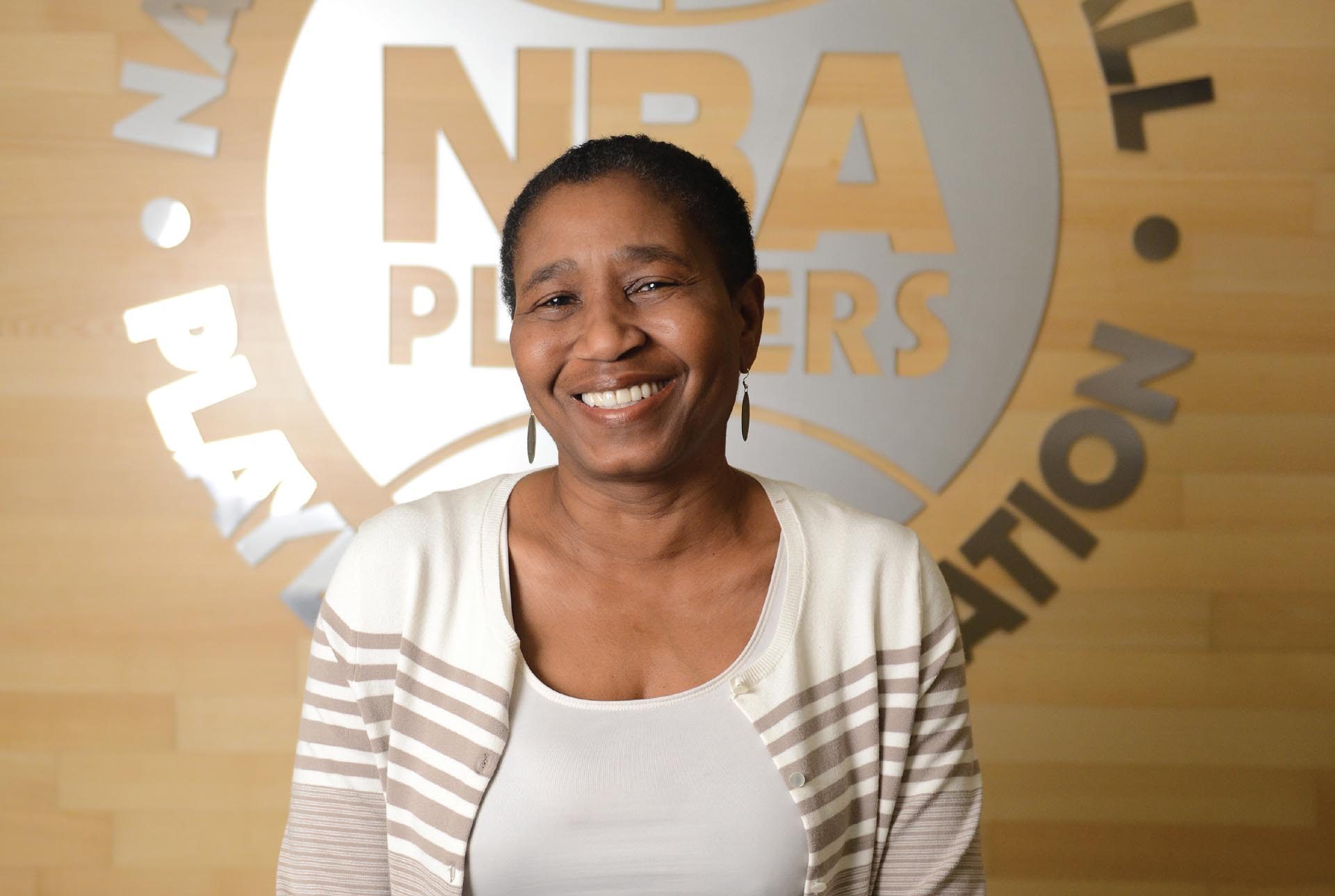 Following a 30-year career as a renowned trial lawyer, Michele Roberts '77 is leading the National Basketball Players Association (NBPA) to new heights.
Many kids grow up watching cartoons on television. Michele Roberts grew up watching live trials in the local courthouse not far from her home in the South Bronx.
It was her mother, actually, who was first drawn to the spectacle and drama of the courtroom, and she occasionally brought her young daughter along to watch. "I suppose it was also because it was the right price; i.e., free," Roberts adds. Those trials made an impression on her, as did noticing that public defenders weren't always of the highest quality. It sparked a desire in her to be better.
"My background was really quite modest," Roberts says. "I was very poor. And some might say there really was no reason for me to think I'd ever be able to do anything of consequence. But I've always been a little bit of an independent spirit."
Following four years at Wesleyan in the 1970s, where she majored in government, Roberts went on to serve as a public defender and then a successful trial lawyer in Washington, D.C. Though only ever a casual sports and basketball fan, her interest was piqued when she saw a newspaper article advertising an opening for the head of the National Basketball Players Association.
"I started thinking: What if?" she recalls. "And then 'What if?' turned into 'Why not?' And then 'Why not?' ultimately turned into 'This is my job.'"
Roberts began her four-year term as executive director of the NBPA in 2014, the first woman ever to run a major U.S. professional sports union. In 2018, the NBPA voted unanimously to approve her next four-year term.
"With her leadership and guidance, we have . . . established the NBPA as one of the strongest and most active unions in all of professional sports," NBA star and NBPA President Chris Paul said. "She is truly an invaluable asset and I am thrilled that we will get to continue to work together."
Roberts is proud of her work with the NBPA, which has grown by leaps and bounds under her leadership. Once 18 employees, it now has almost 80, and the services they offer the players have quadrupled. Their relationship with the NBA has also fundamentally changed, moving from what Roberts says was previously viewed as "acquiescence" to now being seen and negotiated with as "a body of equals," where both parties are intent on growing the game but not at the expense of players' rights.
"With great success comes great responsibility," Roberts says. "Most of our players do not come from money and we have to help them learn financial literacy. I was reared by a single mom, and many of our players were as well. So, while these men are technically my bosses, I can't help thinking of them as young brothers, children, or even grandchildren at my age. Culturally, we have quite a lot in common. That helps me appreciate where they're coming from—these are men who have overcome significant obstacles of all kinds to be where they are. And I have a responsibility to help them protect that."
Part of that advocacy includes helping players navigate the increasing interplay between health and technology. Here, data can be an asset, as when it is used to measure players' sleep habits and ensure they are getting adequate rest. (Roberts notes that the NBPA pushes the league to avoid scheduling back-to-back games, for example, which have a deleterious effect on player health.) On the other hand, data collection can occasionally have nothing to do with a player's best interests, as in the case of sports betting, where the push for more information and competitive advantages can put player health and privacy at risk.
When asked what parts of her work she most enjoys, Roberts is quick to cite the day-to-day variety and the chance to make a significant impact in many people's lives, as she did when she helped negotiate the most recent NBA collective bargaining agreement. She also enjoys the challenge of being a fixer, a through line of her legal work that requires her to manage the demands and expectations of different stakeholders and demanding clients, and bring them to a fair and satisfying conclusion. One thing she doesn't think much about, however, is her role as the first woman head of the NBPA or any U.S. professional sports players association.
"Well, I've always known that I was a woman," Roberts says with a laugh. "But I wasn't interested in breaking any glass ceilings. I just wanted the job, and I was frankly a little surprised at how much attention the fact of my being a woman received when I got it. At the same time, I know people are watching me and if I were to fail at this job, I know some might ascribe that to my being a woman. But I don't intend to, so I don't worry about it."
As for the role Wesleyan played in shaping her vision of her future, Roberts fondly recalls her time on campus and how it helped foster her earlier feeling of herself as an independent spirit.
"There's an absence of rigidity at Wesleyan," Roberts recalls. "I felt encouraged to imagine and to improve. There's something about the University's appreciation for the fact that you color outside the lines. It confirmed my belief that I could do what I had been planning to do, which was become a lawyer. I found that not only among the professors, but to my great delight among the other students there. Rather than make me think it was a crazy dream, you're almost encouraged to dream there."