Empowering Research through Passion-Driven Statistics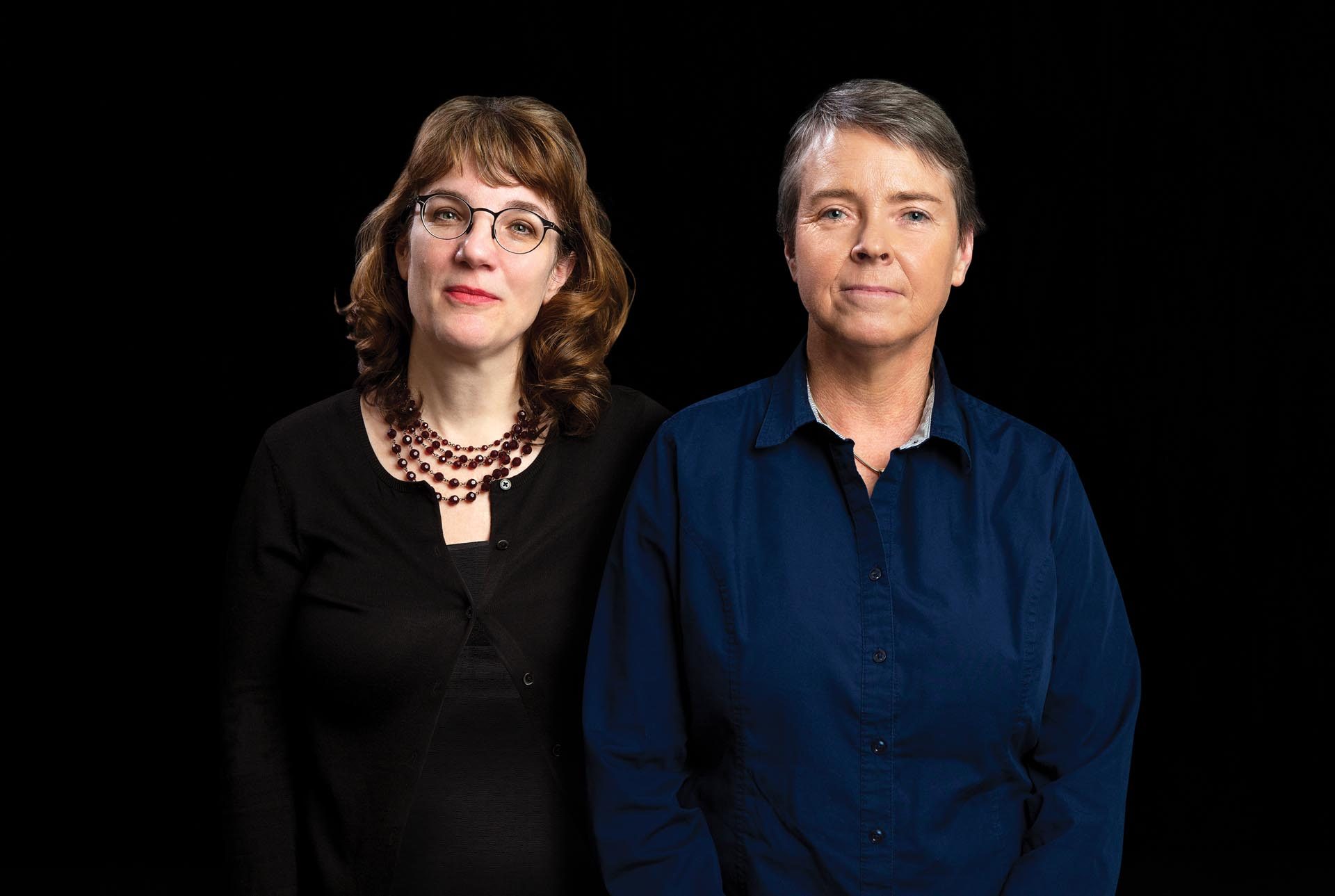 Lisa C. Dierker (above, left) is the Walter Crowell University Professor of Social Sciences and professor of psychology. Jennifer S. Rose (right) is director, Center for Pedagogical Innovation; director, Institutional Review Board; professor of the practice, Quantitative Analysis Center; and professor of the practice in the Center for Pedagogical Innovation. (Photo by Robert Adam Mayer)
Lisa Dierker and Jen Rose have received a third grant from the National Science Foundation. The message: "Teach others how to teach your Passion Driven Statistics."
A little over 10 years ago, Jennifer Rose, a research professor in psychology, and Lisa Dierker, then associate professor of psychology, began creating a class structured around quantitative problem-solving. The two brought in open-sourced data sets, and the students formulated questions based on this information and set out to answer them through statistical analysis. Passion Driven Statistics was born.
Just about that time Manolis Kaparakis had developed Wesleyan's Quantitative Analysis Center. Dierker brought the course under its administration, and, with a National Science Foundation grant, she, Kaparakis, and Rose began developing the project-based flipped classroom approach that has had students signing up in numbers far beyond its eight-student beginning—or "voting with their feet," as Dierker calls it.
The flipped classroom has students watching the lectures in video format as homework. In class, students focus on their projects, working collaboratively with professors and peers to guide, discuss, and offer ideas.
"We'd pitched it to the National Science Foundation in the original grant in 2009, talking about how there are different schools of thought about what an introductory statistics course should be. Should it be just mathematical calculations without real data, or should it be case studies for future consumers?
"We said that the assumption at the base of those theories was wrong: in 14 weeks, no single course can prepare students for a modern world steeped in data. Our goal was to get students excited and feeling empowered, so that they are left wanting more. Because more is going to be needed. And empowerment is the difference."
That class, now led by QAC Assistant Professor of the Practice Valerie Nazzaro, is taught every semester at Wesleyan to about 200 students per year and offers a full semester of creativity and empowerment. Many of these students go on to the next stage, through other QAC courses, such as Rose's course, Intro to Statistical Consulting, providing them with opportunity to consult with nonprofits, offering real-world advice based on insights they extract from analyzing data.
Dierker and Rose have also taught Passion Driven Statistics through Coursera, allowing them to reach thousands of students around the globe in MOOCs (Massive Open Online Courses).
With now their third grant from the National Science Foundation coming in at $2.8 million, the two professors are preparing to disseminate what they've learned about teaching statistics to professors and secondary school teachers across the country. And as leaders in the field—Dierker is the Walter Crowell University Professor of Social Sciences, and Rose directs the Center for Pedagogical Innovation—the two are linking Wesleyan's name in liberal arts with statistics education and immersive experiences with advanced data analysis work.
Evaluating the class, administrative data has shown that underrepresented students have been more likely to take this project-based course than a more traditional statistics course and that more generally it has increased students' pursuit of additional data-oriented courses.
For Dierker, learning starts with projects. "It's the only vehicle I have as a teacher that makes me feel like anything is possible—even things I can't imagine right now. And that is amazing."
Dierker and Rose on the Pedagogical Magic of the Flipped Statistics Classroom
Dierker: In really good learning environments everyone brings their best stuff and we make things. I feel more like a collaborator, not like I have to only play the role of expert.
Rose: They teach each other.
Dierker: I can't talk to all of them at the same time, so they're going to need to talk to someone around them. And they do. They become families.
Rose: They've taught me incredible things. They can be really creative. We had a data set from the National Weather Service on severe weather. It was hard data to work with, but a student figured out how to manipulate it in a way that I'd never seen. He had an interesting research question about tornadoes that I didn't think could be addressed with that set. He took a lot of initiative: he found additional weather data and merged it with the course data set. And he answered his question. It was amazing.
Dierker: This course is about who you want to be. We have enough structure to give guidance, but enough flexibility to allow students to do things they wouldn't have imagined. That's my favorite part of the course.
Rose: Access to data empowers them. They can make their own decisions and work with the data, manipulate it, and get to a point where they can answer the question that they chose to test.
Dierker: Access to data makes them have to think in new ways, too. It's not enough to follow instructions, because everyone's results will be unique. We start with questions that do not have answers yet.
Rose: Right. And you can't avoid making mistakes. They learn that mistakes are not the end of the world, and that mistakes can actually be learning opportunities