Next-Generation Analytics Do and Don't Make a Difference for Chicago Cubs GM Jed Hoyer '96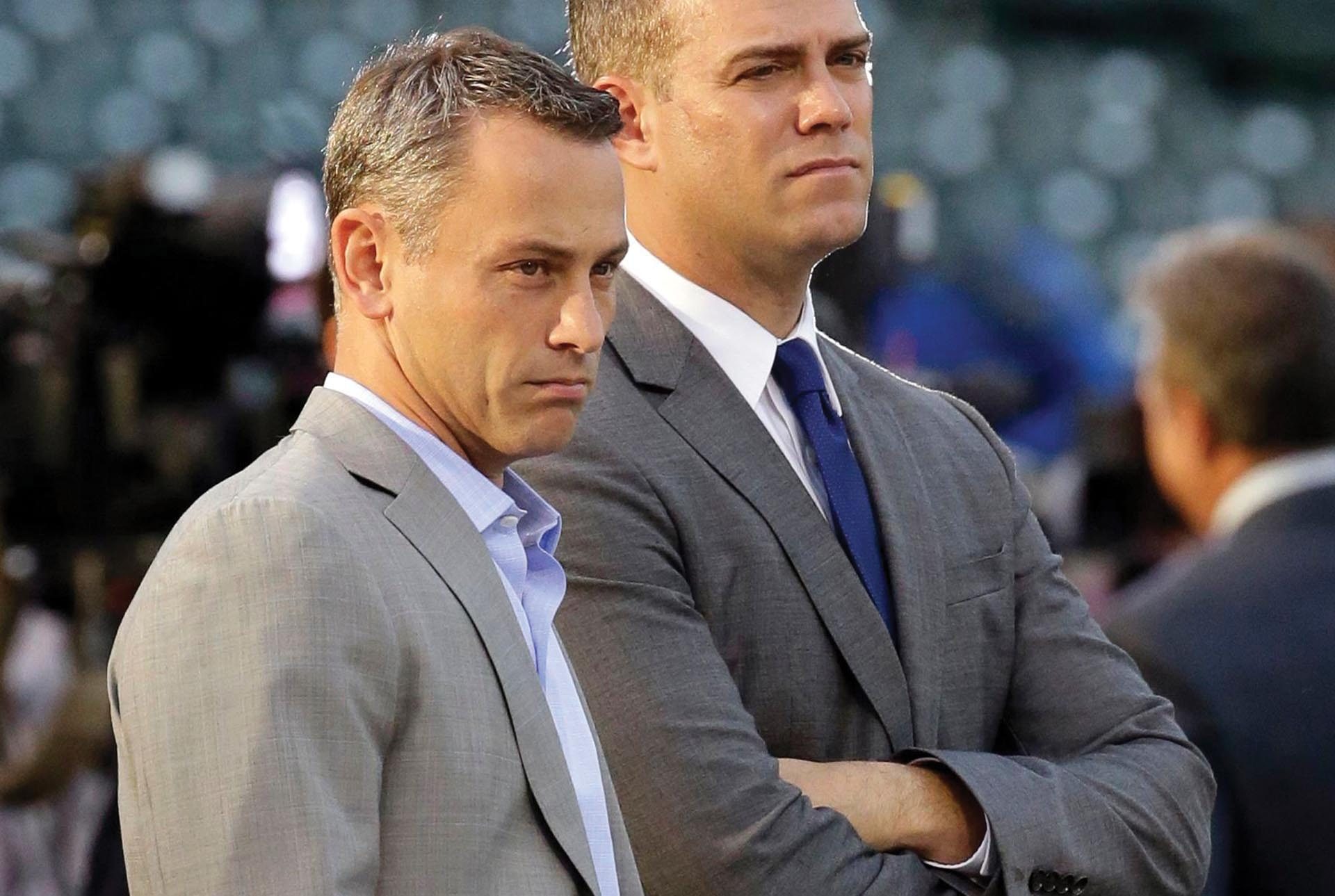 After championships in two of the sport's most historic and dedicated cities (and, if you believe in such things, helping break two long-standing curses), Jed Hoyer '96 remains motivated by the quest to find baseball's next big idea.
WAR. WHIP. UZR. OPS. Out of context, they sound like military codenames or maybe recondite computer programs. In context, these acronyms are some of the mainstays of the Major League Baseball (MLB) analytics revolution of the early 2000s, the now-famous Moneyball era.
Jed Hoyer '96 was at the forefront of that revolution. After graduating from Wesleyan with a degree in history and as a standout, record-breaking member of the University's baseball team (he holds the career and single-season saves records, and ranks in the top-20 all time in hits), Hoyer went on to a well-paying job in consulting. But following an introductory call from Mark Woodworth '94, Hoyer left that job in 2002 for an $8/hour entry-level internship with the Boston Red Sox to make good on a lifetime dream of working in MLB.
"When I started working in baseball, everyone was still using basic counting and rate stats—homers, RBIs, wins, strikeouts, batting average, ERA," Hoyer says. "I was fortunate to get into the sport at the exact time that the analytics revolution started to happen. About six months after I started with the Red Sox, Bill James was hired."
Hoyer's decision was a fortuitously timed leap of faith that paid off big. Bill James is considered the grandfather of the Moneyball era, coining the term "sabermetrics" (SABR being short for the Society for American Baseball Research) to describe his unique, statistically driven approach to understanding why MLB teams win and lose. Hoyer says he grew up reading The Bill James Baseball Abstract, at the time one of the only data-heavy, progressive publications about the game. When paired with his strong work ethic, innate intelligence, and on-field chops, that high baseball IQ made Hoyer a perfect fit for Boston's modern approach under their new 28-year-old general manager, Theo Epstein.
Epstein and Hoyer hit it off, and Hoyer was soon doing sophisticated statistical analyses of a variety of different facets of the Red Sox organization and their performance, and picking James's mind on the value of different data. In a previous Wesleyan Magazine article, Hoyer referred to that period as "baseball grad school." While the Red Sox lost a deciding playoff game in heartbreaking fashion to the rival New York Yankees in 2003, Hoyer had earned Epstein's trust and a secure place among the team's leadership. The very next year, Hoyer and Epstein together earned their place in baseball lore, when the team went on to win its first World Series in 86 years, breaking what many fans called "The Curse of the Great Bambino" in reference to Boston's championship drought following the trade of legend Babe Ruth.
After leaving Boston to become the GM of the San Diego Padres in 2009, Hoyer reunited with Epstein in Chicago in 2011, with Epstein taking over as team president and Hoyer assuming the GM role. As with the Red Sox, Hoyer joined the Cubs at a critical juncture in their history. Following fifth-place finishes in 2010 and 2011, Epstein and Hoyer orchestrated a massive rebuilding effort designed to restock the club's depleted minor league system and bring the team back into consistent contention. A key piece of that effort, Hoyer says, was using the analytical skills he'd honed in Boston to identify players and trends that might allow the Cubs to gain a competitive advantage in recruiting and retaining talent.
"Statistics are incredibly valuable in finding undervalued players," Hoyer says. "That's the part of my job that's really the most enjoyable for me and a lot of my peers. Not trading for a player that everyone knows is really good, but trading for someone who flies under the radar or has flaws you think are correctable. Finding a player like that and bringing him in and having success, finding those hidden gems? That's the quest that keeps you going every day."
Hoyer can't share the specifics of that approach out of respect for the players and because many of the statistical methods and models he developed are proprietary information for the Chicago organization. But suffice it to say that the approach worked. In 2016, the Cubs defeated the Cleveland Indians in a memorable seven-game series, earning their first World Series title since 1908 and breaking Chicago's own "Curse of the Billy Goat" (again, if you believe in such things).
After bringing championships to two of baseball's most passionate fan bases, it wouldn't have been surprising to see Hoyer go look for another project to tackle. But by his nature and own admission, Hoyer is too competitive for that. He now considers his challenge to be winning multiple championships in Chicago, saying that the "drought-breaking is wonderful, but in this game, creating a sustained run of success is a wonderful challenge." Interestingly, in a sporting world now rife with data, Hoyer believes the next big thing might be a market correction of sorts.
"At this point, there's so much data in sports," Hoyer says. "The world has become so much flatter in baseball with so many intelligent, well-run teams. As more and more teams have the same information, at some point it does go back to make-up and character and a player's willingness to make improvements and adjustments. The scouting side and infomation-gathering side will never go away, and in some ways become more important. The human element is so crucial in trying to get 25 players to come together as a team. I've been with three teams that won the World Series and each one had to overcome 3–0 or 3–1 deficits during the playoffs. A team cannot do that without great character and leadership. And there is no formula for that."
Despite being at the pinnacle of a sport that represents an entire nation's pastime, Hoyer still remembers and draws from his early experiences with and love for the game. And Wesleyan has drawn and benefitted from Hoyer's time on campus, in turn, paying tribute by inducting him into the University's Athletics Hall of Fame in a special ceremony this past fall.
"Every single day, I use the knowledge I learned when I was at Wesleyan," Hoyer says. "Learning on the field, through playing and coaching, is so valuable. No matter how much the game changes and front offices move toward analytics, there's no experience like on-field experience. It gives you so much context so that when you're trying to implement something, you can understand how a player might relate to it. There's just no substitute for having a glove or a ball in your hand. And there's no substitute for being part of a team that's laser-focused on achieving lofty goals. And I'm so glad I got to do that at Wesleyan."
WAR: What Is It Good For?
"I've spent a lot of time working with coworkers to develop proprietary stats for several organizations. Everyone wants to be able to encapsulate a player in one number. WAR, for example, is imperfect, but it's a valiant attempt to pull all a player's aspects together and quantify them. Rather than complain about its flaws, I commend people for trying to do that."
Passing the Eye Test
"In so many ways, Mike Trout is an outlier in baseball. He's so good in every aspect of the game and it's inarguable that he's been one of the best handful of players every season since 2012. It's nice to have an 'eye test' when you're looking at player valuation models—if he isn't one of the top players in the statistical model you're trying to develop, then your model is flawed. Same thing with basketball—if we're talking about PER, for instance, and LeBron James doesn't end up near the top of your model, then your model's wrong. Same thing for Brady, Brees, and Rodgers [in the NFL]."
Outside Influence
"Getting your head out of baseball on occasion and looking at the tech industry or the financial world, for example, can be really useful. In so many businesses, you are trying to value assets correctly and attempting to predict the future of that asset. I love talking to friends in other industries about their challenges and solutions because so often it is relatable to what we are trying to do in baseball."