Historical Row: Preserving Student Voices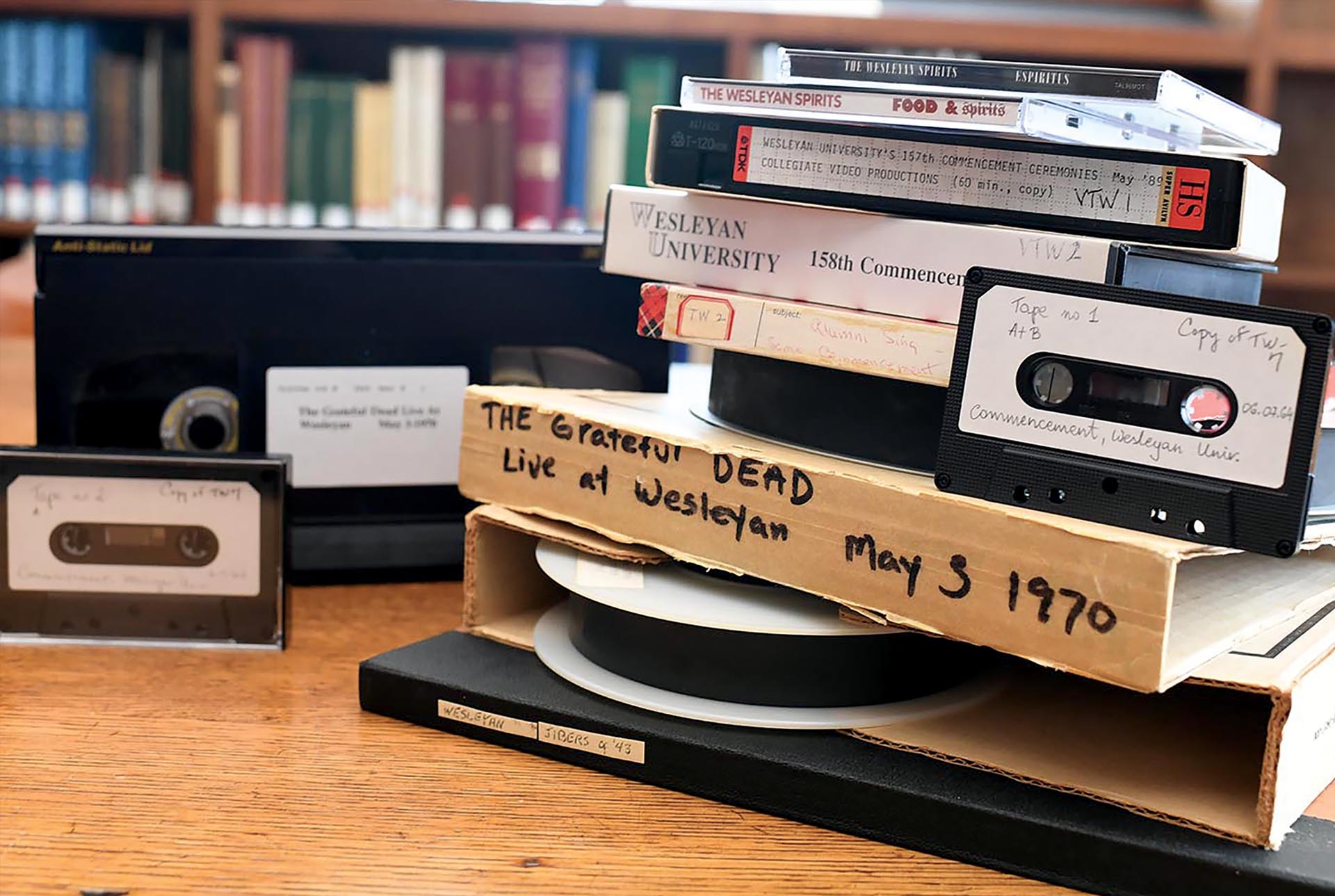 One of the most complex aspects of working in any archives is preserving our unique materials. This is especially important for our audiovisual holdings, which run the gamut from 8 and 16mm films, ¼- and ½-inch audio reel tapes, cassettes, VHS, Betamax tapes, DVDs, and CDs, to digital files. When these materials degrade—whether it's "sticky shed" syndrome for audio or "vinegar syndrome" for film—they shrink and lose flexibility, becoming unplayable. Both syndromes can be slowed when stored in ideal conditions—46–50°F and 30–40 percent relative humidity—but degradation cannot be stopped.
Another challenging factor with these holdings is that, unlike paper records that can be viewed at a glance, AV material requires an archivist listen or watch them to discover the contents, unless they are well labeled, which often is not the case. In addition, as technology shifts it becomes more difficult for the archives to have all of the machines necessary to play every format. Even if we did have a museum of machines, constant play can actually speed up the degradation of the media.
So how do Wesleyan's archives combat this? We are beginning to systematically create preservation-quality digital versions of our AV material. Within the University Archives and World Music Archives we are working with Digital Projects Librarian Francesca Baird and her lab assistants to complete a survey of our audiovisual holdings. They'll consider factors such as the storage room environment, the types of boxes and labeling for each item, and whether it has already begun to degrade. This will provide data we'll use to prioritize the projects, ensuring items at risk are digitized first.
Meanwhile, we are doing pilot projects with vendors to digitize small sets of our audiovisual collections. One such grouping we sent out for digitizing this spring includes six ¼-inch audio reels from the archives' media collection, originally created by WESU-FM, that document some of the major events in Wesleyan's history from the late 1960s and early 1970s.
Included is audio from the Fisk Hall Takeover on February 21, 1969. African American students had asked for the campus to close for the anniversary of Malcolm X's death. When it didn't, they took over Fisk Hall and put forward a set of demands that included a dedicated space for the black students on campus. This led to the formation of the Center for African American Studies, which celebrated its 50th anniversary during 2018–19. Also, two recordings from President Edwin ("Ted") Etherington's time at Wesleyan are in this batch. One is from the vigil held in his office in May 1969 when students were protesting on-campus military recruitment through a nondisruptive act that would highlight the seriousness of their concern. The other is the speech Etherington gave in February 1970 when he resigned as president to run for US Senate. Additionally, the reels, titled "Open Line—Coeducation at Wesleyan" and "National Student Strike: The Three Demands and Wesleyan University," promise contemporary insights into that era. We're eager to hear specifics and will post them here.
Digitizing will not only help preserve the content, but it also allows greater access to the recordings now and in the future. Keep an eye on our digital repository this fall as we add to our online collection.
—AMANDA NELSON, University Archivist