War's Aftermath in Artsakh: Filmmaker Documents Women Who Clear Landmines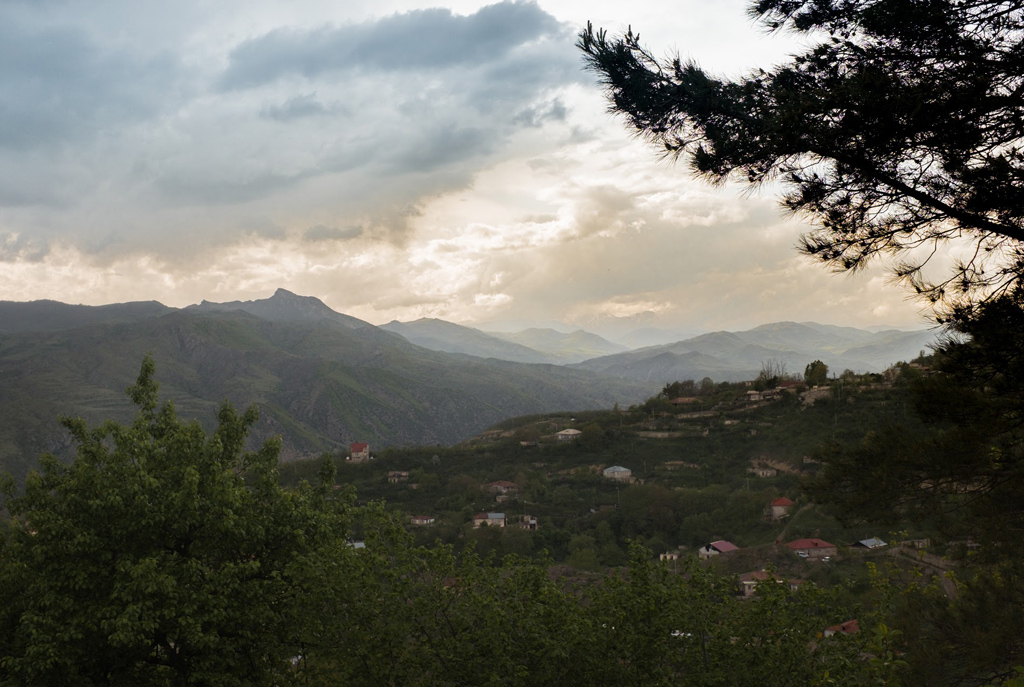 Jesse Soursourian '03 is back in his grandfather's country, filming the new generation of women who leave behind cultural roles to clear landmines as an act of patriotism, dignity, and equality.
The last time Jesse Soursourian's family lived in Armenia, it was in the aftermath of the 1915 Armenian Genocide. The Turks had killed his great-grandfather, then a young man, kidnapping him from the family-owned photography studio. In 1920, Soursourian's widowed great-grandmother arrived in America with the young boy who would become his grandfather.
Nearly 100 years later, at the end of another ethnic war in his family's country of origin, Jesse Soursourian returned to Armenia to partner with another filmmaker of Armenian descent, Emily Mkrtichian. The two tell a story of individual and cultural resilience in Motherland, a 20-minute documentary now on the film festival circuit. The film captures the lives of an all-female team who have gained independence, pride, and a living wage to support their families by abandoning traditional Armenian gender expectations and working to de-mine a richly fertile and bitterly contested region of the war-torn republic. Called both "Artsakh" in Armenian and "Nagorno Karabakh" (meaning "black garden") in Azeri, the region has what Soursourian calls "one of the worst landmine problems in the world." He doesn't expect that you have heard of the issue, but he's hoping his film will help raise global awareness and bring peaceful change to the area.
Graduating as a theater major with plenty of favorite history courses, Soursourian only began directing films after college. When he saw a photographer's Instagram about the Armenian women de-miners (their struggle playing out against a deep historical context of ethnic conflict and the confines of traditional gender roles), he knew he'd found his documentary.
"I came to this story as an Armenian and grandson of a genocide survivor," says Soursourian. "I want to tell untold contemporary stories of my people from a generally underrepresented part of the world."
Enlisting the collaborative partnership of Mkrtichian, who was fluent in Armenian, he contacted The HALO Trust. This international nonprofit, dedicated to worldwide de-mining and leading these efforts in Artsakh, trains and hires civilians, including this, the first of only two teams of Armenian women, to do the work that is both hazardous and tedious. The young filmmakers began planning their trip to their families' motherland, and this became the name of their film.
It wasn't an easy journey, as Soursourian explains: While Artsakh has its own airport, Azerbaijan troops—still contesting the result of the 1990s war that gave the land to the ethnic Armenians—would likely shoot down any plane that tried to land. Thus, their flight landed in the capital of Armenia, then they made a six-hour drive over rough terrain to reach the capital of Artsakh.
For the next two weeks, the directors and their crew continuously shadowed the women of HALO Trust, filming their gentle moments (such as setting free a small bird that had entered their outpost on a rainy day) and the ones that could turn tragically violent, digging in land that had activated a metal detector.
While danger was ever a possibility, Soursourian's film shows the tedious nature of the de-mining work, as the women help each other strap on protective gear and move in regular, prescribed paths, testing each inch of land that they hope will someday be returned to their country's farmers. Having found a strip of land free of mines, they move their metal stakes to claim another foot or so of safe territory, only to begin on the next swath in the hilly, wooded countryside. While Armenian troops have given HALO Trust their maps to show where they'd planted mines, Azerbaijan has not; they are effectively working blind. A bulletin board at The HALO Trust headquarters testifies to that reality, with photos of those hospitalized or memorialized.
"In theory, you can only detonate a landmine by stepping on top of it. Technically, it's not going to blow up on you if you just hit it from the side," Soursourian says with knowledge gleaned from his work on the film. "So, when the metal detector goes off and you have to dig, you start a foot out and dig down, and then you dig into it from the side.
"On the day we were filming and the metal detector went off, everyone took a lot of precautions. I was like, 'All right, well, hopefully, they're right about this.' It was tense until she found the small piece of shrapnel that had activated her device. That could've been something else; luckily, it was only shrapnel."
Soursourian and Mkrtichian don't shy away from discussing these possible consequences and neither do the women. Seated around the back of the jostling van, the de-miners respond to the filmmakers' questions, acknowledging the risks philosophically and weighing them against the country's pain, as well as their individual circumstances.
"We are proud that we can be helpful to our people," says Varditer, a single mother of two school-age children, with a soft face and gentle manner, who moves easily between the political and the personal when she talks.
When one of the women asks, "Does anyone here have a husband?" the response in the van is a united burst of laughter, as though the question were not only silly but utterly absurd. They are all single women: some never married, others divorced or separated after abuse—physical or emotional—in situations involving alcohol.
"Because of their bad behavior," Varditer says, referring to these absent or violent partners, "we have gotten stronger. What's important is the solidarity between us," she adds, referring to the other women in the van.
Varditer's younger colleague, Shabo, is lean, with sharper features, short, auburn hair pulled back into a ponytail, and a reserved demeanor within the group. She had been married at 17 to an abusive man and returned home for the relative freedom within her family of origin, which has 14 children. One of the eldest of the offspring, she supports the family with this job and cares for the younger ones.
"I wanted to be a doctor but now I clear landmines with HALO Trust," she says. "But we do this job with a lot of love. It makes me happy to work and support my family. Today I'm a father, a mother, a sister, and a brother to them. I am everything to them."
"We're doing well," Varditer says. "Like they say, to die with friends is a wedding."
"It's an Armenian expression," Soursourian explains of a comment that could be shocking to American ears. "If we're going to die and we die with friends, we're happy because we're with people we love." Far from a death wish, it's meant to celebrate the importance of community throughout every phase of life.
Soursourian also calls on another phrase to explain the rapport that developed between the young filmmakers of Armenian descent and the women de-miners. "It's an often-used William Saroyan quote, about when two Armenians meet, they create a new Armenia. They kind of saw us as their younger siblings," he says. The teams still keep in touch.
And these "younger siblings" have further plans. First, they hope to pull more material from their trip for a longer version of the film, perhaps an hour-long format suitable to air on television.
"I would say there's two kinds of success I'd like for this film to achieve," Soursourian says. "One, is to get more done with the landmine crisis. Artsakh would need to be opened up to more NGOs. It needs some recognition by the UN and other global powers to make it safer and allow the organizations to enter and work freely.
"Second, the issue of increasing women's rights. Artsakh has only one women's shelter for victims of domestic violence, yet it's a population rife with untreated PTSD from a war that really hasn't ever totally stopped. Even if political recognition for Artsakh is a long way down the road, for Armenian women to have safety for self-determination—that's a goal we want our film to support."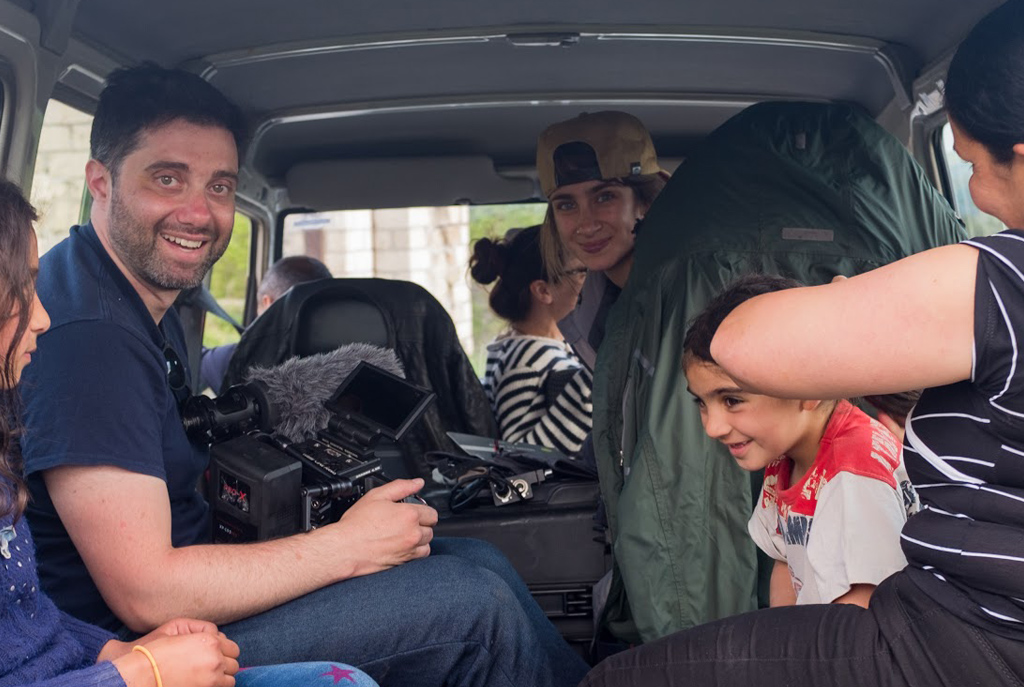 Filmmaker Jesse Soursourian '03 captured both the beauty of the Artsakh countryside and the independent spirit of the women who clear landmines to restore the farms to use. (Photos courtesy Jesse Soursourian)