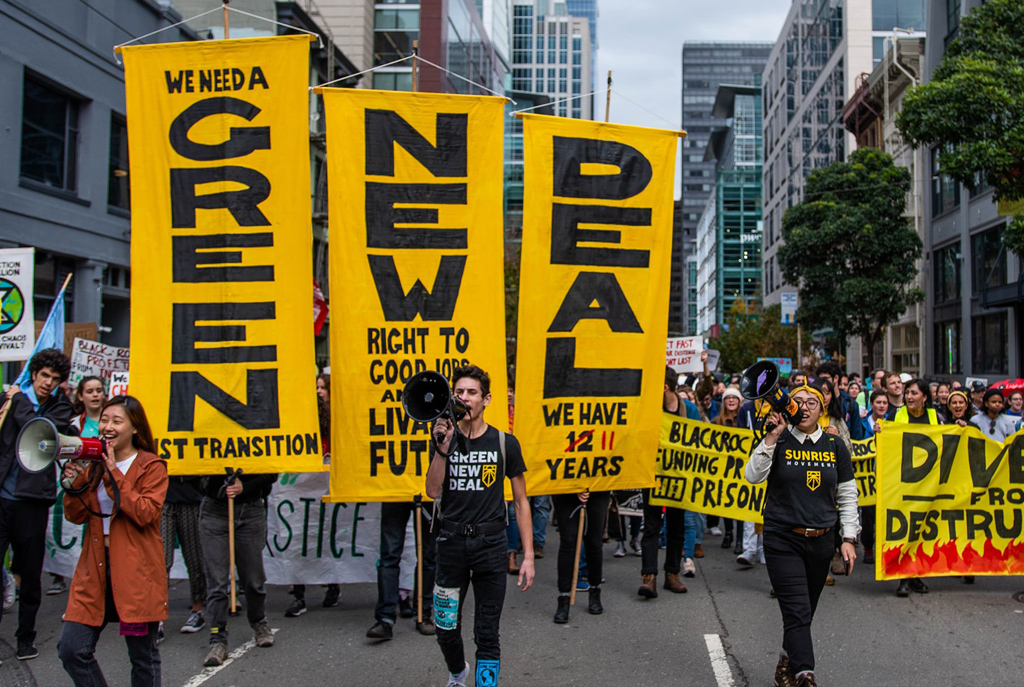 With presidential politics threatening to relegate climate change to the background, Evan Weber '13 and Michelle Regalado Deatrick '83 joined forces, pushing the Democratic National Committee to face the crisis head-on.
By Kira Goldenberg
It was summer 2019, in the thick of the presidential primaries, and Evan Weber '13, had an axe to grind with the Democratic campaign season. There were no events or policies that would encourage the candidates to take a strong stance in favor of halting climate change, even though it had become a full-fledged crisis. The Earth is warming, burning, and flooding before our very eyes, and younger generations like Weber's will bear the consequences.
So Weber, co-founder of the youth-led climate activism group Sunrise Movement, mobilized his members.
"We were calling on the DNC [Democratic National Committee] to host a debate that was specifically about the climate crisis," Weber said, because he and fellow Sunrise Movement activists thought there should be an hour where candidates "have to say what they're going to do about it." They staged a sit-in at the DNC's Washington, D.C., headquarters in June. Members camped outside the entrance for three nights.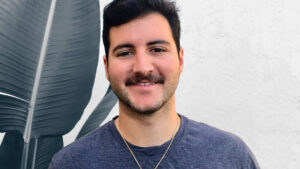 When that pressure didn't convince the DNC to organize a climate debate, Sunrise struck again, protesting at the committee's bi-annual meeting that August in San Francisco. And this time, they had help from within the organization, in the form of Michelle Regalado Deatrick '83, a DNC delegate from Michigan.
"Michelle reaches out and says, 'Listen, I want to help you guys move this through the inside,'" Weber remembers. Though they didn't ultimately succeed in getting Democratic leadership to commit to a climate debate for the 2020 candidates—then-chairman Tom Perez said at the time that single-issue debates would lower audience turnout—the DNC did vote to ditch rules that prevented candidates from appearing together in non-party events. So when CNN and MSNBC responded to the fracas by planning town halls about the climate crisis, Weber considered it a partial victory.
"We end up getting even more prime-time for climate than we would just through climate debate," Weber said. "It wouldn't have been possible without Michelle's and my collaboration, and the collaboration of other DNC allies with the Sunrise Movement."
Dynamic Duo
Though they graduated three decades apart, Deatrick and Weber have become a formidable team, pushing the Party to address the issue head-on. Their efforts culminated in the DNC's creation of its Council on the Environment and Climate Crisis, which Deatrick has chaired since its 2019 inception.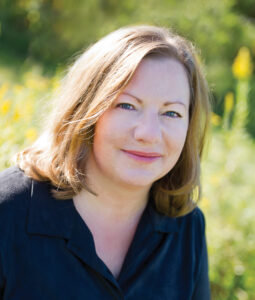 "The collaboration with Evan was absolutely essential to getting the council established, and then to ensuring we had a progressive youth voice as part of our elected officers," Deatrick said. "Would the council exist if it weren't for Evan and Sunrise? I'm not sure. I think it was absolutely crucial to our ability to get the support for the DNC to recognize just how dire the climate emergency was."
The council recommends what the official Party platform should be on climate change, with a goal of pushing Democrats toward more aggressive action. In essence, it's a slightly modified version of the Green New Deal, seeking a shift to renewable energy sources, carbon neutrality, a divestment from fossil fuels, and a commitment to creating environmentally friendly living-wage jobs. And while the Green New Deal is most closely associated with U.S. Representative Alexandria Ocasio-Cortez, the plan was released in partnership with the Sunrise Movement.
A Shared Experience
It all started at Wesleyan. Weber was still an undergrad when he, along with Matt Lichtash '13 and visiting professor Michael Dorsey, started drafting what was then called "The Plan," which set out a path toward making the United States carbon-neutral by 2050. They were able to work on it through the summer after Weber and Lichtash graduated thanks to a grant from the University's Green Fund. The Plan, at the time an expression of their disappointment in what they viewed as President Barack Obama's lackluster climate goals, ultimately became the scaffolding of the Green New Deal.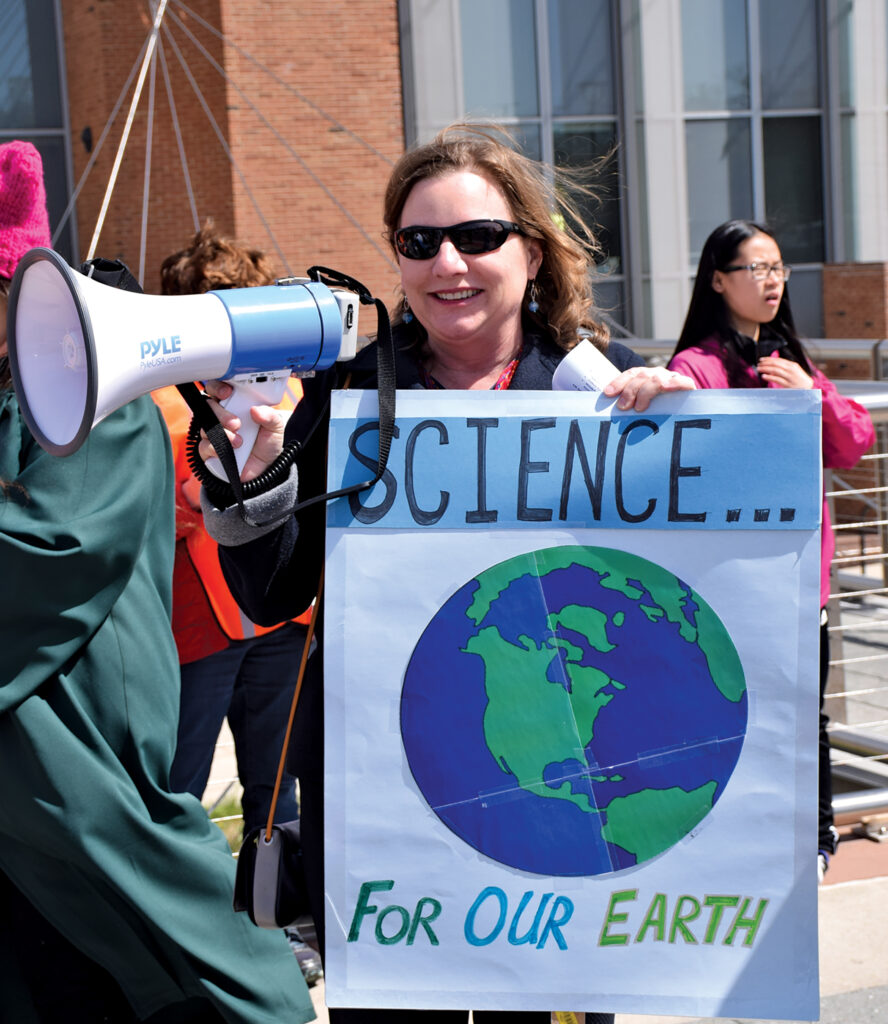 "My years at Wesleyan were very formative in my ability to understand politics and how people could impact and effect it," Weber said with elegant understatement. "I've found that across generations . . . that is something that we all share in common, that sort of formative shaping of your worldview and paradigm."
He continued, "I was certainly not surprised to learn that Michelle went to Wesleyan. I think a cool experience for me as a slightly younger alumni has been getting into the world of politics and social movements and advocacy and sort of bumping into slightly older former Wesleyan students along the way and realizing how much of a shared experience we had even though we were generations apart."
Deatrick agreed, "I think the fact that Wesleyan nurtures people who think about, believe, and work toward shifting our framework, shifting the paradigm toward transformative systemic change, means that we believe that we can tackle something as big and as dangerous and as necessary to change as the climate crisis," she said. "The only way to tackle—it's an overused term, but it's true—this existential crisis of our generation is to question the status quo."
It's work she's long been doing in the trenches. Before turning her attention to remedying the Democrats' tardiness in attending to the climate crisis, Deatrick was, and remains, deeply involved in progressive politics in Michigan, where she has served in county government and chaired the Ann Arbor Women's March. She is also helping lead a push for student loan cancellation in the state.
Undoubtedly, Deatrick and Weber will cross paths again in the future. And, if they have anything to say about it, their Wesleyan ranks will only grow with time.
"If anything, we need more Wesleyan alumni involved in this kind of work," Weber said. "They talk about the 'Wesleyan Hollywood mafia'—we might need a 'Wesleyan social movement mafia.'"
Top photo: The Sunrise Movement, co-founded by Evan Weber '13, is "a youth movement to stop climate change and create millions of good jobs in the process." Photo by Christina Liu