Eury German '16: Dance as a Conduit to Self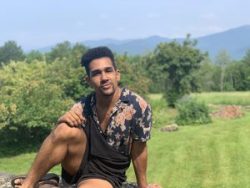 Eury German '16 had never taken a dance course until he stepped on Wesleyan's campus.
"I grew up in like a Latinx, male-dominated culture. Aside from social dancing, the arts—as a way to understand the world—was never something I had learned."
Today, German holds an MFA from NYU's prestigious Tisch School of the Arts, is a program manager at the nonprofit Dance Project of Washington Heights, and just started with the second company of Ballet Hispanico. At Wesleyan, something clicked for him. Originally planning to pursue pre-med, German listened to encouragement from his first-year adviser, Professor of Dance Susan Lourie (now emeritus).
"I used dance as the conduit through which I began to cement a sense of self. I reclaimed a lot of my queerness, my otherness, in terms of my nationality, my immigrant status, and being a person of color."
Professor Hari Krishnan was his adviser and, last spring, German joined Krishnan's production of Skin, dancing in the piece "Holy Cow(s)!"
"As a choreographer, Hari creates a piece that has a cohesive through-line, but is also multilayered. All of the material was Hari's. But it came to feel like my own, because before we got on stage Hari had given me the information about the movement that I needed to tap into."
"Countless studies have shown that art education makes you more empathetic and involved in the world," German says, citing Krishnan's influence. "I want to bring access to dance to people like me, who didn't have it."
For more on Professor Hari Krishnan, please see our feature story on his work, "Politics of Dance."