Are Stereotypical Refugee Narratives 'Solvable'?
Wesleyan alumni Ahmed Badr '20 and Mia Lobel '97 use the prominent podcast's platform to discuss the importance of storytelling in helping displaced refugees reclaim their narratives.
Ahmed Badr '20 and his family left Iraq after their house was bombed by militia troops in 2006, resettling in the United States two years later.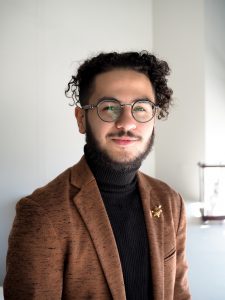 Badr first began writing to explore his identity as an Iraqi-American Muslim refugee early in high school, quickly realizing the power of personal storytelling. Narratives about refugees tend to be centered around war, violence, and persecution, but Badr says this is only part of the story. Seeking to help other displaced youth, he created a platform that would allow them to tell their own stories in order to "transcend the tragedy that may have initially caused their displacement."
"When we hear the word refugee, we immediately think of pain, we immediately think of tragedy. But by creating spaces where refugees themselves can go from passive victims to individuals who have full control of their stories, this is solvable," says Badr in a recent interview on the podcast Solvable.
Badr was interviewed on Solvable by Anne Applebaum about Narratio, the platform he built to allow "displaced young people to share the fullest extent of their experiences on their own terms." Today, Narratio publishes work by young people from 18 different countries and has partnerships with the United Nations and the Met. And Badr has just published his first book, "While the Earth Sleeps We Travel" (Andrews McMeel, 2020) a collection of poetry, personal narratives, and art from refugee youth around the world, featuring a foreword by actor and UNHCR Goodwill Ambassador Ben Stiller, whom Badr has gotten to know through his work.
Solvable, which recently launched its second season, "highlight[s] the world's most innovative thinkers working to solve the world's most intractable problems," says Mia Lobel '97, an executive producer with Solvable's production company Pushkin, co-founded by Jacob Weisberg and Malcolm Gladwell in 2018. In its first season, Lobel explains, the show centered around the main interest areas of its partner organization the Rockefeller Foundation—food, health, power/energy, and poverty/economic equality. This focus has broadened in the show's second season to address challenging issues in the news, including election security, climate change, fire prevention, and refugee status.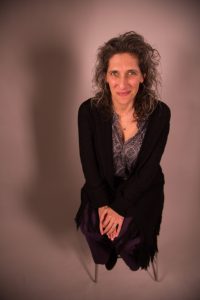 Lobel was introduced to Badr a few years ago by Makaela Kingsley '98, MALS '05, director of Wesleyan's Patricelli Center for Social Entrepreneurship. The two sang together in the a capella group Onomatopoeia during their Wesleyan days. Over the years, Lobel and Badr have discussed some of his projects, including his multimedia project UNPACKED, and Resettled, a podcast he hosted for NPR and VPM.
"We got to talking about some of the other work he's been doing including Narratio and his new book. And it occurred to me that his work might be a unique addition to our line-up for Solvable," says Lobel. "I proposed Ahmed's work to our production team and while it took a little while to narrow down a single 'Solvable' from all the great work Ahmed does, we ultimately landed on his work helping refugees transcend the stereotypes of their refugee status through storytelling."
Lobel adds, "The original mandate of Solvable was to focus on near-term problems—ones that could realistically be 'solved' in the next 60 years. That's going to be too late for me and our three interviewers. But it's not too late for Ahmed and the people he's helping. Young people are the next agents of change, and I can think of no more important population to highlight in our show."
Read more about Badr's vision, in his own words, for helping other young people find their voices.