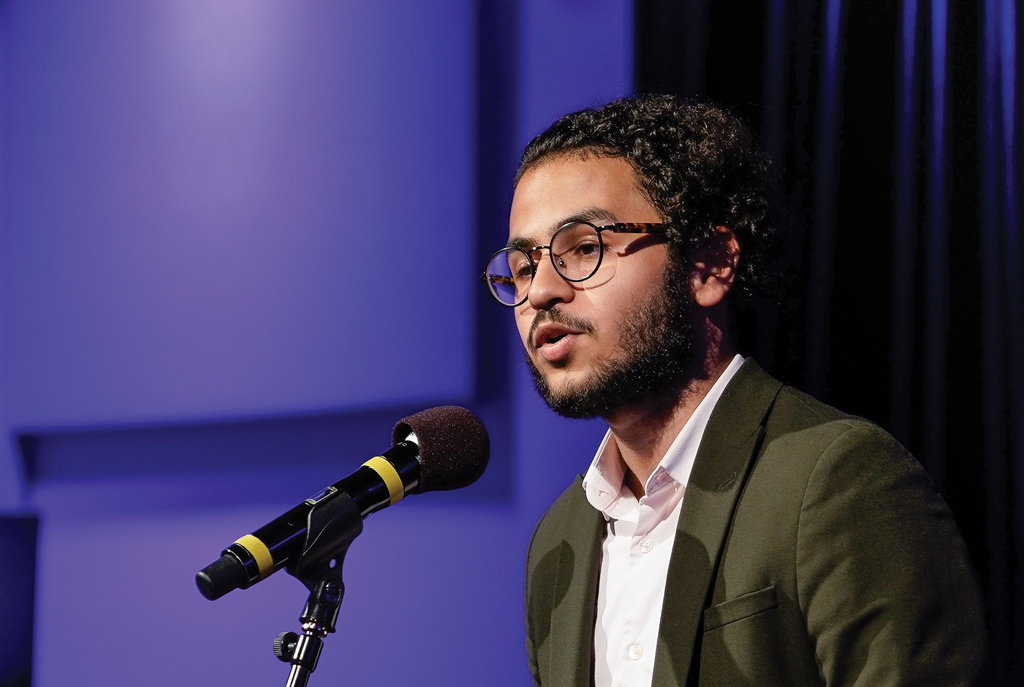 A new book by Ahmed M. Badr '20 illuminates the varied experiences and perspectives of young refugees around the world through their own literary and artistic expression.
Stories of refugees in the popular media are often characterized by tragedy—the loss of a former way of life, and the hardships and struggles that result. But there is more to displacement, particularly for young people, than is commonly acknowledged. Sometimes being a refugee is just one small aspect of an individual's identity.
While the Earth Sleeps We Travel (Andrews McMeel, 2020), by Ahmed M. Badr '20, exposes a spectrum of experiences of young refugees from around the world. With a moving foreword by Ben Stiller (whom Badr met while both were speaking at the United Nations headquarters in New York for a World Refugee Day event), the book features poetry, photographs, drawings, paintings, and interviews from more than two dozen children, teens, and young adults. All of the materials were created by participants in workshops and fellowship programs hosted by Badr. Throughout the book, Badr includes some of his own poetry, short essays, and interviews as a way of both sharing his own story and organizing the content.
"I wanted to capture, showcase, and hopefully amplify the stories and expressions of displaced young people," Badr said. "My work generally tries to complicate this singular idea of what a refugee is and isn't. I wanted to offer up this collection as a way of inviting folks to meet the individuals represented through their own voices and their own experiences."
The stories here aren't typical refugee accounts of fleeing home. A poem by Eid Ahmed, 19, resettled in the United States, shares memories of how he and his cousins were raised and lovingly protected by his grandmother and other relatives in his native Somalia. Photographs by Solve Manson, 23, living in Greece after having fled his home in Iran, depict striking and picturesque landscapes, some with the sun breaking dramatically through clouds. In an accompanying narrative, he declares, "Photos for me are like medicine." A sketch by Maryam, 14, a refugee in Greece who is from Iraq, compares life in the two different countries; her accompanying words describe how she aspires to be a soccer player and open a hospital in Iraq.
"These works are by folks who happen to have been displaced; they're not necessarily about displacement," says Badr, who himself was displaced as a child when a bomb struck his home in Baghdad, Iraq. His family relocated to Syria and eventually the United States. "Our stories are way more complex than the tragedies we may have experienced."
An anthropology major at Wesleyan, Badr found himself completing While the Earth Sleeps as he simultaneously finished his undergraduate career (with the final few weeks of both occurring at his family's home in Houston, Texas, due to the pandemic). Balancing the work was not easy, but at least the endeavors complemented each other; his senior essay explored his work with Narratio, an organization Badr founded to support the creative expression of displaced young people. "My time at Wesleyan was never a distraction; it was always a way to make the work better, and I feel very grateful to have had that be the case."
An Invitation to the Displaced
By Ahmed M. Badr
(reprinted with permission from
While the Earth Sleeps We Travel)
We are representations of a past we were deprived of embracing,
planets framing a lonely moon painted by the chosen few.
Rough and soft hands,
empty,
clasped fists shaping stories until the spaces between
our fingernails begin to whisper:
You were meant to be here earlier, but welcome to your
rightful place. Write as you wish, tell your stories, I will
gather your audience.
Photo: Ahmed Badr '20 is the author of While the World Sleeps We Travel. Photo by Janice Yi.