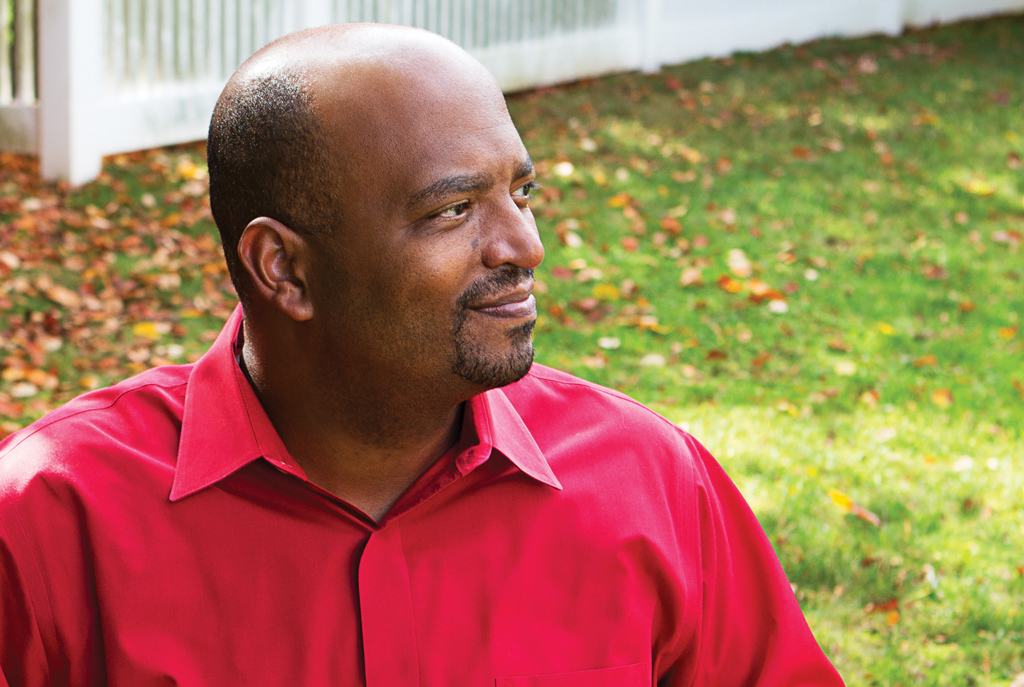 Fundraising is data driven, but Vice President for Advancement Frantz Williams Jr. '99 says caring about people is at the heart of building a strong foundation for the future.
A chance encounter changed life for Frantz Williams Jr. '99. As a senior government major, a first-generation student from a low-income family, he already knew about sacrifice and giving back. His mother and father worked multiple shifts and jobs to put him through Wesleyan, and every year he had worked for the Office of Community Services. In that capacity, he had organized a fundraiser with the Wesleyan Spirits a cappella group to benefit the local United Way. At the end of the event, John Driscoll '62, former head of alumni relations at Wesleyan, approached Williams and asked if he might consider working with alumni professionally.
"I had been thinking about government jobs," he says. "I had never thought about this kind of work before; I had no exposure to it. John explained to me that fundraising meant talking about the mission of a place that does significant work. He helped translate what I had been doing for Community Services and said that working for Wesleyan would be about engagement, about community building. That conversation totally changed my life.
"He showed a genuine interest in me. I didn't know this would be a career, perhaps a job for a year or two. Nearly 22 years later, I'm still in it," says Williams, who has risen to be Wesleyan's vice president for advancement. At one point early on he nearly applied to a Japanese exchange program for English teachers, but the deadline passed by and he realized he had found his place at Wesleyan.
The evening he met Driscoll was not the first time his life took a radical turn. His family was from Port-au-Prince, Haiti, and moved to the States when Williams, the third of four children, was nine years old. "In January 1986, on a very cold day, we landed at JFK airport, never having seen snow, and speaking only Creole—that was our start," he recalls. "I entered the fourth grade, taking ESL courses, and trying to catch up with my classmates. I had to grow up in a hurry."
His personal transformations coincided with the transformation of Wesleyan from an institution with a modest history of one successful capital campaign in the 1980s to a much more dynamic approach to fundraising, culminating most recently in the This Is Why campaign that raised $482 million. As Wesleyan's fundraising capacity grew, Williams grew with it, aided by Barbara-Jan Wilson, his predecessor, and by mentors who themselves have assumed the top fundraising position at other institutions. They taught him how to think strategically and navigate a complex organization; how to build long-lasting relationships with alumni, parents, and students; and how to be patient and learn from others.
"In this work, you have to be driven, you can't just be reactive. You have to care about what you do," he says. "Sometimes, it's about the people and the heart, and not just about the data."
Andy McGadney '92, now vice president and dean of advancement at Colby College in Maine, would take Williams out to lunch at least once a year for a candid conversation between two Black administrators about Williams's career and whether he faced any obstacles. Those conversations not only enabled him to take a step back and assess his career, but also reinforced the sense of belonging to a supportive team.
For leaders of color, there are added complications that mingle professional and personal lives. Williams relates a recent incident: "While working at home, I had an interaction with someone that was just a smack in the face. He was about to put a note on my door and I asked if I could help. He responded in a way that made it clear he didn't think that I lived here, let alone that I own the house. When you come to work, you don't forget that kind of interaction, you don't just leave it at the door that you are a person of color. The challenge is to translate your personal experiences in ways that help your team understand that true diversity is a real strength."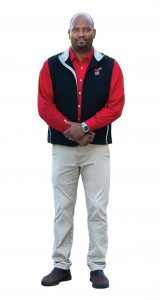 Williams did not rush into a leadership role. He loved being on the road as a fundraising trooper, and still does. He prized the individual connections he made, whether on campus, in Washington, D.C., in Los Angeles, in Shanghai, in Mumbai, and in many other locations his work with alumni has taken him.
In addition to building personal relationships, one of the rewards of his work is the opportunity to take Wesleyan in new directions. Williams was able to work with a major donor, for example, to start the Ring Family Wesleyan University Israeli Film Festival, which began in 2006 and has since become a fixture of campus life that brings attendees from all over Connecticut, as well as notable directors, critics, and actors. He has been instrumental in raising support for student athletes and helped secure funding for Wesleyan's first artificial turf field.
Out of the office, Williams loves to cook, has a soft spot for magical realism and fantasy fiction, and enjoys regular games of pickup basketball at the Freeman Athletic Center, although, at this moment, his time on the court is a casualty of COVID-19. His choice of sport is significant because for Williams, work is all about the team. Successful fundraising requires a dedicated staff of researchers, data specialists, event planners, relationship builders, managers, and others who collectively provide the backbone for a capital campaign.
COVID-19 restrictions have complicated life for his team and created stresses. Perhaps most important, travel and in-person meetings are suspended, which relegates the personal touch to online connections. At the same time, Williams and his colleagues have discovered that pushing their online capability to the fullest has been more useful than they would have once thought. They are also indebted, he says, to generous donors who realize that Wesleyan, with almost no active COVID cases as of this writing, is providing a much-needed safe haven for many students.
Nonetheless, the instant large gatherings are once again permitted, Williams will immediately convene an all-team meeting. "Creating a team culture is so important," he says.
The young man who thought he might stick with fundraising for a year or two has learned that for an institution approaching its 190th anniversary, fundraising is a long game. "All the work that we do now also has to set up for the future. Twenty years from now I want someone to point to a relationship my team and I worked on, where that person just made a transformational gift. I want to be sure that I've set up my successors to be successful."
Photos by Robert Adam Mayer