Finfluencer Extraordinaire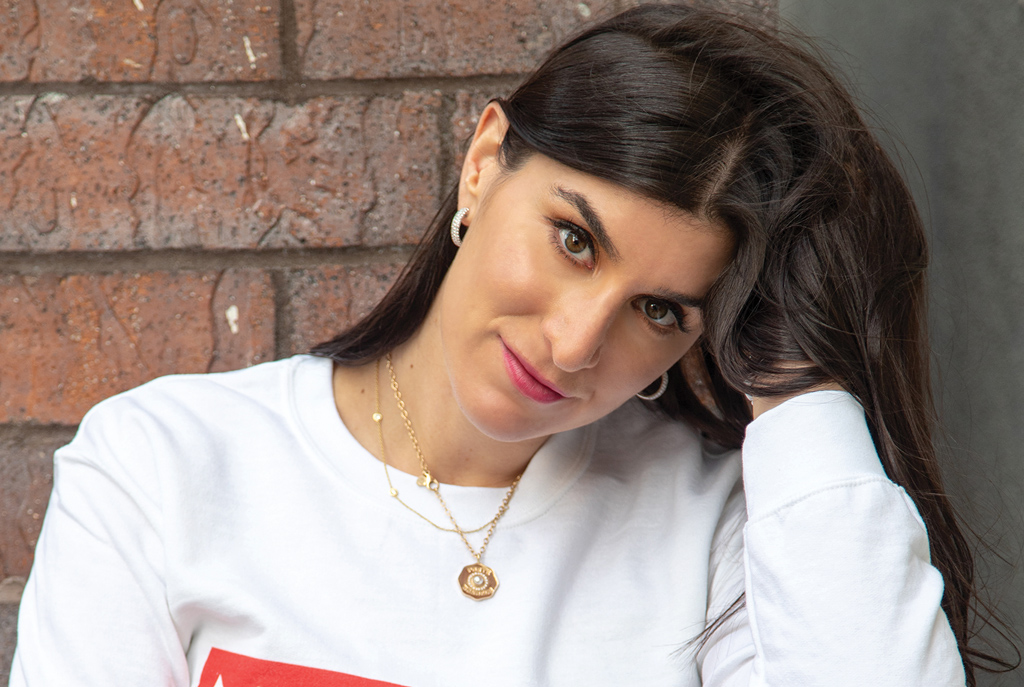 For over 173,000 followers between Instagram and YouTube, Haley Sacks '13 is making finance fun.
by Kira Goldenberg
Haley Sacks had just returned from a business trip to California, only to find her New York City foyer full of packages she'd ordered . . . for her trip to California. She was in the midst of a FaceTime interview, but her crush was on his way over and she didn't want him to arrive to clutter. So, phone in one hand, she kept up a thoughtful conversation, albeit with a view of an apartment ceiling, all while shuttling the packages into hiding in the bathtub.
It was just another day in the life of Mrs. Dow Jones, Sacks's multi-platform alter ego, who makes personal finance and investing concepts accessible to millennials and Gen Z through pop culture references, humor, and memes. She is, in the words of The New York Times, a "finfluencer"—one who has single-handedly built, and monetized, sizable YouTube and Instagram audiences based on her self-taught expertise and magnetic personality. And she has bold plans to grow her one-woman start-up into a multimedia juggernaut.
"I work all the time," she said. "Doing something you love is not easy. But it's a lot better than doing something you hate, because both take effort."
Though nobody who knew Sacks, a crew recruit and film major, back in college predicted she'd end up a self-taught finance expert, the drive and creativity that goes into Mrs. Dow Jones is completely on brand.
"Being on a team here requires a huge commitment and a lot of dedication," said women's crew head coach Patrick Tynan. "What we do is like the opposite of instant gratification. What she's doing now in terms of building her brand and doing her thing, that's what we've been doing here on the athletic side as well."
Sacks agrees.
"I work incredibly hard, and it's never given me pause or anything to do that. It's been what I had to do to get ahead. And I really credit my foundation as an athlete as giving me that attitude because with rowing, to be good you had to give it your all," she said.
Beyond her disciplined athleticism, Sacks was a WesCeleb on campus thanks to her extroverted, generous humor and her social media creativity. She was famous for driving around Middletown in a red Jeep; she made lifelong friends running around campus taking photos with strangers; and according to one of those lifelong friends, Christian Bachrach '13, people at other colleges loved her Vine account without knowing her personally.
At crew, she combined all her talents to create a cohesive team culture, mentoring teammates and drafting them into Vine cameos. That's how Margo Tercek '13 found herself, in March 2013, at crew training camp in Florida, singing "shrimp there it is," in a backwards cap, clasping cooked crustaceans, part of that night's dinner.
"I think Haley just has this kind of irrepressible charisma and confidence that can't help but rub off on whoever she's around," Tercek said.
Those early, seven-second humor snippets looked off-the-cuff, but they were incisively clever, like the one where she turned a melatonin bottle into "metatonin" with one flick of a marker, cut to a shot with a bunch on her tongue, then said, "Whoa, I never thought about it that way!"
As Mrs. Dow Jones, she achieves a similar effect, with an informal tone overlaying thoughtful, professional production. She films in her own apartment, but the lighting and framing are perfect. She uses her own financial faux-pas as instructive examples, but she's using quarantine to return to school and become a certified financial planner (CFP).
"COVID gave me permission to slow down and focus on the meat and potatoes of my brand. Although Mrs. Dow Jones is working without me having formally studied finance, I know that being certified will only help me get to the next level," she said.
The mix works: People who come for the irreverent pop culture stay for the financial insight.
"She's always been able to find a way to spin something and make it interesting, and make it approachable," Bachrach said. "I'm not a huge pop culture guy, but she makes pop culture and finance fun—she marries the two so seamlessly, and it makes complete sense that people love it."
Sacks has ambitious plans to grow Mrs. Dow Jones, from online courses, to apps, to books—she has a lot in front of her. And with five contracted employees under her watch, she has had to learn not just how to be a creative but also how to be a boss.
"You have to put time into being a leader," she said. "I study that almost as much as I study finance—neither of which was taught to me in school, although I'm obvi still gonna donate a building to Wesleyan once my fintech company goes public."
She's even thought through how her own entrepreneurial process can help others as the pandemic forces a mass rethinking of what work looks like, as well as what consumers will pay for. Haley is helping her audience make smart money choices through her COVID-related content series, MDJ Stimulus, that provides actionable financial advice tailored to this unprecedented time. And she's using her own business insight (and missteps) to model how others, too, can reshape their careers in a rapidly changing economy.
"I want people to see me changing an industry instead of changing to fit into an industry and think 'Maybe I can do that too!'" "Like with my CFP—it's so hard but when I get messages from women about how they're going back to school or switching majors to finance—it's worth it. I try to live by example that you can do anything you put your mind to. Case in point—I work in finance. Lol," Sacks said.
"In terms of the future—you'll have to wait and see. I take my role as a Financial Pop Star very seriously; it's a privileged position, and there's so much potential. I feel really lucky and also stressed lol because there's so much I need to do in order to make financial literacy mainstream. But whenever I get overwhelmed I try to remember that work compounds and success is really a series of small decisions, every day, that lead to something bigger. So right now I am just focused on studying for my investment final before my crush comes over and closing my first bank partnership! I have a call tomorrow that's gonna be big."
It's a mindset that she credits to her time at Wesleyan, writing film scripts and creating eclectic communities.
"The school really changed my life. I feel like Wesleyan gave me a really firm foundation of acceptance. It allows people to come into themselves," Sacks said. "At Wesleyan, you could be whoever you wanted to be. So, I was able to be a film student who was also really involved in rowing, and I sang in the gospel choir and tried to date basketball players. There were able to be multitudes to me."
Author Kira Goldenberg is a graduate of Barnard College and a freelance writer living in New York City and New Haven.
Photo: Haley Sacks '13. Photo by Katie Nunez.