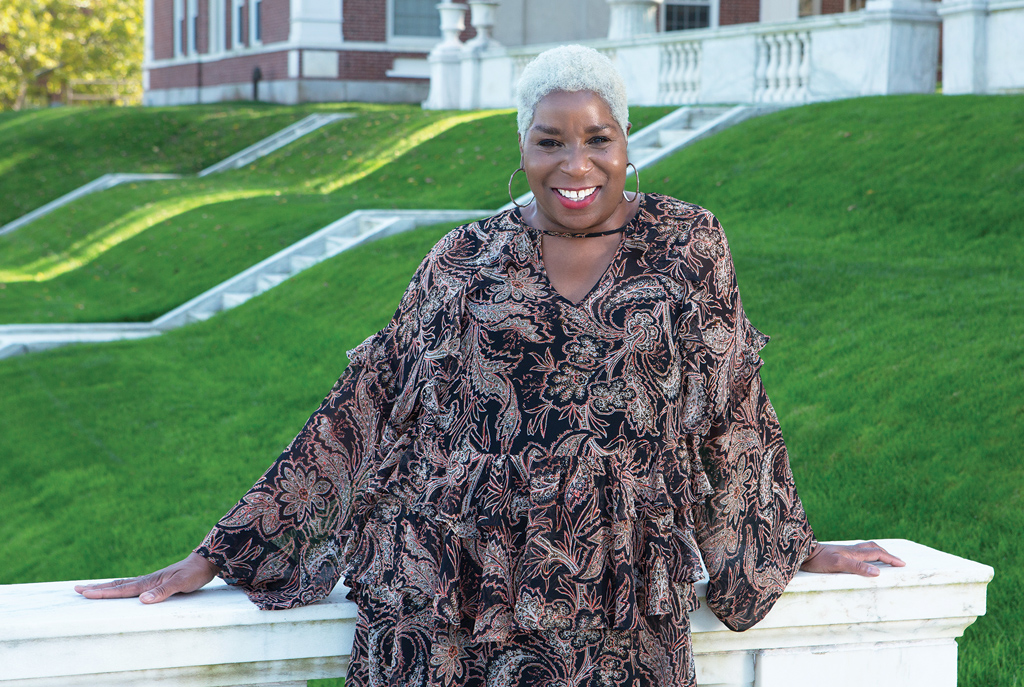 With a background in journalism and inspired by her parents' activism and the strength of their conviction, Vice President for Communications Renell Wynn looks for stories that illuminate the full breadth of a community's experience.
It had been a tough time at the office. Renell Wynn, then vice president of communications and marketing at George Mason University in northern Virginia, was in the thick of a controversy that had roiled the campus and grabbed headlines nationwide in May of 2016. The public institution was in the process of renaming its law school for conservative Supreme Court Justice Antonin Scalia, a move underwritten by a $10 million gift from the Charles Koch Foundation and another $20 million from an anonymous conservative donor.
As a member of the president's executive cabinet, Wynn understood that her role was to support the university's decision. As a Black woman deeply concerned about giving voice to the disenfranchised, the university's action evoked more complicated feelings, particularly because she could see the diversity of the campus every day by looking out her office window. The scene starkly contrasted with Scalia's reputation for racial insensitivity and his opposition to affirmative action. When her father, who had a distinguished career in civil rights, called her as she was driving home and asked how she was doing, she started to recount her day but he cut her off. He wanted to know how she was doing in her heart. She cried.
"I cried because it was the first time in a long time that there was tension, conflict for me. While I believe in every aspect of diversity, including intellectual diversity, this felt different. I needed to acknowledge that I didn't feel good. I hadn't been challenged like that in a while."
At a meeting of the president's executive cabinet the next day, she learned that she was not alone. The experience has ever after reminded her of the importance of acknowledging feelings. She always asks how individuals in campus communities will experience a particular action or policy, and she brings this point of view to the president's Cabinet meetings at Wesleyan, where she serves as vice president for communications.
"My job," she says, "is to ask the important questions at the table, not as judgment or criticism, but for us to understand the impact we're going to have. Sometimes we get deep into the mechanics, but we don't know how faculty and staff are going to experience an action or policy. Outlets to express feeling are very important to me."
She traces her path to leadership positions to her mother, even though at times she resisted her mother's "Southern Belle" sense of decorum ("I preferred to climb a tree"). "My mother," she says, "instilled in me drive and determination, the strength of my own identity."
When Wynn arrived at Spelman College for her undergraduate education, she already saw herself as a writer and journalist. A visual learner who pictures stories in her mind, she loves language and the play of words. Subsequently, as the only African-American writer at the Las Vegas Sun, she "felt a huge responsibility to tell stories that would be diverse, so that people could see themselves when they opened the newspaper."
Her desire to spend evenings and nights with her young son took her out of the newspaper business and, following a stint in Missouri state government, to higher education, where she found a congenial home for her talents. Her clarity of purpose took her through leadership positions in communications at Florida State University, William & Mary, George Mason University, and the University of Denver before arriving at Wesleyan in October of 2019.
"I fell in love with higher education because of the 15 seconds of walking across the commencement stage," she says. "The beauty of what we do culminates in that moment."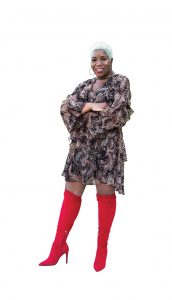 Years ago, Wynn took a personality test and learned that she should have been a chief executive officer. She characterizes herself as bold and assertive, as driven, though she cultivated those qualities and at times struggled with them. Yet it would be a mistake to pigeonhole her in the executive role. She insists that her personality lies deep in introvert territory. She gathers sustenance from opportunities to be quiet. Off-season travel appeals to her, as does the stillness of water or the gentle onrush of surf at the beach. She abhors the polite patter of small talk and has to psych up for social occasions that demand it. She'd rather watch a movie and routinely sees every one that receives an Oscar nomination, preferably in movie theaters. She's always ready for a good mystery novel, the latest being Michael Connelly's Harry Bosch series.
Hosting a small dinner party recharges her. She loves to cook, such as a stir-fry with salmon, steaks on the grill, a soufflé with brandy sauce—"It's never just hot dogs and hamburgers." At one point she savored the fantasy of running away from it all and opening a bake shop.
Like any good baker, Wynn sweats the details of her work. When Wesleyan set up a system to test students for COVID-19 this fall, she went through the process herself to understand it, to get the feel of it, to convince herself that it would be well-received by students. Wesleyan has since been highly successful in its effort to stay open and keep COVID-19 at bay, earning plaudits from The New York Times for its rigorous approach to testing and contact tracing.
"The students here took on the responsibility with us," she says. "That's pretty cool."
Faculty, she observes, are one of Wesleyan's strongest resources for communications. She has aggressively sought to connect the faculty's intellectual capital with media outlets. "It speaks to who we are and what we do," she says. She describes herself as data driven, but never merely for the sake of numbers alone. Data illuminates behavior and helps her to understand how to meet people where they are in moments that have meaning for them and will inspire them to action—in other words, how to engage with others productively.
Slightly more than a year into her position, she says she loves the unpredictability and boldness of Wesleyan. She admires students who protest because they are standing up for something they believe.
"This university has a willingness to lean into opportunity. I find that energizing, awesome. I am a risk taker. What we do here has meaning for me."
Photos by Robert Adam Mayer