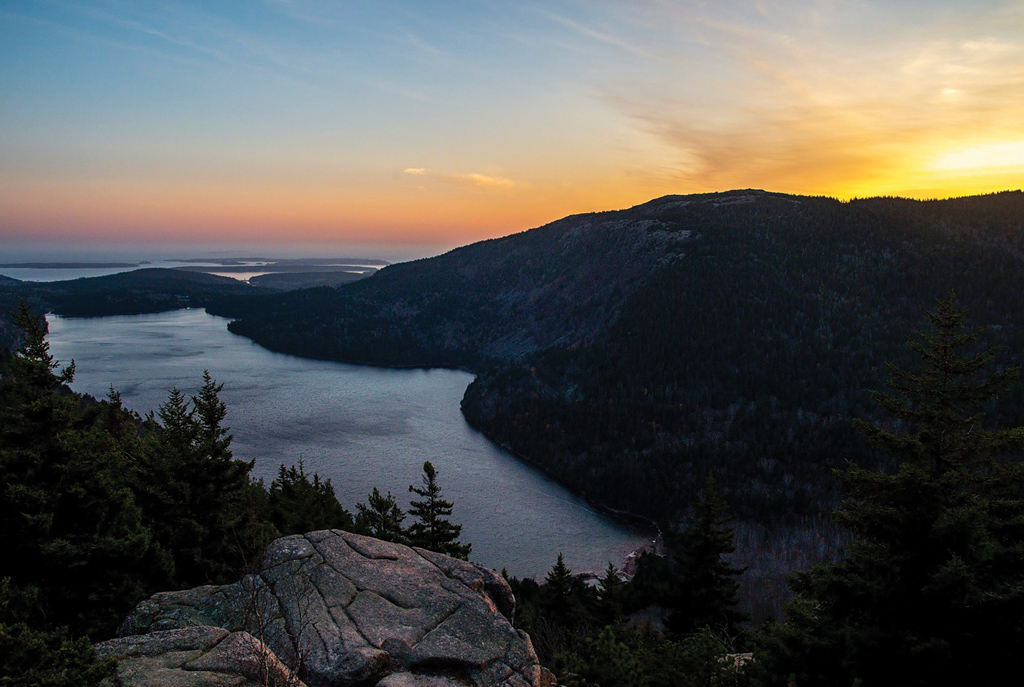 Jordan Pond at sunset. Photo by Will Newton/FOA.
David MacDonald '86, the head of Friends of Acadia, wants us to take responsibility for our National Parks.
By Kaelyn Lynch
I'm supposed to be interviewing David MacDonald, but he's the one asking all the questions. Before I can thank him for taking a Zoom call with me on what he called "a perfect Maine September day," he's already quizzed me about where I'm from, my career path, the weather in my home of Santa Fe, New Mexico, and if I've ever been to Acadia National Park. When I answer "no" to the last query, he looks shocked, then slightly wounded, before asking one more question: "Well, when are you coming to visit?"
MacDonald has made a career out of genuine inquiry: first by consulting landowners on how best to preserve their property as the director of land protection for Maine Coast Heritage Trust; today as the head of Friends of Acadia, coordinating with the National Park Service (NPS) and local communities to keep the place he reveres pristine. MacDonald's mission boils down to a single question: How do you get people to care enough about the land to protect it?
A Place That Gets Into Your Bones
MacDonald initially grew up outside Hartford, Connecticut, not far from the university he would later attend. Seeking a slower pace of life, his father traded his banking job in the city for the small village of Somesville on Mount Desert Island in Maine, perhaps best known as the home of Acadia National Park. There, MacDonald spent his days running through the woods, riding bikes with friends, and exploring the piece of conservation history right out his door, in what he calls a "typical '70s childhood." When he returned to Connecticut to attend Wesleyan in 1982, he never thought he'd end up back in Maine. But the rugged coastline and verdant hills had unwittingly sunk their claws into him.
"The more I spent time elsewhere, the more I realized that what we've got here is pretty special," McDonald says. "It's a place that gets into your bones and into your blood."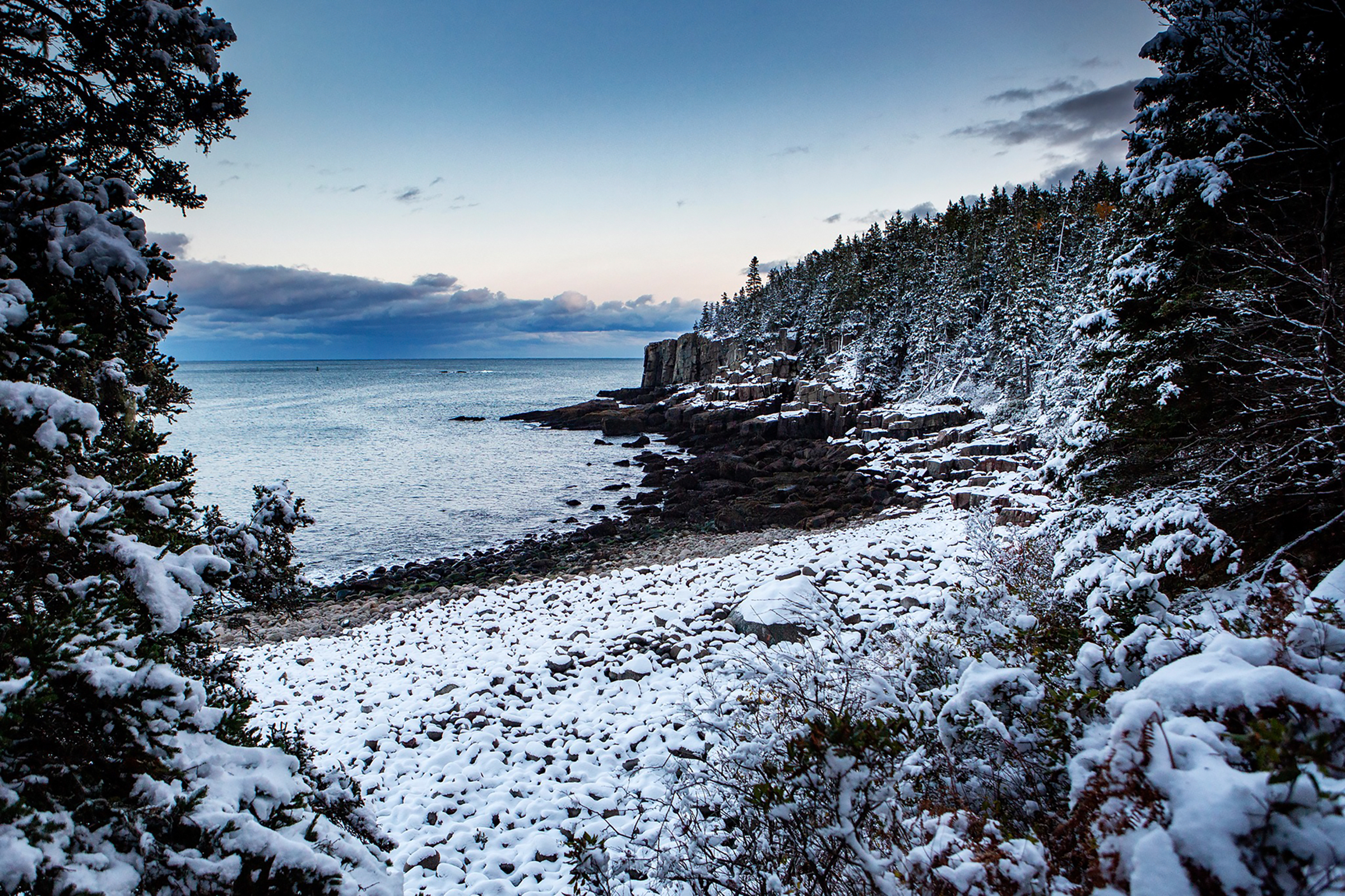 As fate would have it, it was Wesleyan that drew him back to the Pine Tree State. Caroline Norden '79, P'21, a fellow Wesleyan alum, picked out his resumé from a pile for an internship at Maine Coast Heritage Trust, where he worked his way up over 20 years from writing newsletters and annual reports to director of land protection. In 2011, he left Maine Coast to be the president and CEO of Friends of Acadia, a nonprofit that works to promote stewardship and conservation of the region's most treasured park.
The two decades prior spent listening to the needs of private landowners served him well. Unlike the iconic western expanses (Yellowstone, Yosemite) most associate with the concept of a national park, Acadia isn't a sparsely populated chunk of land with a well-defined boundary. Rather, the border weaves its way through dozens of small fishing villages and coastal communities along the rugged shores of Mount Desert Island. Protecting it, therefore, isn't as simple as partitioning it off.
"The interplay between the park and the community is really, really important," MacDonald says. "It's what makes managing the park possible."
Friends of Acadia's mission lies directly at that crossroad. Like many "Friends" groups at National Parks throughout the country, Acadia's works closely with the National Park Service to further the preservation of the land, while communicating and coordinating with the local community.
Friends of Acadia differs from other groups by the strength of those ties, which date back to the park's founding over 100 years ago. The first acres of Acadia were donated by dozens of landowners and pieced together through the efforts of corporate titans and philanthropists such as George Dorr and John D. Rockefeller Jr. Since then, according to MacDonald, the park has become a sort of "ground zero" for private individuals taking action to conserve property for public benefit. Its fluid boundaries mean that the park is very much integrated into the surrounding communities. Friends of Acadia has adapted appropriately, helping the relationship with the park become a model for other public land conservation in the northeast through its work with private landowners.
"[The intersection of public and private interests] makes the work harder and more complicated," MacDonald says. "But in the long haul, makes it a more resilient park when you've got that kind of partnership with the surrounding communities."
A Friend to the Park
In Acadia, that partnership takes several forms, from running outdoor classrooms, to repairing the park's auto-free carriage roads, to, more recently, actively communicating about how to visit responsibly during the pandemic. Friends was also instrumental in the park's most noteworthy recent undertaking: a reservation system for its most popular roads. In 2019, Acadia was the country's seventh most popular park, with some 3.4 million people passing through its tollbooth. But what sets Acadia apart from its peers on the list is its size. Acadia is 47,000 acres; Yellowstone, number six on the list with 4 million visitors, is estimated to be over 2.2 million. The sheer volume of visitors-per-square-mile caused a logjam on popular routes like Cadillac Mountain, to the point, MacDonald says, that "if someone were to have a medical incident, emergency vehicles couldn't get through." Friends worked for several years with the NPS to come up with a strategy that would manage visitation without cutting access. "We're not doing this to lower visitation but to disperse it away from peak times and peak locations," MacDonald says.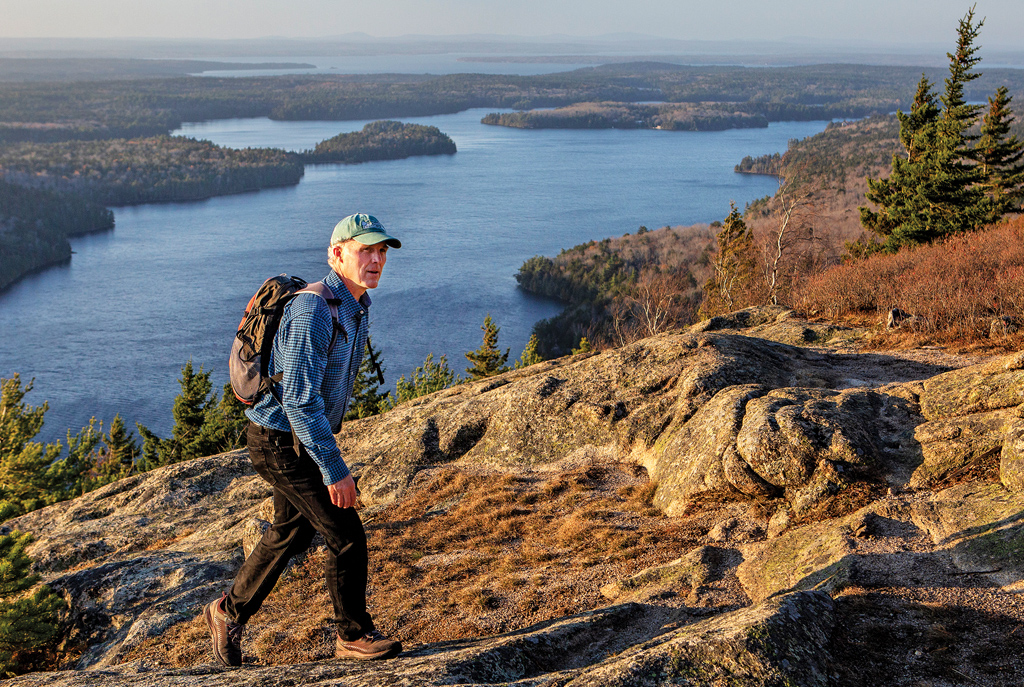 Big projects like this are not out of the ordinary for Friends groups, which exist at most major national parks. Over the past few years, as the NPS struggles to cope with a $500 million budget cut while facing aging infrastructure and record visitation, volunteers have stepped in to fill the gaps. The most notable example was during the 2018 government shutdown, when volunteers stepped in with thousands of rolls of toilet paper and packages of garbage bags to stock bathrooms and clean up refuse from careless visitors. For that shutdown, however, and a previous one in 2012, Friends of Acadia chose to stand back despite calls to step in and open the park in lieu of the NPS, highlighting how the organization's relationship with the park, while "fantastic" according to MacDonald, toes a fine line.
"We are here to complement, not replace, what the NPS does," he says. "We don't want to substitute for what Congress should actually be funding the parks to do." Choosing to step in and open the park, MacDonald says, would have created the narrative that it was fine for the government to shut down, because there was a backup option. (He does note, however, that Acadia wasn't being hit as hard as many parks out west, which would have made the decision much harder.) In an ideal world, he asserts, Friends of Acadia wouldn't exist at all. "Our parks would be well-funded, and this kind of scarcity wouldn't prompt the involvement we feel is really essential right now."
Perhaps the stickiest issue plaguing national parks today is one that is inherent in their stated mission: preserving the parks for future generations, while allowing access for anyone who wants to use them. The only major national park in the Northeast, Acadia is within a day's drive of about 80 million people, and tops lists for accessibility and family-friendliness. Maintaining the park's integrity without sacrificing its availability for such a large contingent of people is a particularly difficult challenge. To MacDonald, the solution is to make visits more impactful on people and less impactful on the land, both educating the public about the effects of things like climate change and invasive species and ensuring that each visitor has a positive experience at the park.
"When people get out on a trail, and put their sweat into a place, they feel that sense of ownership," MacDonald says. "And that's so important, because the Park Service doesn't own these parks, you and I do."
Owning Our Parks
Ultimately, MacDonald believes, it's that connection to the land that will drive people to protect it—that same feeling that brought him back to Mount Desert Island almost 30 years ago.
"The impact and inspiration that National Parks have on so many people is very powerful," he says. "To see a place that gives people so much joy . . . it makes you feel like the work is worthwhile."
That concept is especially important now, as national tumult has shed light on what MacDonald sees as three main crises: the pandemic, racial injustice, and climate change. While the parks often serve as an escape from the daily bombardment of dark news for many, MacDonald says these issues do not blissfully disappear within Acadia's borders.
"Parks are not immune from these questions and challenges, but they have the potential to offer an incredibly important role to people in these times," MacDonald says. "The tenuous situation a lot of parks find themselves in in terms of funding is especially urgent given these crises. Expectations of and reliance on parks is going through the roof, yet the resources to nourish them and plan thoughtfully for the future is alarmingly low."
MacDonald is hopeful, however, that more people flooding to the parks could actually have a broader long-term impact—people might just make connections to broader issues that they carry through to other areas of their lives.
"Hopefully what follows is a deeper awareness of congressional funding and people taking care of [the parks]," he says. "I think it's the fundamental responsibility of Congress to fund the parks, but without a public that feels that sense of ownership and understands the issues that won't happen. That's where Friends groups come in."
It's hard to imagine how someone could face down complex global issues like climate change and the dredging of environmental policy with the enthusiasm MacDonald so obviously exudes. But for him, it all comes back to land.
"Administrations and people and institutions are going to come and go," MacDonald says. "But the land is always going to be there, in some form. That's a great comfort, and gives me great hope."