Supporting Student Action in Civic Life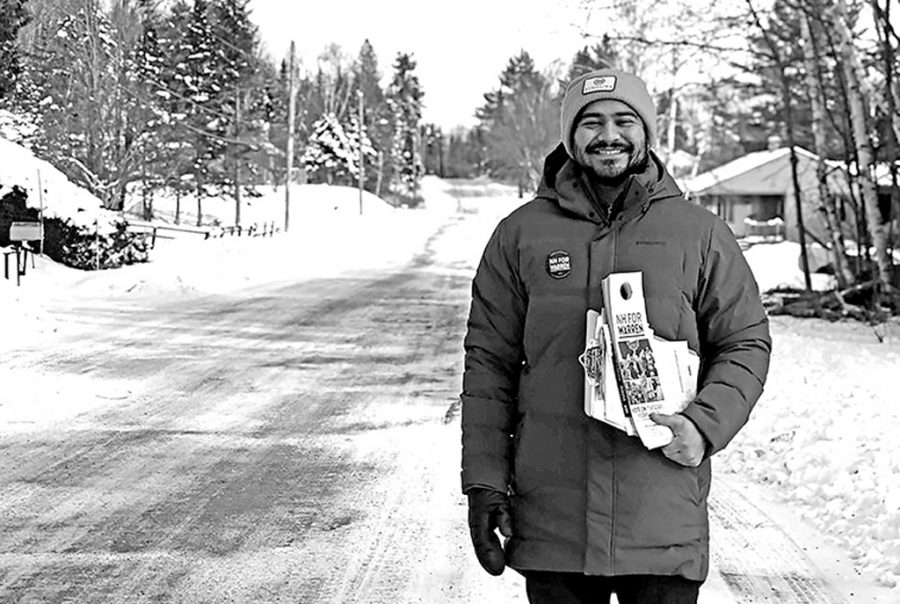 Mitchell Motlagh '20, a recent College of Social Studies major, spent his winter break in Berlin, N.H., where he helped raise awareness of the upcoming presidential campaign. "Some days it was -2 outside," he said. Motlagh spoke with more than 500 voters through phone banking, canvassing, and interacting via office meetings or community gatherings. "Not every interaction was pleasant, but all of them helped provide color into the community that I was living in," he said. (Photo courtesy Mitchell Motlagh '20.)
Launched last fall, the Engage 2020 initiative is helping students put ideals into practice.
Wesleyan has a long history of facilitating student engagement in the public sphere. Against the backdrop of a critical upcoming presidential election in 2020 and at an inflection point in the country's history regarding racial injustice and a sweeping pandemic, student engagement in civic life is more important than ever.
Led by the Jewett Center for Community Partnerships (JCCP) and with fortuitous timing, the University launched its new Engage 2020 (E2020) Initiative last fall to deepen Wesleyan's commitment to civic engagement. To date, 33 students have already received funding to support the development of their civic literacy and their preparedness to engage in political life through hands-on experiences such as working to register voters, issues advocacy, and volunteering on political campaigns. E2020 encourages participation regardless of political affiliation or stances on specific issues.
"The E2020 Initiative is an intense learning experience for students and we've been impressed with the ways in which students are lending their support to a variety of projects," said Clifton Watson, director for the JCCP. "Students are engaging with folks from diverse backgrounds—across the country—during a unique moment in American society, around issues that many Americans are deeply passionate about."
As part of their work through E2020, students work with a variety of organizations that dovetail with their academic and personal interests. Olivia Backal-Balik '20 worked for Philadelphia Immigration and Citizenship Coalition; Maya Gomberg '22 and Mitch Motlagh '20 canvassed neighborhoods in rural New Hampshire, knocking on doors on behalf of Elizabeth Warren's 2020 presidential campaign; and Derek Chen '23 worked with Turnout Nation, employing relational organizing to increase voter turnout. For Chen, the biggest challenge was convincing student populations who aren't typically as civically engaged to become more so, particularly in the swing state of North Carolina.
"My goal is to make voting a 'regular thing' that everyone does, talking to friends and family, convincing them to vote," he said.
This summer, Felicia Soderberg '21 served as a communications intern for the Matt Stoel for Michigan State Representative campaign; Ron Meehan '21 worked on communications and public outreach for the Paul Dale for State House campaign in Alaska; and Perri Easley '23 worked with Jack and Jill of America in Pennsylvania (on her second E2020 venture) to assist young African Americans with voter registration. She also spoke with people of color about important issues around the 2020 elections, including the U.S. Census, the Electoral College, gerrymandering, and voter suppression.
"The African American community has remained a crucial voting bloc," Easley said. "As voter suppression efforts have largely targeted communities of color, I would like my work to directly combat this reality. A lot is at stake leading up to the November election, and I would like to do as much as I can to make sure that [all] votes are counted, and that U.S. elections are fair for everyone."
Wesleyan's Civic Action Plan, created in 2017, sets goals for building civic preparedness among students, faculty, and staff, and for enhancing the University's role in public life. The E2020 initiative stems from this plan, with funds to support costs associated with lodging, meals, computer software, project supplies, and phone and internet services for those conducting projects remotely due to the COVID-19 pandemic. In addition, participants enroll in the quarter-credit course CSPL 494, Internship: Elections, which requires students to participate with an electoral process for at least 40 hours, offer structured reflection, and complete a final paper.
Looking ahead to Election Day, Watson said, "If the previous few months are any indication, students will increasingly engage in this moment, recognizing the electoral process as a way to help shape the kind of just and equitable society they envision."