Unlocking Access: Delaware College Scholars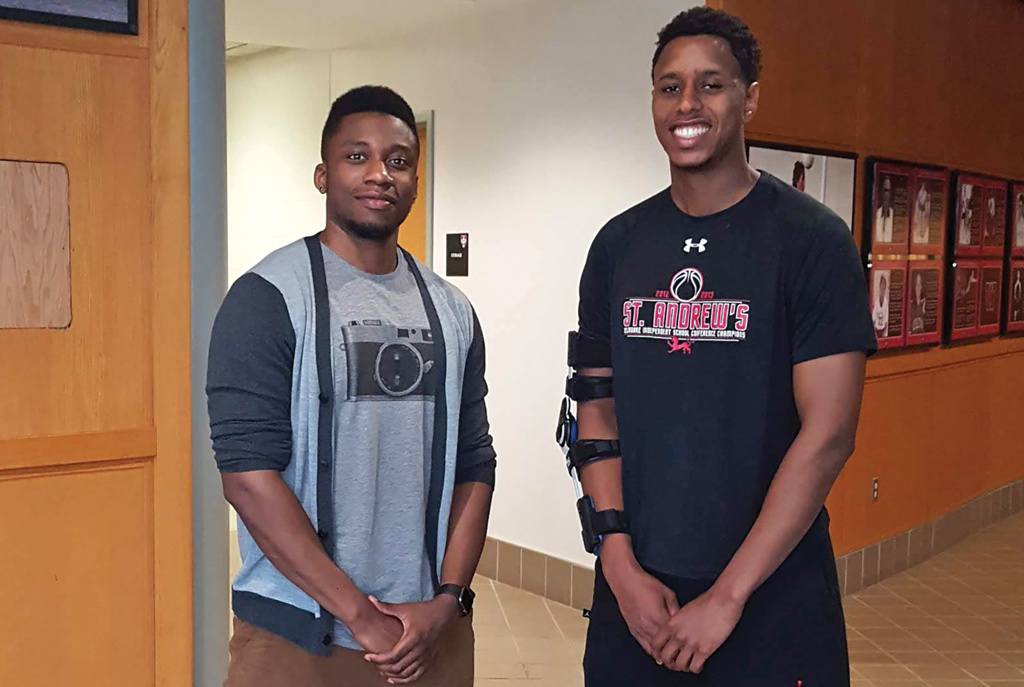 Tony Alleyne '05, left, and Jordan Bonner '19, right, work together at Delaware College Scholars, a program aimed at helping public school students from underserved communities succeed in college. Photo courtesy Delaware College Scholars
The Delaware College Scholars program, founded by Tony Alleyne '05, is helping underserved students achieve success at Wesleyan and beyond.
By Annie Roach '22
Tony Alleyne '05, the founder and executive director of the Delaware College Scholars (DCS) program, has always been determined to connect with underserved communities. He chose to attend Wesleyan because he sensed that it had a solid network of students of color, and as a Black and Afro-Latino man, that community was essential for him.
"There was a strong influence from students of color on the campus," he recalled. "At that time in my life, I knew I needed a strong network of Black and Brown students. At Wesleyan, I solidified being unapologetically Black and Afro-Latino. I loved every aspect of it."
Post-Wesleyan, Alleyne's original plan was to go to law school. But as he was working for Teach for America after graduation, he realized that what really mattered to him was equity in education. He began work at St. Andrew's School, a private boarding school in Middletown, Delaware, where he had attended high school and where he became attuned to the surrounding Delaware public school sector, which contained bright, ambitious kids who were college-ready but did not have access to the necessary resources to help them succeed in college. He began to brainstorm ways to bridge the gap between St. Andrew's and its surrounding public-school communities. After conversations with St. Andrew's Head of School Tad Roach P'17, '22, former St. Andrew's board member Paul Harrell, and former Governor of Delaware Jack Markell, Alleyne launched DCS.
DCS is a partnership between St. Andrew's and the Delaware Department of Education. Alleyne describes its founding in 2013 as the actualization of his dream to do more for public-school students. The program is designed to help high-achieving, under-resourced students from Delaware prepare for college and thrive in and beyond college. For three weeks during three consecutive summers, the scholars live together in residential spaces and take rigorous academic courses that are designed to prepare them for college. The curriculum includes writing, mathematics, human behavior, and standardized test preparation. Although the program started off with around 40 scholars per year, the number has increased every year—there were 75 new scholars enrolled in 2020, and the program plans to expand to serve up to 130 new students every year.
By all accounts, the program has been massively successful. Out of all low-income Delaware students, only 8% attend four-year institutions directly after high school, and only 17% of those persist to their sophomore year. Conversely, 93% of Delaware College Scholars attend four-year institutions directly after high school, and 88% of those return for sophomore year. Seventy-five percent graduate after four years. The program is not only getting scholars into college (and top institutions at that, such as Vassar College, Villanova University, Duke University, and Lehigh University); it's keeping them there. Approximately 200 scholars are now either in college or college graduates. Many cite DCS as essential to their growth as students and citizens.
"[The scholars] are resilient," says Alleyne. "They're trailblazers. Once they get a sense of how inequity works in this country, they're going to navigate through it and transcend expectations."
One such scholar is Alejandra Villameres '21, who majors in film studies at Wesleyan. She was drawn to DCS because of its residential aspect, which allowed her to experience a taste of the real college experience, as well as the tight-knit community that enabled her to form lasting connections with the other scholars. She also appreciated the intensity of the academic program, which pushed her thinking in new ways.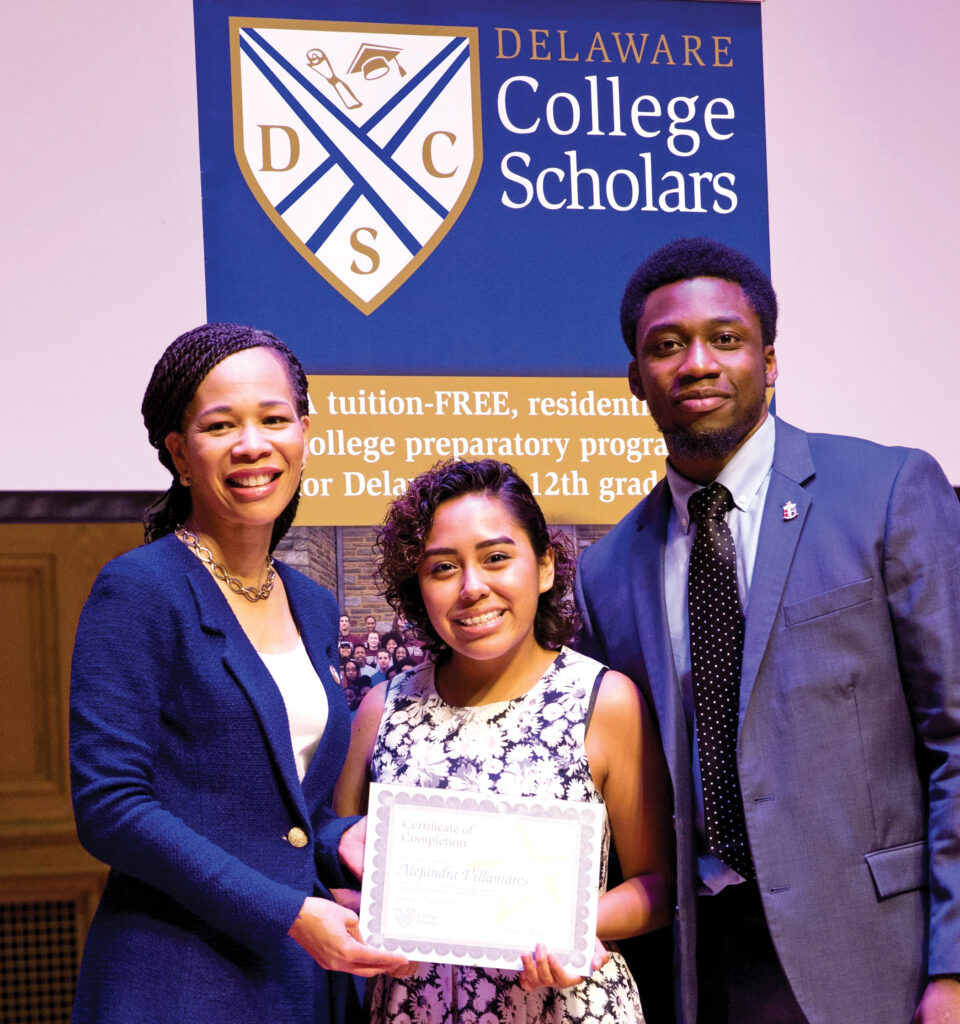 "They showed [me] a side of rigorous academics that I had never been exposed to at my public school," she said. "They really challenged me to expand my thought. We were exploring topics about race, which my school didn't really talk about. The majority of my school was Black and Latinx, which was cool for me, but we never really talked about that stuff."
It was through Alleyne that Villameres first became interested in Wesleyan. Alleyne and Villameres discussed how Villameres was looking for colleges that would fit her financial needs as a first-generation, low-income student, as well as institutions that supported and accepted undocumented students. She and Alleyne drew up a list of schools; one of them was Wesleyan, and Alleyne encouraged her to go for it.
"I wanted her to want a school like Wesleyan," said Alleyne. "I saw the persistence she had and the ownership she had in her success." He arranged an interview for her with the regional admissions representative from Wesleyan. She submitted an Early Decision II application and was accepted.
Villameres will graduate from Wesleyan this May, and is currently applying to jobs at entertainment companies such as Disney, CBS, and HBO. After graduation, she hopes to continue to make short films and even a full-length feature someday.
Jordan Bonner '19, program director and community liaison at DCS, is another student with whom Alleyne worked and mentored for years. He volunteered with DCS every summer since its founding, when he was a junior in high school. After graduating from Wesleyan and earning his master's degree in psychology and education from the University of Cambridge in England, he returned to DCS full-time, unable to stay away from the work that continually called him back.
"I know this is going to be my life's work," Bonner said. "I always had a heart for our mission and our vision." He mentioned that working full-time rather than part-time has allowed him to invest himself in the program in a new way and actualize his career aspirations.
The network that Alleyne has established with his scholars and colleagues is strong, and is firmly rooted in Wesleyan.
"I see myself in my scholars," said Alleyne. "I know that it is a rarity to have a Black founder and a Black executive director leading a program that they created [themselves]. I'm excited to expand and impact more lives."
* * *
Sidebar: Firsthand Experience
During the summer of 2020, I worked virtually as a college essay instructor and as a marketing and communications intern for Delaware College Scholars. As an alum of St. Andrew's, I'd always been aware of DCS and its relationship to St. Andrew's, and was eager for the chance to work at such a meaningful program. I come from a family of educators, and our familial discourse is often centered around the notion of education equity, which has naturally piqued my interest and passion for the topic.
Although DCS summer programming was entirely online, I still managed to make connections with students. I got to know several of them through Zoom meetings, during which I'd help them craft their CommonApp essays. The students I worked with were brilliant, curious, and thoughtful, and reading their essays was an excellent way to connect with them.
My marketing and communications role allowed me to get to know the program even more intimately. Meeting and working with Dr. Alleyne and other key people involved with DCS gave me a fuller picture of the program. It was easy to find ways to market and promote DCS—it's a genuinely transformational program that is addressing a lot of important issues surrounding education in our country, and I hope that I bring the values I learned from working with DCS to my future. —Annie Roach '22