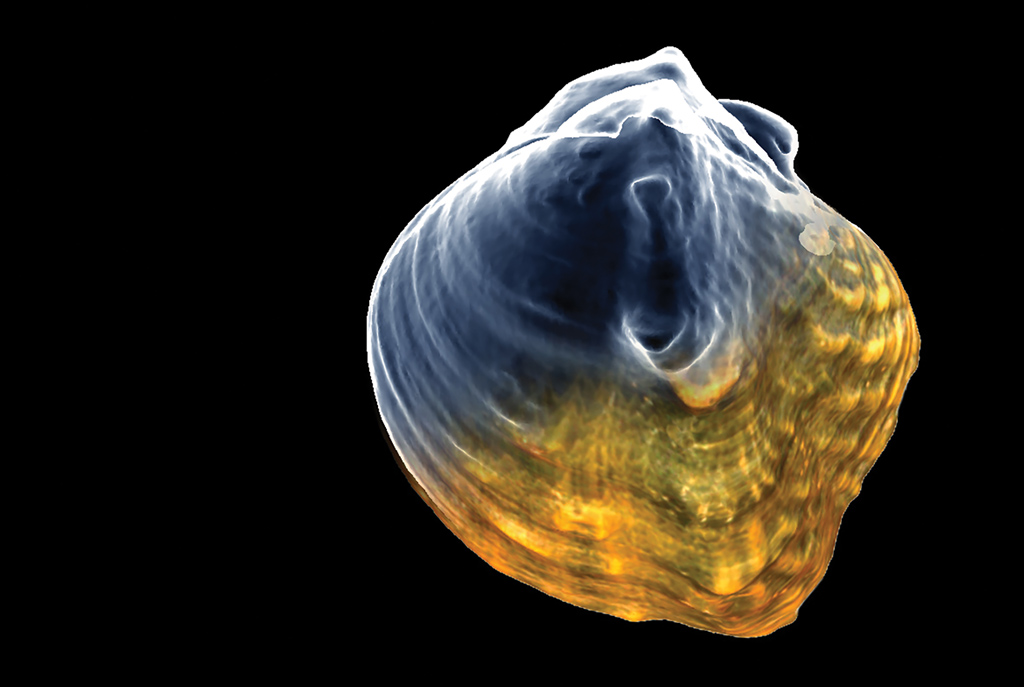 Photo copyright Andy & Yu Kai Tan
Employing 3D-scanning technology to create computerized models of objects
in Wesleyan's collections, the new Environmental Archaeology Lab is facilitating
a powerful new mode of remote learning.
During a regular academic year, many faculty use Wesleyan's collections—including archaeological artifacts, ethnographic objects, fossils, and natural history specimens—for hands-on teaching. The ability to touch, share, investigate, and inspect an object or artifact firsthand invariably deepens the discussion around it.
During the COVID-19 pandemic, however, collections have been mostly off limits for in-person learning.
Wesleyan's new Environmental Archaeology Lab (EAL) is attempting to fill that gap by increasing access to all University collections. By using a 3D-projected light scanner and accompanying "stitching" software, a team of students has already transformed more than 185 cultural objects into detailed computerized models. Users are able to move the 3D models 360 degrees on a screen and have the ability to view every angle of the object with the slide of a mouse.
A host of different classes have already requested the 3D scans during the 2020–21 academic year, including Introduction to Archaeology; East Asian Archaeology; Environmental Archaeology; Mass Extinctions in the Oceans; Buddhist Art and Architecture; Survey of Greek Archaeology and Art; and The Secrets of Ancient Bones.
"Under normal circumstances, these classes have a heavy component of in-person tactile learning with actual objects/specimens," explained EAL member Andy Tan '21. "With our switch to online teaching, 3D scans of these objects allow students to retain access to object-based learning, albeit virtually, and to gain practical skills through viewing 3D scans from multiple perspectives."
The Artec Space Spider–brand 3D scanner is housed in the EAL, and managed by Katherine Brunson, assistant professor of archaeology. The interdepartmental project is shared and supported by Wesleyan's Archaeology and Anthropology Collection (AAC), the Archaeology Program, Biology Department, College of Integrative Sciences, Earth and Environmental Sciences Department, Classical Studies Department, the College of East Asian Studies, Olin Library, Academic Affairs, and others. Ellen Thomas, Harold T. Stearns Professor of Integrative Sciences, and Ann Campbell Burke, professor of biology, also oversee the 3D scanning project.
During the summer of 2020, and under Brunson's guidance, the pioneering team of Andy Tan, graduate student Yu Kai Tan '20, and Haley Brumberger '20 started fine-tuning and perfecting protocols and techniques and assisted faculty in using 3D-scanned models in their teaching and research endeavors.
"As head technicians on 3D scanning, the trio is currently training more students to become proficient at using the equipment, and to introduce them to advanced model-making techniques," Brunson said.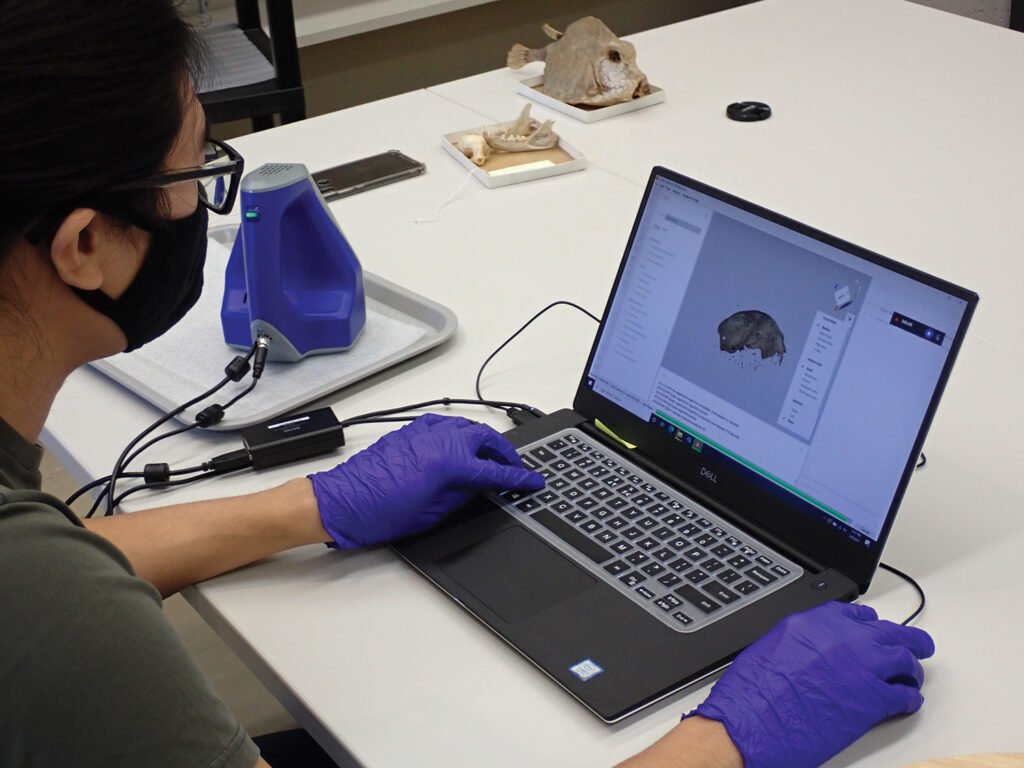 Although 3D models cannot adequately replace the use of actual objects, they allow for scientific analysis of items that are too fragile, unstable, or too valuable to undergo frequent handling.
"Researchers can view the 3D scans of objects from anywhere on the planet, then decide if the object suits their needs before traveling to study them in person," Yu Kai Tan said. "This is especially pertinent for equity in resource access for traditionally marginalized groups, nations, or institutions with less means or that are geographically distant from collections."
Nevertheless, the actual object itself has irreplaceable value, Yu Kai Tan said. The weight, material, translucency, and molecular data such as chemical trace cannot be extracted from 3D scans. "And as always, there is that intimate presence of objects that cannot be substituted by a virtual presence—this is why people still flock to the Louvre instead of simply looking up 'Mona Lisa' on Wikimedia Commons," he said.
Members of the EAL anticipate several interdisciplinary, campus-wide collaborations throughout 2021, including working with Wesleyan's Integrated Design, Engineering, and Applied Sciences (IDEAS) program. Once a scan is complete, it can be embedded on websites, blogs, PowerPoint presentations, online StoryMap exhibits, and even printed on a 3D printer. Says Yu Kai Tan, "The possibilities [of 3D scanning] are vast and expanding."