One Step at a Time: Amby Burfoot's Life Running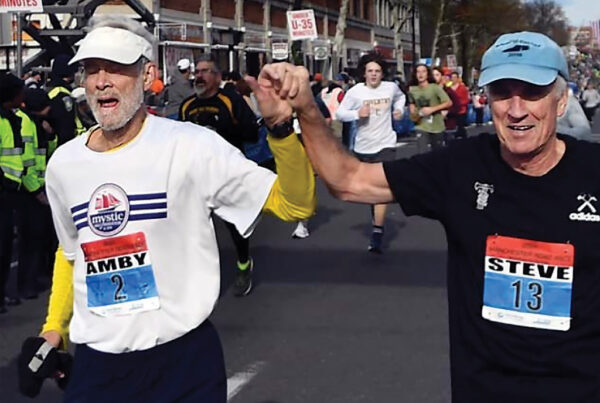 For most runners, winning the Boston Marathon represents the pinnacle of achievement, the crowning glory after months, even years, of grueling training. But Ambrose "Amby" Burfoot '68 isn't like most people.
Burfoot, a former Wesleyan cross-country star, former editor-in-chief of Runner's World magazine, and 1968 Boston Marathon champion (that's right, he won the big race while still a senior at Wesleyan), considers his greatest accomplishment thus far to be completing his 59th straight Manchester Road Race and winning the 75 to 79 age group.
"Any lucky dude can win the Boston Marathon," says Burfoot. "But you can't run the Manchester Road Race 59 times in a row unless you are pretty mean and gnarly."
Testing his limits and pushing past expectations has been a theme in Burfoot's life.
As the son of a recreation program director, Burfoot grew up loving traditional sports, obsessively playing baseball and basketball. "Like everyone at that age, I thought that I was going to go on to the big leagues," Burfoot said.
However, when he got to high school, the bigger and stronger kids had other ideas. Burfoot wasn't faster than the other players but, as he put it, "I could just keep going all day." As punishment during practice one afternoon, the basketball coach forced the team to run the cross-country course. "Lo and behold, while I was the worst basketball player on the JV team, running the three-mile cross country course, I came back first," Burfoot said.
By the time Burfoot attended Wesleyan, he was hooked. But running wasn't the ubiquitous athletic activity it is now. "When I used to go to races, there were only a few other runners on the starting lines. Nobody was reporting on our efforts in the media. Basically, society was telling us that we were idiots to be out there running around in our underwear. We were doing some bizarre activity that nobody could understand," he said.
Still, between Burfoot, four-time Boston and New York marathon winner Bill Rodgers '70, and Olympian Jeff Galloway '67, there was something happening at Wesleyan during that period, a time where a certain strain of athletic excellence was growing. "What was there at Wesleyan, which I have treasured my entire life, was the acceptance of the individual quest for whatever the individual wanted to go after," Burfoot said. "We would just run our hearts and our guts out together to see how good we could be."
Ultimately, that's what Burfoot finds so compelling about running and what keeps him competing after all these years.
He shies away from any metaphysical talk about running—no runner's high or anything like that from him. Running takes place a step at a time, one mile at a time, one race at a time, until you've built a life devoted to the sport.
"I like the theoretical idea of endurance. I like the idea of sticking with the things that we have pursued. I like not giving up. I like the idea of moving forward towards a goal," Burfoot said.
His dad dreamed of a retirement spent sitting on the porch, watching the sunset and sipping lemonade. But while Burfoot loves sunsets and lemonade (even something a bit stronger), he'll never stop moving forward, even at the ripe old age of 75. The Wesleyan kid who jogged between all of his classes has now become an elder statesman of the sport, still setting records and still logging miles for the joy of it. "None of us ever know what tomorrow will bring, but I'm choosing to live and run optimistically as long as I can."
Photo: Amby Burfoot '68 (left) crosses the finish line with friend Steve Gates at the 2021 Manchester Road Race. Photo courtesy Amby Burfoot '68.