Battling the Bullies of the Alt-Right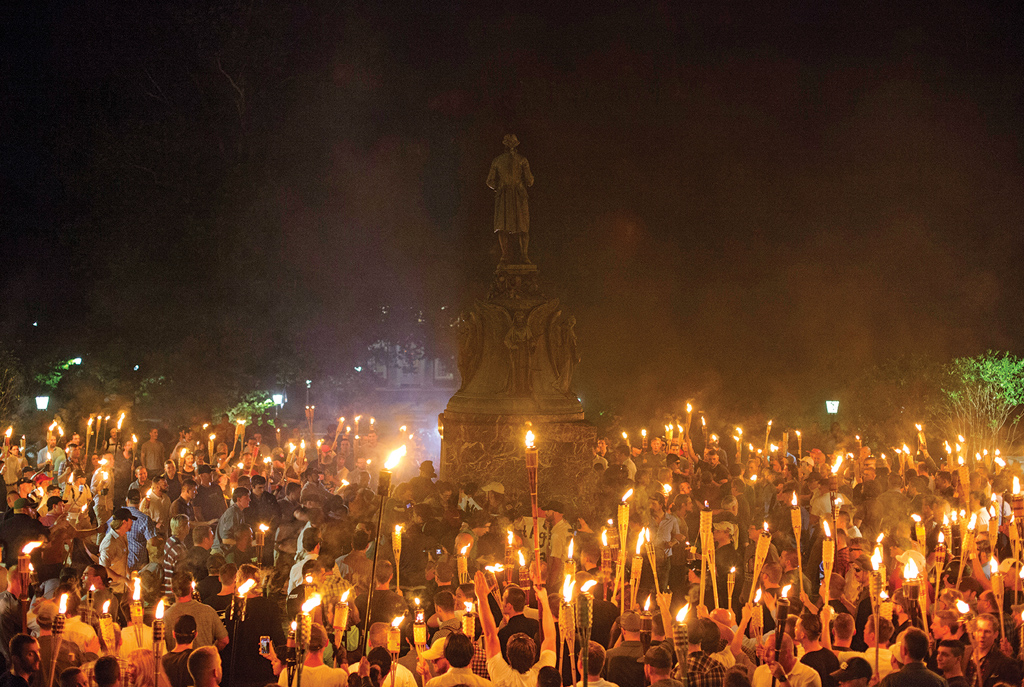 Attorney Michael Bloch '00 has his legal eye trained on taking down some of the nation's most notorious bullies—starting with racists and neo-Nazis
When attorney Michael Bloch '00 faced Richard Spencer in court, he knew exactly what to expect. Spencer would present himself as a mainstream intellectual with controversial opinions. He would couch his hate speech in the First Amendment. He would deny what the evidence showed: that he was a white supremacist.
Bloch knew he had to strip away Spencer's carefully constructed exterior. He had read much of what Spencer had written and knew all of his public statements. He might have known Spencer's rhetoric better than Spencer himself did:
"You also believe that, in your words, Black and Hispanic immigrants are part of an 'underclass' we don't want in our society, correct?" Bloch asked Spencer on the witness stand.
"They're part of an 'underclass'? No," Spencer said.
Bloch then turned on a recording where Spencer's voice could be heard making that precise statement.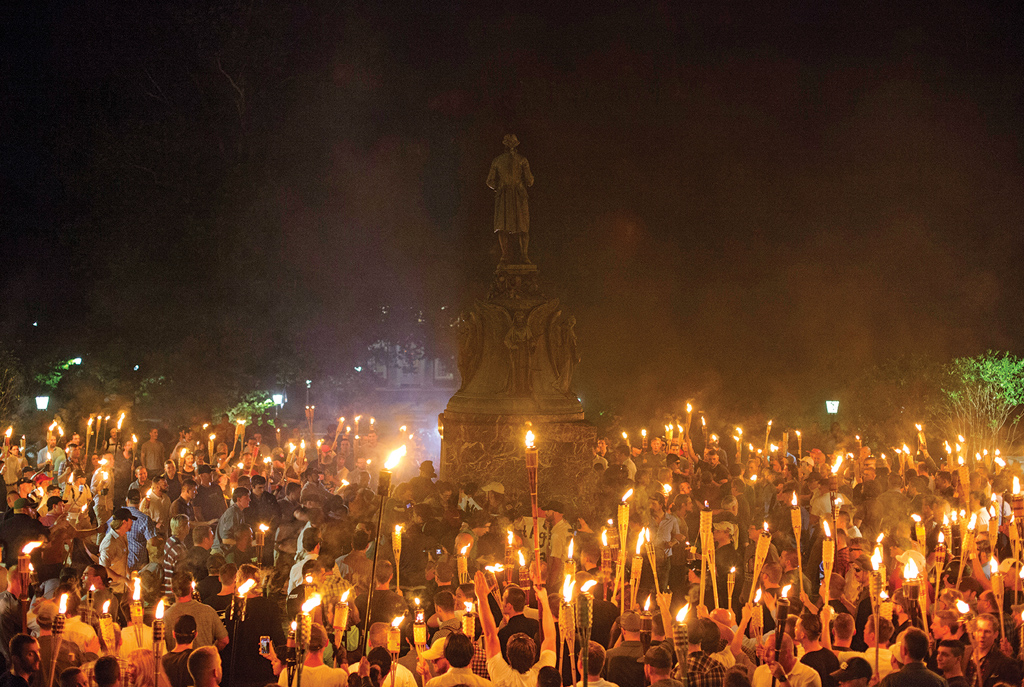 While working as an attorney with Kaplan Hecker & Fink, Bloch was one of the leaders of the team litigating a civil suit against 17 white nationalist leaders and organizers of the 2017 "Unite the Right" rally in Charlottesville, Virginia. The rally, indelibly imprinted on the public consciousness with images of young white men carrying tiki torches, resulted in the death of Heather Heyer and severe injuries to others when James Fields Jr. plowed his car into a crowd of counter-protesters. Ostensibly, the rally was to protest the removal of a statue of Confederate General Robert E. Lee from a park in Charlottesville, but Bloch and his colleagues would show that the organizers had been focused on planning race-related violence all along.
The pre-trial litigation was grueling. Bloch and a team of lawyers and staff combed through social media platforms looking for evidence of a conspiracy. Spencer and his lackeys were not shy on social media about their intent to foment violence. Unlike some instances where low-level actors bear the brunt of the legal ramifications, Bloch and his colleagues had sued the individuals who had planned for racially motivated violence.
Once the trial began in October 2021, the preparation was intense. Over 20 lawyers and support staff holed up in a war room at a local hotel, surrounded by security. After eight hours a day in court, Bloch and others spent the evenings preparing for the next day's witnesses, reviewing materials, and shaping arguments until they were foolproof. The lawyers left nothing to chance, particularly when jousting with Spencer, one of the prime organizers of the rally.
"The defendants' argument that they were simply exercising speech rights was always specious. It was always wrong-headed, to be completely blunt," said John Finn, professor emeritus of government, constitutional law expert, and author of Fracturing the Founding: How the Alt-Right Corrupts the Constitution. "But when you evoke the mantra of the First Amendment, that's where a lot of people stop thinking. They hear First Amendment and they think, well, it's awful to be racist, but you have a right to be racist. There are limits to speech. Speaking freely isn't the same thing as speaking without consequence."
In the end, Bloch and the team won a landmark judgment, holding the organizers of the rally liable for damages in the amount of $25 million. One of the goals of the litigation, partially supported by the civil rights group Integrity First for America, was to put these particular hate groups out of business and to deter others in hibernation. "This litigation has made it really difficult for these particular defendants to continue to spread hate and violence," Bloch said. "Spencer said that even before the trial, the case had been financially crippling. The judgment itself could be enough to bankrupt some of these groups."
There is another important outcome to the case, Finn said. The success of the Charlottesville suit shows that justice doesn't have to be an abstract ideal. Finn believes, "Cases like this can remind us that we can use the law to actually do good for individual people. Justice is about real people who have been harmed and injured. It's important that they have a voice and that they are compensated for the harm they suffered."
It might be easy for some to dismiss the alt-right as outliers, but as the miasma of hate they spread becomes more mainstream, Finn sees it having a direct impact on the vibrancy, vitality, and in some cases the very existence of democracy. "I hope Michael keeps up the good fight. It's really important work," Finn said.
It's an endorsement that Bloch values, not least because Finn was instrumental in giving Bloch's fledgling legal interests focus.
When Bloch arrived at Wesleyan as a government major, he knew he wanted to be a lawyer, but he hadn't figured out what kind of law he wanted to practice. Enter Finn, whose classes Bloch took for five semesters. "John Finn was one of the most inspirational teachers I've ever had," he said.
One of the many things that Finn said that stuck with Bloch was that the law can take you to any other point in the universe. "I think that can mean a lot of different things to a lot of people, but to me it meant that you can use the law as a vehicle to learn about lots of different aspects of society and to fight for lots of different people and causes. I think that has been true for me," Bloch said.
At Wesleyan, Bloch found a place where tolerance, diversity, and individualism were a core component of everything around him, from his classes to his extracurriculars. "The ethos of Wesleyan teaches speaking up for what is right whether or not that's popular. I think that very much inspired me," Bloch said.
Believing that the state of the nation is precarious, Bloch is at work looking for new problems to tackle. He has been in recent talks with the leaders of organizations engaged in public interest work in the spheres of police misconduct, voting, and civil rights. He's looking at critical issues where litigation might create the widest possible impact. To that end, Bloch planned to launch a new civil rights litigation firm, Bloch & White LLP, in May 2022.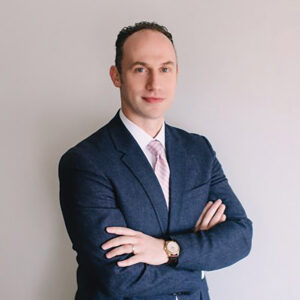 "I have devoted my career, I think thus far, to standing up to bullies. (In Charlottesville) these bullies rolled through town and hurt a lot of people with impunity. I feel like I was helping to stand alongside our clients, who were far braver than anything the lawyers did because they went to the rally and were horribly injured and nonetheless decided to take on the perpetrator of the violence. It was a tremendous act of courage," he said.
So, what does Bloch plan to do next after helping to take down a bunch of neo-Nazis?
"Find more Nazis," he said.