A People's History of the Gun: Center for the Study of Guns and Society
There are around 350 million civilian-owned guns in America. Guns serve as campaign props and video game motifs, symbols of freedom, and a factor in some 45,000 deaths annually in this country. "People sometimes ask one another 'did you grow up around guns,'" says Jennifer Tucker. "But I think we all grow up around guns now, in some form."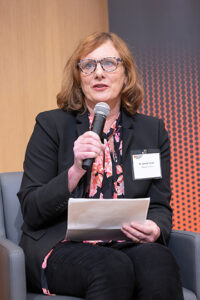 Tucker is an associate professor of history and the founding director of the Center for the Study of Guns and Society at Wesleyan, established in April 2022 to bring together experts and students for interdisciplinary scholarship on the social and cultural history of firearms. By using a liberal arts–based approach and academic research to unpack durable myths about guns, the Center—among the first such institutions in the country—aims to demystify one of the most contentious, consequential, and misunderstood technologies in American life.
"It's important to get a more well-rounded and accurate history into the public record," Tucker says. "That includes more information on the history of the possession and use of arms in civilian life and military operations, labor and manufacturing, technological innovation, and design, but it also includes the history of experiences on the other side of the gun: the stories of people who have been injured or killed by guns, of witnesses and family members, first responders and doctors, and of activists on all sides. What's needed is a people's history of the gun."
Tucker, a historian specializing in 19th-century industry, began studying firearms shortly after the December 2012 mass shooting at Sandy Hook Elementary School. As the interim director of the Allbritton Center for the Study of Public Life, she organized a town hall event focused on gun research, advancing the firearms scholarship at Wesleyan that started when Richard Slotkin—Olin Professor of English, Emeritus, and author of an award-winning trilogy of books on the myth of the frontier in American cultural history—began teaching at the University in the 1960s. Despite America's singular relationship with firearms, however, Tucker found the subject vastly understudied by professional historians, with pop-culture legends and ideology-driven distortions filling the void.
With the Center for the Study of Guns and Society, Tucker aims to develop "a primary national nucleus for advancing academic scholarship and undergraduate teaching on firearms history and the study of guns and society." In October 2022, the Center held its first major public event, a two-day conference titled "Current Perspectives on the History of Guns and Society." The event—which drew about 150 historians, museum curators, students, and other attendees to campus—featured presentations exploring firearms through unconventional points of view: Tucker, for instance, presented on connections between guns and photography in 19th-century New England; another event focused on Center-supported student research projects, one of which involved combing through early records of Connecticut River Valley firearms manufacturers.
"I think we all grow up around guns now, in some form."

Professor Jennifer Tucker
In tandem with the Center's debut, in the fall of 2022 Tucker offered her first course on Guns and Society, a subject rarely taught at the undergraduate level. Using primary historical documents, artworks, and artifacts as well as contemporary historical and legal scholarship, students interrogated topics ranging from technological changes in gun manufacturing, guns in entertainment and pop culture, and the history of gun violence. As part of the course, students explored Connecticut's own firearms history through field trips to the Greater Middletown Military Museum, the Middlesex County Historical Society, and Coltsville National Historic Park.
Joseph Slaughter, assistant professor of the practice of religion and the Center's associate director, teaches the course God & Guns: The History of Faith and Firearms in America. "Religion is vital to the study of firearms in the US because we see them so intertwined today, most arrestingly in the 'God and guns' political platforms of politicians in the recent midterm elections," Slaughter says. "At the same time, there is a strong peace church tradition in America that would deny that the combination of God and guns is even a possibility."
As Tucker eyes the Center's second annual conference as well as an April event devoted to sharing more student research projects, the significance of gun history is front and center in the national conversation. In its controversial 2022 ruling in New York State Rifle & Pistol Association Inc. v. Bruen, the US Supreme Court stated that all firearms regulations must have a "historical analogue" in American history—essentially, Tucker says, leaving it to lower courts instead of trained historians "to figure out the history while making decisions over gun rights that will affect the lives of millions of people." (In October 2022, Tucker's work was cited in a US district court judge's proposal to appoint a historian for one of several post-Bruen gun law challenges.)
Now, says Tucker, the open questions around guns in America lend new urgency to the Center's mission. "People who aren't even paying attention to the law understand that there's a need to dig deeper—to basically find out, how did American society get to this place? What do we make of the country's relationship to guns? And what might the future hold?"