Celebrity Cupcake Chef Candace Nelson '96 Pens Guidebook to Entrepreneurial Success
From investment banker to cupcake entrepreneur, Candace Nelson '96 is not your typical baker. Nelson, a pastry chef and judge on Cupcake Wars and Sugar Rush, left finance to found Sprinkles, a nationwide chain of the world's first cupcake-only bakeries and Cupcake ATMs, and then Pizzana, a growing group of artisan pizzerias. Now, Nelson has written Sweet Success: A Simple Recipe to Turn Your Passion into Profit, a guidebook offering advice to aspiring entrepreneurs and sharing the secrets to her business success in four steps: dream it, package it, build it, and protect it.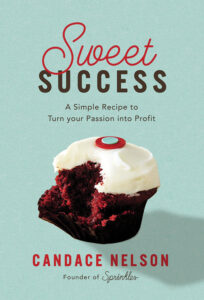 "This is the book that I wish I had before I started Sprinkles," Nelson said. "It really boils down entrepreneurship into some very basic and simple principles, demystifies it, and makes it more accessible because the entrepreneurs we see glamorized in the media are pretty intimidating."
Sweet Success uses baking as a metaphor for creating a business from scratch, breaking down the process into 21 steps, ranging from "gather the essentials" to "save room for the next course." The book features many tips and guiding questions for future entrepreneurs, combined with Nelson's wisdom grounded in her own experiences.
A self-described goer and doer, Nelson rarely has time to press pause on her life. However, when the COVID-19 lockdown hit, she finally had the chance to consider writing a book.
"I sat down and reflected on the wild journey that I had just been on with Sprinkles, and [it was] really an opportunity to give myself a little pat on the back for all the things that I had been brave enough to bring into the world and also to reflect on the many mistakes I made, with the idea that in writing them down I could help this next generation of founders and changemakers avoid some of those mistakes," Nelson said.
Nelson hopes the book will help future female entrepreneurs navigate the business world. In recent years, she has mentored some women in business and built up her female business networks. However, there are far more women out there than Nelson has time to work with, so her book intends to reach these women on a wider scale.
"When you consider just over 2% of venture capital money went to female-founded businesses last year, there's a lot of work to be done," Nelson said. "I'd also like to be investing in more female-founded businesses and taking on an advisory role in some of these businesses as well."
Her own experiences in business and the process of reflecting on her journey have helped Nelson realize the importance of supporting others and being supported in return.
"I always thought of entrepreneurship as sort of me taking on the world as this individualistic [experience]," Nelson said. "It really isn't that way at all. It's all about your team. It's all about your network of support…. I'm really lucky to be part of a couple different women's networks, and I've really leaned into being there for my network as they are for me."
Nelson's book captures the value her own networks have played in her path to success, all the while serving as a love letter to baking. Growing up in Indonesia, Nelson used baking to feel connected to her American roots. Since she couldn't buy cupcakes, Rice Krispie treats, and brownies abroad, she learned to make them herself.
"Baking was always a hobby and passion of mine, but it is also much deeper than that," Nelson explained. "It symbolizes connection, and a sense of belonging for me. The brand mission of Sprinkles has always been about unifying and connecting people around a simple pleasure and injecting joy and delight into everyday moments."
Turning her passion for baking into a career wasn't something Nelson ever imagined being possible. However, she credits Wesleyan, where she majored in economics and took many music and theater classes, with giving her the tools to think outside the box.
"Wesleyan really allowed me to explore my many interests," Nelson said. "There wasn't one right path…. It was very freeing for me. It helped me to develop the confidence I needed ultimately, to follow my own path and not really care about other people's expectations of me."
For more information on Nelson and her book, visit https://candace-nelson.com/.
Rachel Wachman '24