Historical Row: The Dogs of Wesleyan
Wesleyan Magazine invited former Dietrich Family Director of Special Collections & Archives Suzy Taraba '77, MALS '10 to provide us with one last column before she retired on January 12, 2023. Said Taraba: This Historical Row column was originally written in 2006 but never published. Special thanks to library assistant Linda Hurteau, who helped me with the research back then, and to Daria D'Arienzo MALS '81 (former Amherst College archivist), who encouraged me to write about the dogs of Wesleyan. Sharing some of my earliest Wesleyan memories seems a fitting way to say farewell after 25 years leading Wesleyan's Special Collections & Archives. Wesleyan has shaped me from early childhood, through days on campus as a "fac brat," college years, and my return after years at Columbia, Duke, and the University of Chicago. Go Wes!
Even though I never knew him, Willie was an important part of my childhood. He is featured prominently in the 1951 yearbook, a treasured memento of my father's year at Wesleyan as a foreign student. I loved to look at the pictures long before I could read. Willie is the star of the first yearbook photo, as well as the last. He's pictured in the classroom, with his prom date, with his frat brothers, with the seniors, in full party regalia, on Andrus Field, and, performing one of his favorite student activities, sniffing a fire hydrant.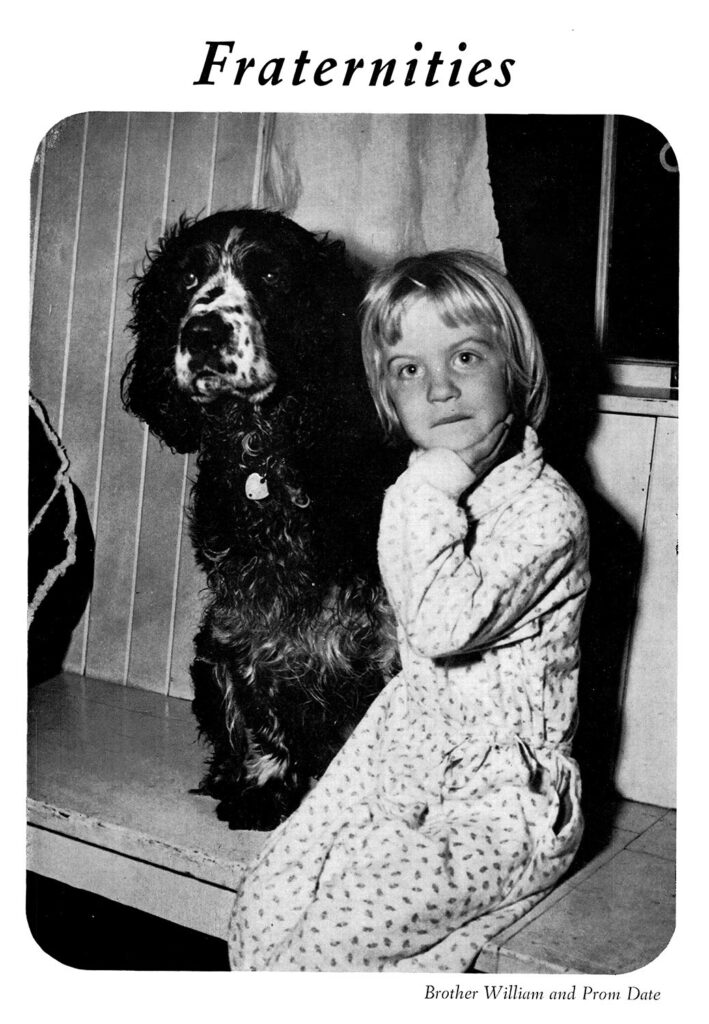 Have you guessed? Willie was a dog.
Of course, there were dogs on campus long before—and after—Willie. The Commencement procession in 1906 was led by a sprightly canine. Dogs frequently appear in yearbook photos, often posed with student groups. Most of these dogs are not identified by name, nor are they clearly allied with any particular person, but their winning personalities and their devotion to the Wesleyan community are self-evident. In eras before our own, Wesleyan dogs attended classes, enjoyed athletics, and generally hung out on campus. From my own college days, I remember faithful Thor, a giant Newfoundland, who waited patiently for his grad student in the science center lobby every day.
Rules and regulations about pets on campus were rather lax until 1974, when, because of many complaints about ill-behaved dogs, a pet registration system was instituted. Pets were then banned from virtually all University facilities and, when outdoors, were required to be leashed and in the company of their owners at all times. In the spring of 1999, a group of students proposed a program house to be known as "Animal House," a pet-friendly living space, but it never materialized. Current campus pet regulations allow only fish in tanks up to 10 gallons in Wesleyan housing, with exceptions for properly registered emotional support animals.
Today, dogs are frequently sighted on campus, both with their human companions and as the centers of attention during student-sponsored Therapy Dog Days. All are deeply loved, but none more widely known, more quintessentially Wesleyan, than Willie, the star of the 1951 Olla Podrida.