On the Cover: Golden Elegance Series 2.0 by Susie Sharpe '84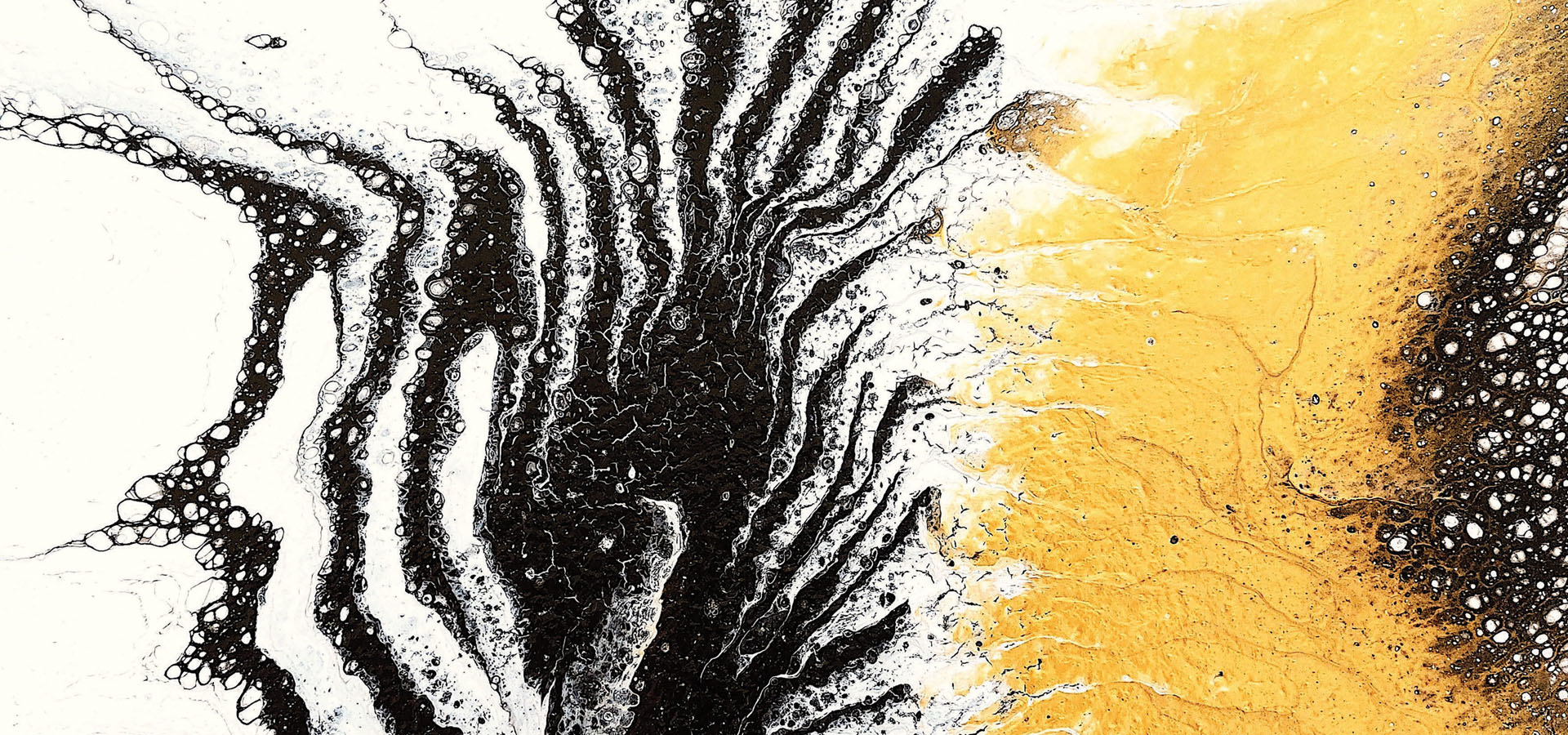 Golden Elegance Series 2.0, December 2022. Acrylic/mixed media, 12×12".
"Because I see a lot of human suffering in medicine, I strive to create art that is beautiful, uplifting, and healing. As an internal medicine physician, I deal with many patients with chronic diseases, cancers, and chronic pain. My goal as a physician is to lessen my patients' physical and mental suffering. My mission as an artist is to show the beautiful side of life with my art. Medicine gives me the inspiration to be a better artist, and art helps me be a better physician."
For Susie Sharpe '84, art was always a passion held at bay by the need to pursue a more secure career path. Having immigrated to the United States from South Korea in the 1970s as a highschooler, Sharpe was determined to succeed beyond anyone's expectations. Despite barely speaking English, she enrolled at Wesleyan, recording her classes to translate them at night and supporting herself through her undergraduate years, medical school, and residency. Along the way, she was lucky to connect with mentors like Dr. Jules Schwaber '54, P'82 whom she met while looking into research opportunities before entering medical school.
By all measures she had attained success, including a thriving 20-year medical practice, when a near-miss car accident prompted her to reevaluate her life and revisit her first love, painting.
Since then, Sharpe has balanced practicing medicine with a burgeoning art career, showing in exhibits in Paris, Madrid, New York, Miami, and Brussels. For Sharpe, art represents a sense of freedom that complements the precision of the medical areas of her life. In creating the piece that graces the cover of this issue, she used a technique involving layering paint directly on the canvas and then creating the pattern with the flow of the paint.
"I love the spontaneity and randomness of it," she explains. "I am precise and controlled in the medical side of my life because I need to be. If you let go of that control, patients could get hurt. But in art, I have all the freedom."
See more of Sharpe's art at www.susiesharpe.net