Grace Devanny '23: A Legacy of Cardinal Firsts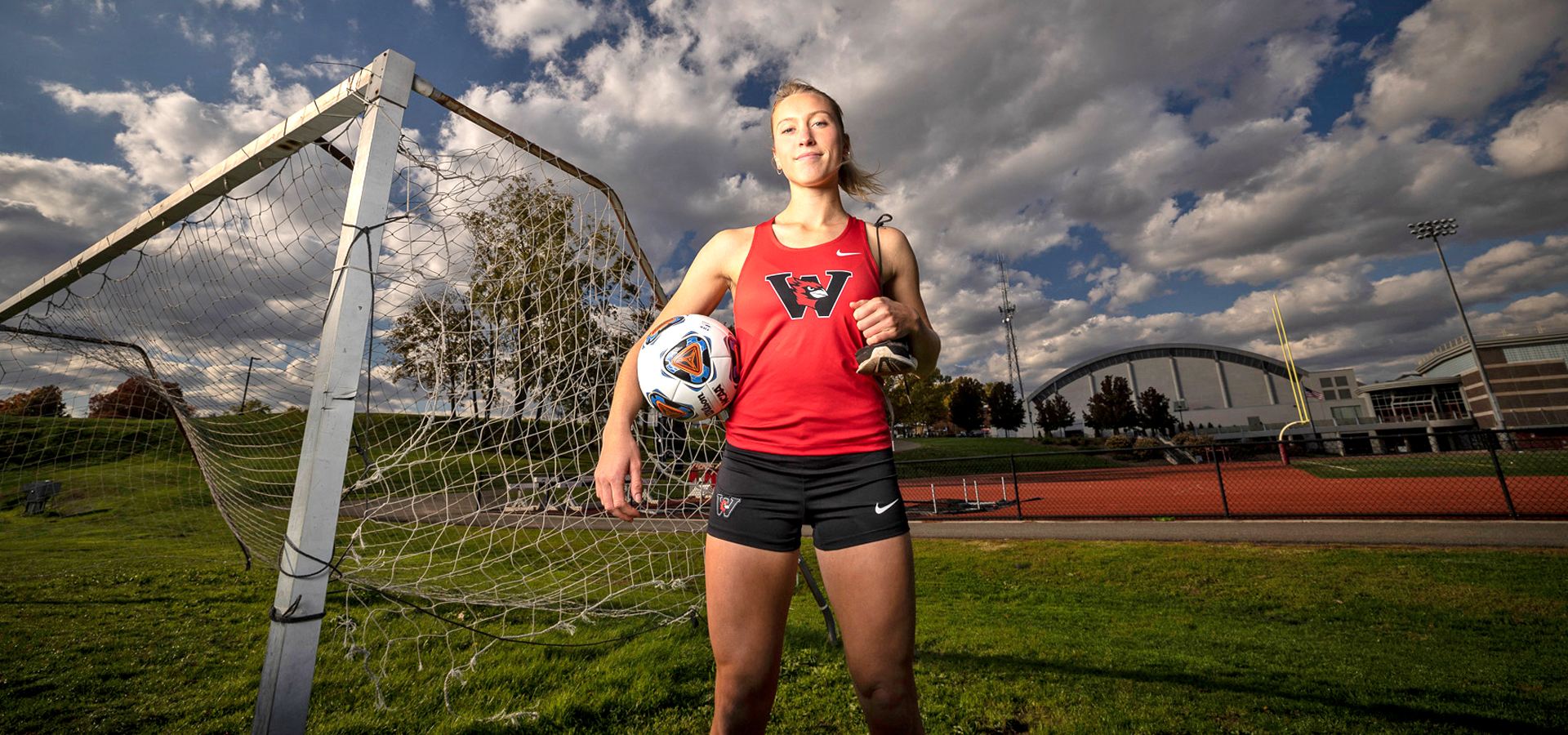 At the end of her final season as a Cardinal scholar-athlete, Grace Devanny '23 leaves a legacy of two-sport excellence that's rare to witness. Her accomplishments—as Wesleyan's first All-American women's soccer player, as the University's first woman athlete to earn NESCAC's Most Outstanding Performer in track, and a laundry list of honors as both a sprinter and a forward—tell us that she's a gifted student-athlete. But for her teammates, coaches, and family, Grace is a kind, humble force to reckon with.
"My coaches and staff here have helped me succeed. I don't think I would have been as successful as I have been without my teammates, my twin, and all my friends here," Grace says. "It's been such an amazing community in such an interesting four years."
While growing up in Concord, Massachusetts, a friendly competition with her twin, Liam '23—an All-NESCAC and All-Region goalkeeper for Wesleyan's men's soccer team—gave her the drive necessary to excel at sports. ("I think initially everyone just wanted me and Liam to be on the same team," Grace says.) Once she joined the local track team in elementary school, the Devanny family saw Grace's promise. "She would beat people two, three, four grades above her," Liam says. "And from that point on, my dad kind of knew that she was going to be a track star."
Grace attributes her running abilities first to soccer, which she picked up in kindergarten while playing alongside her three brothers. (Her older brother Trevor '19 also played soccer for the Cardinals.) As she progressed, being in the weight room kept her off of injured reserve and on the field as well as the track.
"I saw her amazing athleticism at first," says Head Coach Eva Meredith, who recruited Grace to Wesleyan. "And she's only gotten better at her technical abilities." In 2021, the United Soccer Coaches named Grace a First Team All-American, the first in the history of Wesleyan women's soccer. Her contributions to the team helped lead Wesleyan to the Final Four in 2021 and back to the NCAA Tournament in 2022, Wesleyan women's soccer's first NCAA appearances.
On April 29, Grace participated in her last NESCAC track championship, and the Cardinals netted fifth place, the highest performance from Wesleyan track in 20 years. Grace ended her collegiate track journey as NESCAC's Most Outstanding Performer, the first Cardinal to receive such a prestigious award.
Beyond her athletic prowess, Grace double-majored in psychology and neuroscience and was inducted into the Phi Beta Kappa honor society. She was also an academic peer advisor and participated in two research labs as well as the Student Athletes Council. And while Grace credits Liam for her early push, Liam says that Grace has been the driving force behind his academic and career success. He recalls, "Grace excels to the highest point, and me trying to almost match her and her achievements benefited me because it kept me working."
No matter what her future holds, Devanny's achievements at Wesleyan will leave a lasting impression. "She's a special one," Meredith says. "We won't see many like her."
By Tonya Russell