Impact Beyond Dollars and Cents: A Q&A with Frantz Williams '99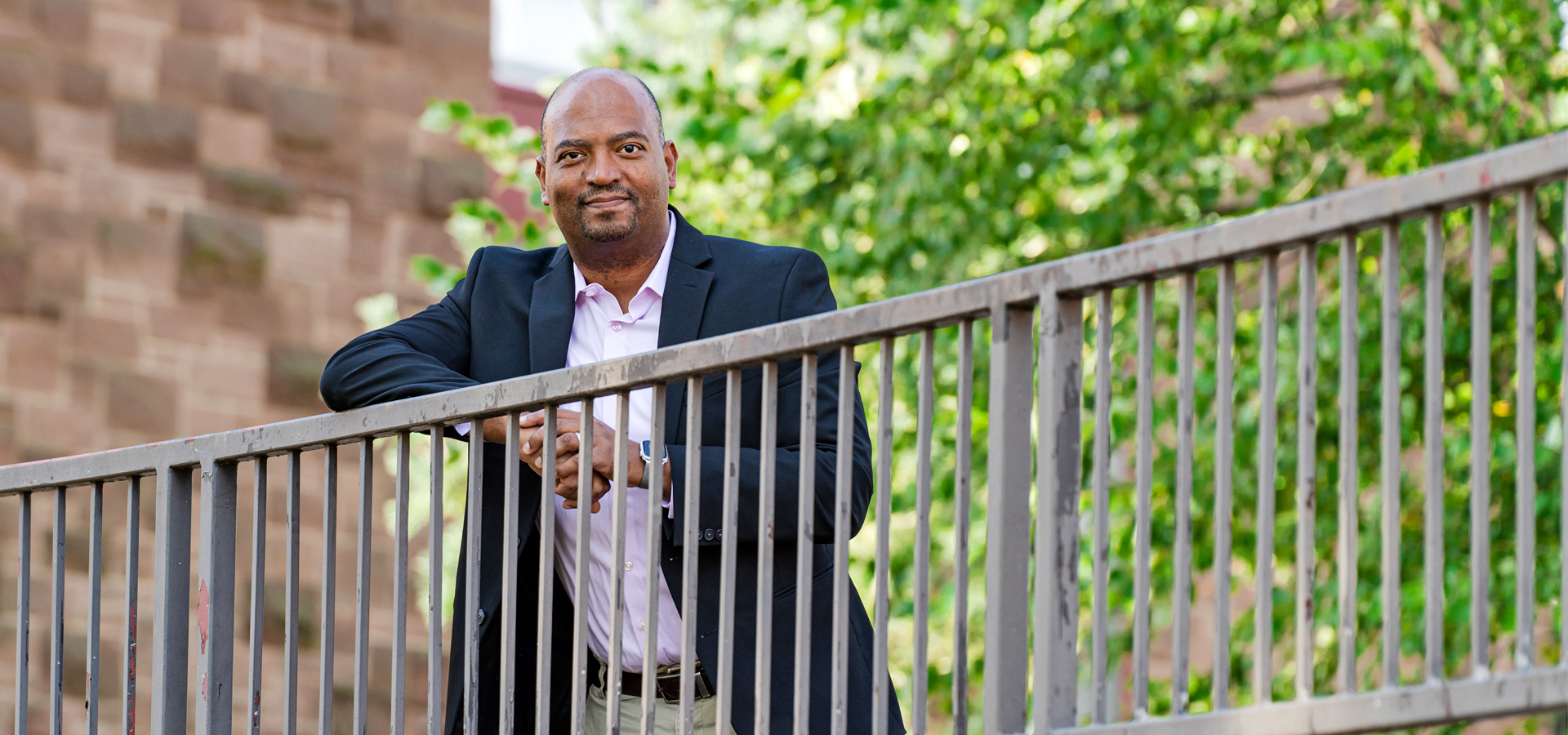 Frantz Williams '99 was just nine years old and only spoke his native tongue, Creole, when his family left Haiti and came to the United States. By the time he enrolled as a freshman at Wesleyan, he had become a star athlete and an academic leader who founded the student government at his high school. Nearly thirty years later, he is now heading up Wesleyan's most ambitious campaign ever. Vice President for Advancement Williams talked to Wesleyan Magazine about random acts of kindness, transformative opportunities, and campaign impact beyond dollars and cents.
How did you find your way to Wesleyan?
My path to Wesleyan really started with me being a scholar athlete. I was in my high school paper for scoring a winning soccer goal and a gentleman in a neighboring town reached out. He was a stranger, but he read my story and wanted to make sure that I had a path to college. At the time I was being encouraged to look at community colleges and state schools since I had very little resources to afford a college education. My parents never went to college, my siblings didn't go to college—I was alone in the process. So I called him back and he started helping me think about schools and faxing me school profiles. Eventually he made an appointment for me to see the soccer coach at a college in Massachusetts. On the way there, we passed by Wesleyan. I knew that the son of a family friend had gone there, so I asked if we could stop in so I could pick up a pamphlet. I went in and met former Assistant Dean Johannah Townsend '91 and ended up talking to her for an hour. I just fell in love with the place. I continued on to my scheduled interview, but the other campus just didn't have the same feel. I had this pull back to Wesleyan.
What was it that made Wesleyan stand out?
It was the conversation with Johannah. It just seemed like this would be a place where I could continue to have these kinds of conversations. And from day one, the number of times I pulled all-nighters, or stayed up 'til four having heated debates. . . You're having these life-altering conversations that could easily be heavy, but because of the different points of view and passions, it never felt like a burden. It was a very Wesleyan thing to be able to have these debates, and yet at the same time to be able to have fun and be creative and not forced to stay in any one lane.
And now you are the VP for Advancement. How has your being an alumnus influenced your approach to your job?
We've been saying for a long time that access to a Wesleyan education is our highest priority. I know I would not have been able to participate and benefit from a Wesleyan education without the generosity of others. In the broadest, most holistic way, the intersection of mentors and teachers and random acts of kindness made sure I had a pathway to college and to get into a place like Wesleyan.
The work that I'm doing is very personal. The Wesleyan educational experience transformed my life. I experienced it as a first-gen, low-income student, with English as my second language. My wife was a two-sport athlete at Wes who majored in the sciences and it made a huge impact on her life. I see it from all angles. It's immersing yourself in the importance of what Wesleyan provides for our students. And that to me is at the core of why we're doing this. Whether it is creating enhanced programs in the sciences, providing additional facility space for the arts, or making sure that we remain very competitive in athletics, it is all part of the Wesleyan experience.
During this year's Homecoming and Family Weekend you officially launched a new multi-year fundraising effort. Why are campaigns like this necessary?
Campaigns allow us to reaffirm what our priorities are and to share them with our community in a way that engages them and makes them a part of the mission. It builds our community, helps us secure support for our priorities, and shows the impact of the good work that we try to do every day.
What are those priorities?
Number one is securing and enhancing the way we think about access to a Wesleyan education. Financial aid, startup funding, programming for first-generation students, the newly launched Wesleyan African Scholars Program—all of these pieces and more are part of how we are finding ways to make a Wesleyan education more accessible and sustainable for a wider variety of talented students.
We are also undergoing one of the most active periods of facilities renovations in a very long time. We recently finished the third phase of the Jeanine Basinger Film Center as well as the newly renovated Public Affairs Center, and we are well underway with construction on the new molecular life science facility. So there is a lot happening all at once on campus and it is a very exciting time to be part of the Wesleyan community.
What makes this campaign different from previous campaigns?
This is the most ambitious fundraising effort in Wesleyan's history. We aim to raise $600 million. We say, "This Is Not a Campaign. This Is Wesleyan." Because, just like Wesleyan is more than a place where you went to college, this effort is about more than dollars and cents. If you look at the number of things Wesleyan is trying to accomplish, these are worthwhile. These are worthy of your investment as a donor. When you look at how much we spend annually on financial aid, on athletics, on the arts, all of these projects and programs that we treasure come at a cost and those costs keep rising. We need your generous donations to keep propelling us forward. Every dollar counts. If you've never donated before, I invite you to join us in supporting the future of Wesleyan. And if you've been a regular donor, I would say thank you, and can you give more? This is the time to step up, if you're in a position to do so, to help fuel our mission.
There are many good causes and good reasons to give. Why give to Wesleyan?
Every dollar we raise makes an impact on our students. We are supporting this valuable Wesleyan education and seeing those students go off and flourish. It's about impact and the amplification of a Wesleyan education. Our students go on to become alums who change the world. And if you want that to continue, if you believe in that mission, then your contributions, your donations to Wesleyan will amplify the impact that Wesleyans go on to make in the world.
For more information, visit the campaign website.