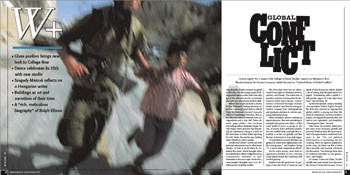 Hanna Ingber '03, a major in the College of Social Studies, reports on Wesleyan's first Shasha Seminar for Human Concerns, which focused on "Cultural Roots of Global Conflict."
Attending the Shasha Seminar on global conflict was a bit like seeing a panel of distinguished experts on the News Hour step out of the television set for an intimate chat with you around your kitchen table.
Where else might one have a chance to hear Wesleyan's leading terrorism expert on a morning panel with an official from the National Security Council's Office of Combating Terrorism, then in the afternoon listen to network news correspondents and a New York Times editorial page editor? One moment best-selling author Sebastian Junger '84 (The Perfect Storm and Fire) was describing his adventures riding in a tank on the front lines in Kabul while reporting for ABC News; the next he was chatting with a Wesleyan senior outside.
Intellectual debate combined with personal interactions may be what James Shasha '50 had in mind when he endowed this event, which brought about 60 individuals to Water's Edge Resort on Connecticut's shoreline in mid-November to discuss a topic not far from most people's thoughts since 9/11: the cultural roots of global conflict.
The three-day event was an educational forum open to Wesleyan alumni, parents, and friends. The intent was to provide a seminar environment for discussion of this year's theme. Conversations continued through seminar breaks, lunches, and dinners among attendees ranging from undergraduate and graduate students to retirees pursuing lifelong learning.
When attendees weren't soaking up expert opinions, they were partaking in energetic discussion over what—in this crazy world of ours—is going on. No one, of course, had a definitive answer, but one couldn't help conclude that instability is on the rise globally and that the war on terrorism is in its early stages.
"It is prudent to assume that there are going to be many more Afghanistans over the coming years," said Stephen Young '73, a senior State Department official.
Yet for some reason, even with an oppressive blanket of rain covering Long Island Sound, the conference did not feel gloomy.
Maybe it was the good food. Or perhaps it was the level of intensity and depth of each discussion, which, despite a lot of sitting, kept the participants engaged. "Stimulating, with a capital S. I will get the impact of it two days from now," said Ed Stein '60.
As keynote speaker, Atlantic Monthly correspondent Robert Kaplan framed the three-day seminar by arguing that global conflict is arising not from the clash of civilizations, but from modernization. He argued that poverty does not lead to riots, upheavals, and instability. "Development does," he said.
Take China, for instance, where people enjoy more economic growth and personal freedom than the most starryeyed of prognosticators could have foreseen in the '70s, yet political fractiousness is increasing, not decreasing. Move an agrarian population to the cities, let them see that a better life is possible, and you have a formula for discontent. "You don't go from Mao to Gerhard Schroeder in one generation," said Kaplan.
Of course, it was not China, but the Middle East and Central Asia that were the focus of most discussions. If one theme united diverse comments, it might be that we shouldn't expect things to go our way.
As predictions ranged from Yemen to Indonesia to Egypt, hot spots on the global map of conflict, discussion quickly segued to terrorism.
Martha Crenshaw, Wesleyan's internationally known terrorism expert, offered a new and ominous perspective on Al Qaeda, which she contends has morphed into a "franchise operation." It succeeds by working with terrorist groups involved in local conflicts, importing its expertise and co-opting local agendas.
During the first question-and-answer session, New York Times assistant editorial page editor Ethan Bronner '76 said, "I don't feel like we're fighting terrorism; I feel like we're fighting radical Islam—and I don't understand why we don't say so."
No one jumped at the chance to endorse his view, perhaps highlighting that the issues being raised were not only controversial, but also highly sensitive. Why hasn't anyone called this a "war on radical Islam?" Is it because we live in a society of what Kaplan terms "secular elites," who feel comfortable neither recognizing nor criticizing religious observants?
Crenshaw countered Bronner's contention by arguing that anti-Americanism extends beyond the confines of radical Islam. Nonetheless, the question of religion's role in civil conflicts and violence lingered.
Willing to stir things a bit, William Beeman '68, associate professor of anthropology at Brown University, reproached a panel for failing to look from the perspective of others. "People in Afghanistan are not backward," he argued. Despite frequent mischaracterizations of them, they are cosmopolitan and educated. "They can quote classical poetry and philosophy extensively because it is a deep and significant part of their lives."
If we don't understand other peoples, according to Bronner, it may be a consequence of what he called an "access imbalance." Citing Israel as an example, he suggested that when a society is "almost obsessed with self-examination," journalists are privy to a significant amount of inside information. He recalled that when he was covering the Middle East for the Boston Globe, his beeper would go off within minutes of any significant development. Reporting on neighboring Arab countries, in contrast, was difficult and hampered by officialdom. As a result, he contends that the Israelis have a "sense of cluelessness" concerning their neighbors that is detrimental to diplomatic relations, which depend upon understanding the motivations of others.
But how does one comprehend another's values and beliefs when his or her own cultural biases keep getting in the way? Discussions revolved around the inability of academicians, politicians, and journalists to be objective—one more highly problematic, yet inevitable, reality.
The calm assertion by ABC news correspondent William Blakemore '65 that "all communication is biased" was especially disconcerting, because 30 minutes earlier Nina Khrushcheva, professor of media and culture at New School University, had delivered an inspiring introduction about the responsibility of a reporter to society. "Journalism is the first draft of history," she said. "Journalists set up a stage for the world response and the policy decisions governments will make."
After Blakemore and CBS News Correspondent Randall Pinkston '72 discussed bias in news, Junger jumped in, defended his inability to be objective, and offered a morsel of optimism to the room.
"Maybe the ultimate cultural bias for us [Americans] right now is the belief in human rights, which is not necessarily something the whole world believes. We're the most powerful nation in the world; maybe we can use that power to some good end," he said.
Whatever good ends we promote, the path to reducing global conflict is far from clear. Experts proposed a number of measures, ranging from internationalizing dispute resolution to destroying weapons of mass destruction. Paul Walker, a Wesleyan parent and director of the Legacy Program of Global Green USA, observed that if all goes according to plan, within the next 10 years chemical weapons will be the first class of such weapons to be destroyed.
Drawing on his background with disputes such as India-Kashmir, Young cautioned that sometimes it simply isn't possible to solve conflicts in the short run; sometimes just getting the disputing parties to talk to each other is quite difficult. "It's precisely when you have differences that you have to have dialogue," he noted.
The youngest member on the panel knows this firsthand. Ned Lazarus '95 advocated grassroots activism as he described his involvement with Seeds of Peace, an organization that brings young people from opposing sides of ethnic conflicts to a summer camp of sorts in order to "encourage them to break out of the psychology of conflict."
Lazarus recognized that the program may not end international corruption, instability, or violence, but it provides one outlet for individuals like himself to get involved in the peacemaking process. "It's possible to transform the way people think and feel," he said. "We should not let ourselves off the hook with the idea that there is nothing we can do."