BY ERIC GERSHON '98 | PHOTOGRAPHY BY BILL BURKHART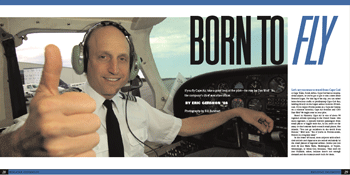 LET'S SAY YOU WANT TO TRAVEL FROM CAPE COD TO CAPE TOWN, SOUTH AFRICA. Cape Cod has no international airport, so you've got to get to one–most likely Boston's Logan. For this leg of the trip, you can either brave ferocious traffic or puddlejump Cape Cod Bay, landing directly on the Logan tarmac in about 20 minutes. If you depart Provincetown in a Cape Air Cessna on a summer Saturday, Cape Air founder and CEO Dan Wolf '80 might even be your pilot.
Based in Hyannis, Cape Air is one of about 90 regional airlines operating in the United States. Like most regionals, it typically delivers passengers from small places to bigger ones that, by air, aren't too far away, or else between hard-to-reach small places, like islands. "You can go anywhere in the world from Boston," Wolf says. "But if you're in Provincetown, Boston is a long way away."
In the lower 48 states, most airports with scheduled arrivals and departures are served exclusively by the small planes of regional airlines. Jumbo jets just don't fly into Walla Walla, Washington, or Tupelo, Mississippi, or Miles City, Montana. They don't fly into Hyannis, either, because there's not enough demand and the runways aren't built for them.
But in hundreds of small communities in America there is demand for air service, and regional airlines like Cape Air make money providing it. As financially strapped major airlines cut routes where they're losing money, regional airlines pick them up. In 2004, 25 percent of all U.S. domestic air travelers flew on a regional airline, according to the Regional Airline Association; in 2000, the figure was about 12 percent. Says Wolf, "The regionals over the last 20 years are actually filling more and more of the air transportation need."
Wolf could already fly by the time he graduated from Wesleyan in 1980, a year behind his original class. He flew while a student, too, at the tiny Goodspeed Airport in East Haddam. He worked there as a seaplane instructor. The Connecticut River was his landing strip. "I was kind of non-traditional," he says. "I'd take my morning classes and then go down to the Goodspeed."
A great-uncle founded the Aircraft Owners and Pilots Association, now a major aviation industry lobby, but Wolf says the appeal of flight for him was more innate than learned. He likes to describe himself as "the kid at the airport fence," wide-eyed and awed by flying machines. "For me, clearly it was a love thing," he says of aviation.
He learned to fly in the summer of 1978, at the small airport in Chatham, on the Cape, where his Philadelphia family spent summers. In his desk at work he keeps a logbook documenting his first flight, on June 5, with an instructor. Less than three weeks later, on June 23, he flew solo for the first time. His 15-year-old daughter, Zoe, is learning to fly now.
Fun is important to Wolf, and he encourages it at Cape Air, where his office door appears always to be open. The company motto is MOCHA HAGoTDI: "Make Our Customers Happy and Have a Good Time Doing It," and four of its Cessnas display psychedelic murals by a Polish artist named J??rek. "He's one of those one-name guys," jokes Wolf.
When the company hired J??rek, formerly of Provincetown, "We told him, 'Do what you want with it'," Wolf says. On one plane's fuselage the artist painted Leonardo da Vinci's spreadeagled Vitruvian Man — "in all his glory." The company spokeswoman panicked when she saw it. "The airplane! The airplane! It has a – a – a – a penis!" she told Wolf. This soon disappeared behind a lapping wave.
After Wesleyan, Wolf returned to Philadelphia and enrolled at the Quaker City Institute of Aviation, where he learned airplane mechanics. In 1983 he took a job as a flight instructor and mechanic at Chatham Airport, where he'd learned to fly five years earlier. He threw himself into his work and in 1984 became airport manager. "This is no exaggeration, I was literally working seven days a week, sometimes 15, 16 hours a day. It was total immersion in aviation. I loved it."
He worked there until 1987, when he and his partners opened an aviation business at Hyannis' Barnstable Municipal Airport. In 1989, this company became Cape Air. The fledgling airline owned a single plane and flew a single route, Provincetown to Boston, the route Wolf, now president of a 600-plus employee airline, still flies on summer weekends.
Other chief executive officers are known to work the cabin occasionally with the flight attendants. Wolf chuckles and can't resist a quip. "They hand out peanuts. I fly the plane."
A privately held $50-million company in which employees are the largest shareholder group, Cape Air today has a fleet of more than 50 planes and flies routes within New England, Florida, Puerto Rico (including Vieques), and Micronesia, where it has a base on the island of Guam, 8,000 miles from Hyannis.
Wolf describes Cape Air's niche as flying people short distances, 150 miles or less, to places otherwise hard to reach. "The best geographic barrier is water," he says. "Islands are great. You can drive to Key West from the West Coast of Florida, but it's a long way. There's no direct road down the West Coast. It's a five-and-a-half, six-hour drive. It's a 30-minute flight."
The Bahamas and the San Juan Islands off the Washington coast are prospects, Wolf says, but "eventually you run out of islands."
Cape Air may outgrow its island niche soon. Larger planes acquired for the Micronesian routes–ATR 42s, which hold 46 passengers and can fly longer routes–open up the possibility of flying overland routes into high-density metropolitan areas. The company is already studying the feasibility of flying into Houston and Philadelphia, feeding the larger airlines with hubs there. It already offers flights to Westchester County Airport.
Cape Air depends on its ability to be flexible. When it's winter in New England and demand for air service to the Cape and Islands drops, the company sends its excess planes to warmer climates in Florida, Puerto Rico, and Micronesia. When it's summer on the Cape, 41 of its 49 Cessnas return to the Northeast, leaving eight elsewhere. "We can really move our capacity around," Wolf says. "It's hard if you're a hotel to move all your hotel rooms to Florida in the winter." If there's a slow season, "we can just eliminate a couple of flights and now we're doing six a day, which is still good frequency and it's still good service. We've been able to keep the airplanes relatively full. We are more flexible than the industry as a whole."
Smaller planes, nine-seat Cessna 402s flying shorter routes, also require less fuel, a major and growing expense for all airlines. Fuel is about 10 percent of cost, versus 25 percent for the biggest airlines.
"Everybody in the industry's been suffering, but because the majors have been suffering more, that's actually created an opportunity for the regionals," he says. "Some of the marginal markets they've been serving can be served more economically by the regionals." This is exactly the sort of opportunity Cape Air has sought to exploit. In 2003, for example, Cape Air picked up a Tampa-to-Ft. Myers route after Gulfstream International, a Continental affiliate, cut the route.
Unlike employees at most of the nation's largest national carriers, known as legacy airlines, none of Cape Air's employees belong to labor unions, which helps contain costs. Wolf, a former union organizer who proudly recalls taking a Dick Ohmann course at Wesleyan called "Towards a Socialist America," says he supports labor unions, but doesn't sense any labor unrest at Cape Air.
"Our employees actually own the means of production, if you want to put it in Marxist terms," he says.
Within the airline industry as a whole, Wolf faults airline executives and the federal government's 1978 airline deregulation plan more than labor for current industry woes. Supply now exceeds demand; he estimates 20 to 30 percent of all seats represent excess, yielding fares priced below costs. Meanwhile, airline executives have sought to expand too fast, making poor decisions about mergers and acquisitions. It's hard to find an industry that's been managed worse, he contends, and inflated labor contracts haven't helped.
"Even to the degree you say, 'Okay, does an airline pilot need to make $350,000 a year? Does that price the product at an unrealistic level?' The answer is yes. But you wouldn't want your airline pilot flying around making $50,000 a year, I guarantee you that. Because it attracts a very different caliber of person. Somewhere between $50 and $350 is the right number to get the right person to do the job well."
An airline founded by another Wesleyan graduate, Herb Kelleher '53, also started as a regional airline. In 2004 that company, Southwest Airlines, carried more passengers than any other U.S. airline. Whether Cape Air will grow into a major national carrier is, of course, an open question.
"The environment we're operating in is totally different from the environment in which Southwest Airlines grew," Wolf says. "You can't grow vegetables in rich soil and expect them to do exactly the same in bedrock." But he doesn't dismiss the idea out of hand. "The opportunity to bootstrap an operation like ours into something the magnitude of Southwest in this day and age is really questionablea€| But I clearly see my role here as creating and taking advantage of opportunities."