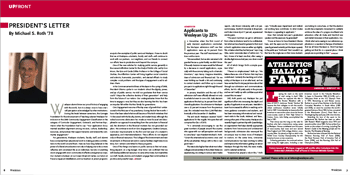 Leaving his mark on the world of road racing in April 1968, when he captured the title in the Boston Marathon with a time of 2:22.17, Ambrose "Amby" Burfoot '68 became the first collegian to win the world's oldest continuous marathon event, initially held in 1897. Coincidentally, he became the first American to secure the crown since his former cross–country coach at Fitch High School in Groton, Conn., John Kelley, accomplished the feat in 1957.
That victory was the icing on the cake for Burfoot, who had a tremendous racing career at Wesleyan. He was undefeated over four years of cross–country dual races and won several New England and IC4A college division crosscountry titles. He placed as high as sixth in the NCAA Cross Country Championship for All– America honors on two occasions.
Following graduation, he continued serious road racing for eight years, including a near American record in the Fukuoka Marathon in Japan in December 1968 (2:14.29), and a 10th–place finish at the U.S. Olympic Trials in 1976. Remaining an avid fitness runner, Burfoot is proud of two finishes in the 54–mile Comrades Marathon in South Africa (1993 and 2006), an event he considers the world's greatest footrace. Since 1963, he has competed in the Manchester (Conn.) Road Race on Thanksgiving Day each year, with nine victories.
Extending his love of the sport to his professional life, Burfoot has been an editor with Runner's World magazine since 1978 and executive editor since 1985. He has written four books on the subject of running, including The Runner's Guide to the Meaning of Life and his favorite, The Principles of Running.
Burfoot has been inducted into the National Distance Running Hall of Fame (2008), the Road Runners Club of America Hall of Fame (1994), and the Running USA Hall of Champions (2004).