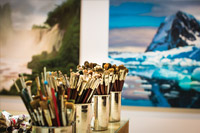 Tula Telfair's epic and massive landscape paintings fill the walls of Wesleyan's Ezra and Cecile Zilkha Gallery. They call forth our memories of the most stunning scenic vistas­—craggy mountains topped by threatening clouds; impossibly moist, green valleys; icebergs jutting hundreds of feet out of the freezing aqua waters below.
Tula Telfair's epic and massive landscape paintings fill the walls of Wesleyan's Ezra and Cecile Zilkha Gallery. They call forth our memories of the most stunning scenic vistas­—craggy mountains topped by threatening clouds; impossibly moist, green valleys; icebergs jutting hundreds of feet out of the freezing aqua waters below. From a distance, they appear to be photographs, but they aren't. These views don't even exist, except in Telfair's mind and on her canvases.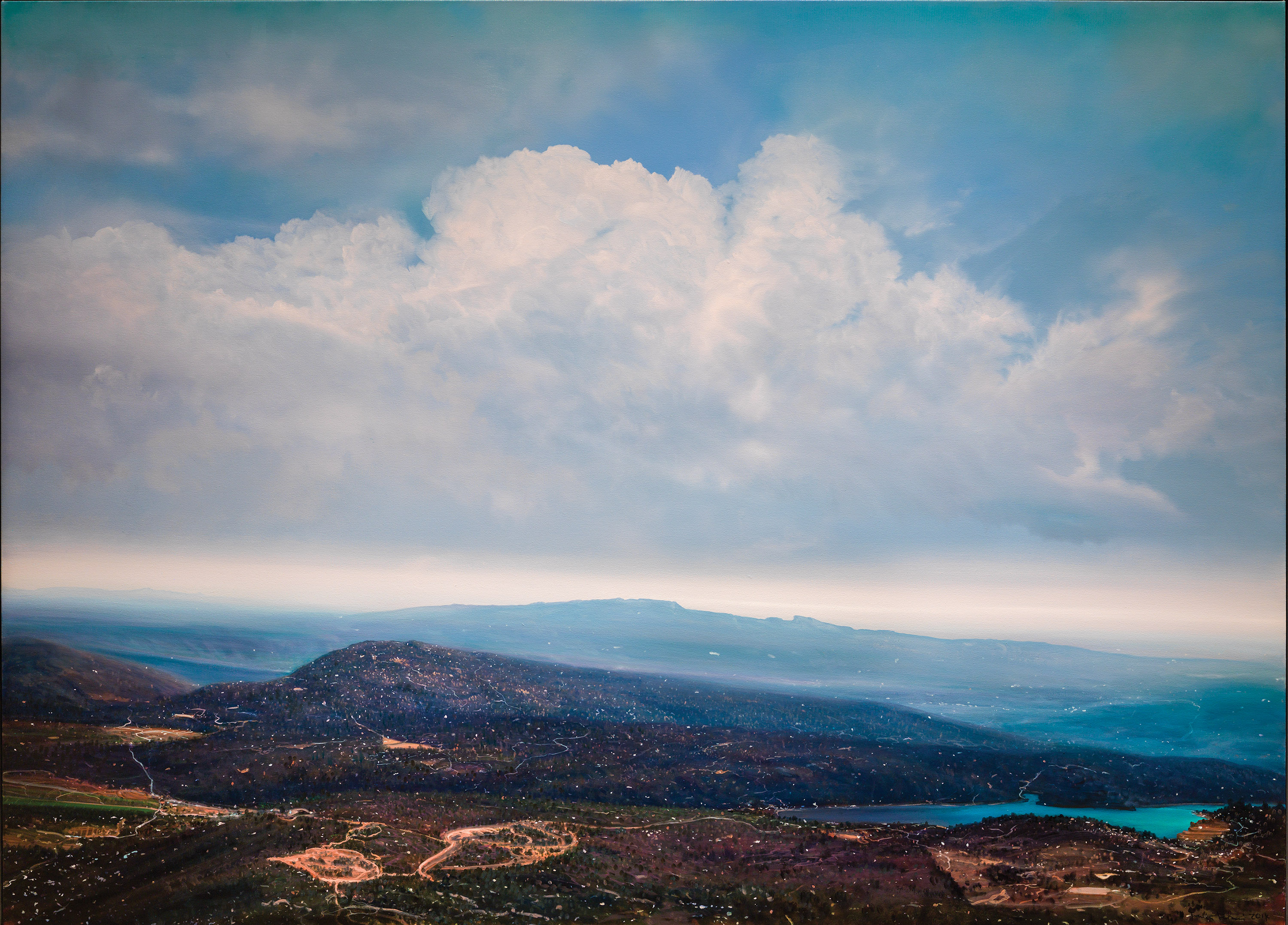 Still—even knowing they are imagined— the viewer is tempted to look for signs of reality. The glint of shimmering gold on one mountainside catches your eye. You wonder: are those lights of a house perched on the side of that cliff? Or maybe it's the sun glinting off granite slopes at sunset?
Then you approach the painting—wider than you are tall. As you draw near you see that the tiny gold threads have vanished. In their place are strips of dark paint, ridge-like, and they almost look sticky. The painterly detail becomes obvious and as stunning in its own way as the photo-like perfection was from afar.
Longtime Professor of Art Telfair herself echoes that dichotomy. From a distance she looks entirely the part of the New York artist: an articulate world traveler dressed in black boots, with blonde hair falling casually around her shoulders. She spends hours alone in a windowless studio, creating her art. One might wonder if she would be unapproachable, immersed in this created world.
But in the next moment, you see her glimpse a thesis student walking on Wesleyan's campus and—just like the gold threads in her painting, the image morphs into something entirely different. She nearly runs up to the young woman with unbridled enthusiasm. "I thought of an idea for my thesis," says Madeleine Chabot '15. "I did, too!" Telfair says. "What was it?" Chabot asks. "No, you first," the older woman says, making space for her protégé's fresh ideas.
So it is with Tula Telfair's art and maybe even her life: it looks stunning from a distance, but different and still spectacularly beautiful the closer you get.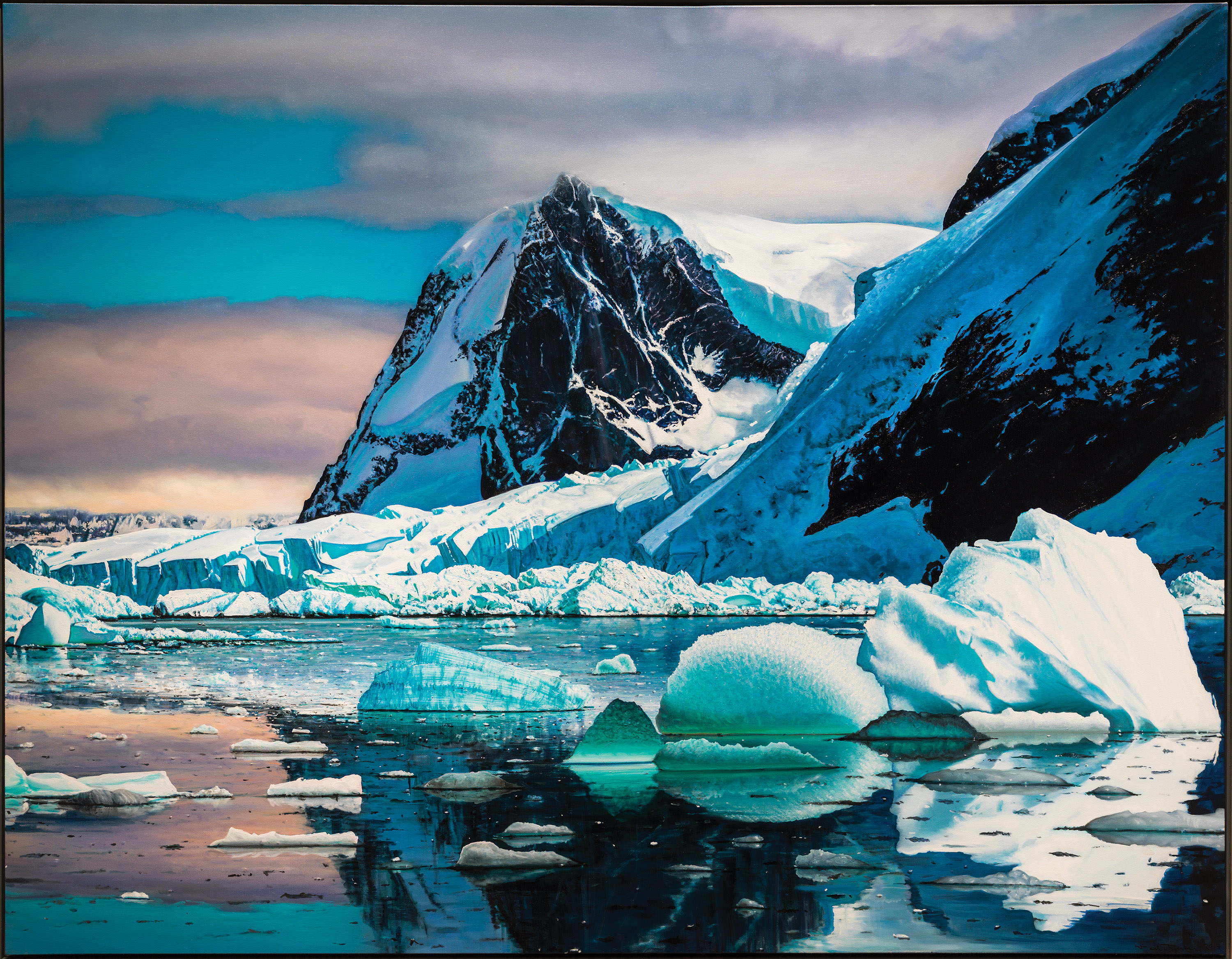 The fact that the world enjoys Telfair's landscapes at all is something of an accident. It was 1991 and she was already an exhibiting artist—enjoying commercial and critical success with paintings of industrial still lifes. Those works were, she says "figurative, narrative, and edgy." She had been painting landscapes all the while but had kept them a secret.
But, one day while Telfair was juggling her art and a newborn, her landscapes, these secret projects, were lying out to dry. She didn't have time to put them away before an art dealer dropped by her studio to pick up some work. The secret got out and has been gracing gallery walls ever since.
The inspiration for this work goes back nearly 50 years to her unusual childhood, spent largely in the remote rainforests of Gabon, a small country on the west-central coast of Africa. Her father was a geological mining engineer and explorer, and her memories of that time include living with gorillas, watching snakes slither through the house, and seeing the thundering waterfalls on the Ivindo River—featured in one of the few images in her current exhibition inspired by an actual location.
After graduating from high school, Telfair attended art school, with the intention of becoming a medical illustrator. A brief internship at a Veterans Administration hospital, where she provided graphics for an instructional manual for amputees—entirely stripped of any aesthetic sensuality—turned her away from that work toward painting and a style that is sensual, beautiful and lush, shimmering and glowing.
At Wesleyan, Telfair works alongside physicists and astronomers, economists and journalists. She serves on committees with intellectuals from different fields and gets to hear their reactions to her work in a way that a professor at a college of art never would.
In fact, Telfair's work—and her place at a liberal arts college, where students and faculty are curious about a range of subjects, has led to interesting collaborations.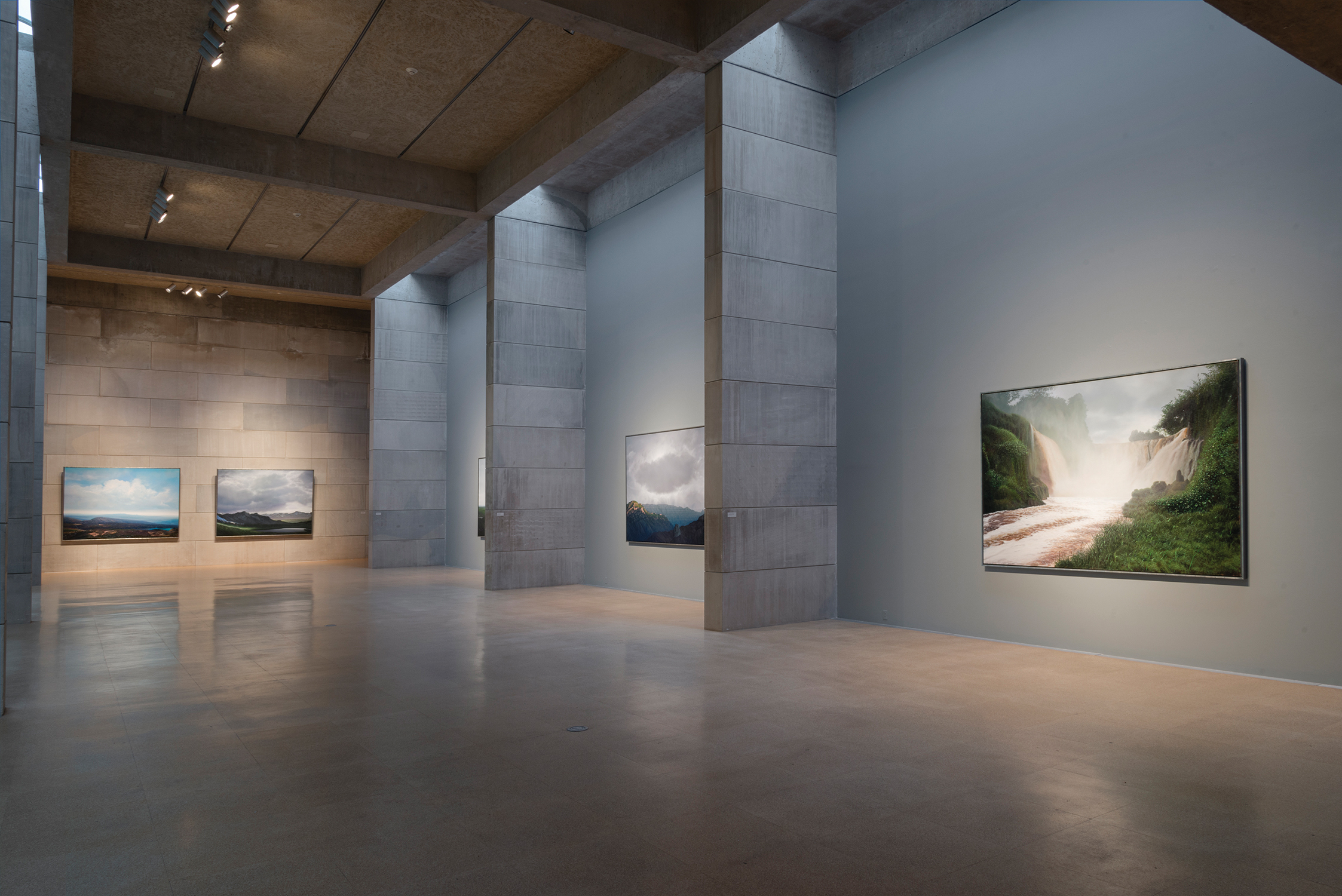 In September, shortly after her exhibit opened, the gallery hosted a panel discussion by Wesleyan scientists who first blogged about and then discussed their reactions to Telfair's work. Each professor's reactions were shaped by his or her own discipline, and the scientist, like others before them, pondered the relationship of Telfair's work to climate change.  Environmental Studies Professor Barry Chernoff noted that although Telfair's renditions show land that looks pristine, nearly untouched by humans, all landscapes are now sculpted in some way by human influence and we are all curators of the natural world.
Geologist Johan Varekamp spoke movingly about how Telfair's work reminded him of his own experience once, on a research expedition, being stranded in a desolate setting much like one depicted in her work. "The landscapes owned me," he said. "They have a force of their own."
Man's insignificance, relative to the powerful forces of nature, is a constant theme in Telfair's work. The scale of these paintings makes this apparent. Evident in all the works, it is particularly striking in the Antarctic landscapes, painted after a visit there on a sabbatical last December, and in the otherworldly red planet painting that drew many of the scientists' comments.
That small-person-in-a-big-world response is just what you experience from a distance, though. Up close, it's all about details. Each painting is made up of countless tiny brushstrokes. The images evolve in a fluid manner as Telfair revises them with glowing layers of glaze, which make the pieces appear to be lit from within. These details set her work apart.
Telfair's approach to teaching is unortho­dox—and even her biggest fans say the rigor can be brutal—but she succeeds in making painters out of students who persevere. The key is progressive practice on the fine details of technique, combined with conceptual rigor, prompting students to think and write about the questions they want to ask or answer with their work.
"Our students benefit in incalculable ways from having Tula on the faculty. She is a painter with the technical skills of a virtuoso," says President Michael Roth, who is both Telfair's colleague and her friend. "She insists on the capacity for precision. And she is also a painter of expansive, generous imagination—she inspires the students to develop their vision and then go beyond it."
In her campus studio, she thumbs through a stack of index cards with small self-portraits drawn by students on the first day of class. "They draw like young children," she says, not unkindly, as she points to a handful of the most crude among them. Then she flips through photos of student paintings on her computer showing the stunning progression those same students made from child-like sketches to ambitious and accomplished thesis-worthy paintings.
One of those students could have been Ben Weiner '03. "I think she gave me a B-minus in Painting 2, which sort of frustrated me," he remembers. But he persevered and worked through the summer on pieces for a thesis in painting. Telfair saw that he was serious and nurtured him forward to a career as an artist. "Tula has this very warm side where she will be the fiercest advocate for her students… . There is almost a cult of personality around Tula," Weiner says. "She is a strong figure in the lives of her students. It works well, though. She is a good person."
For Josh Weeks '03, the connection with Telfair has included karaoke nights and get-togethers for coffee. His career path hasn't been strictly art—he has worked in nonprofits, too, and is now looking for a way to combine those two passions. "One thing that is interesting about Tula is that she is uncompromising in her view that if you want a career in art, you should pursue it. That is not that common in the art world."
Whether her students are freshmen entering an introductory class or seniors working on a painting thesis, a required capstone project where each student works closely with Telfair to define a conceptual and technical focus, write a detailed proposal, and create a unique body of work, Telfair touches on the existential: "I advise students to consider the following question: If you could work in any style of your choosing, and be more technically proficient than anyone who has ever worked in that way, what would you make art about and how would you make it?"
The answers students come up with fill the walls of Telfair's home: a fascinating three-dimensional piece made of matches stacked side-by-side; several oversized photorealistic paintings of oil paint, detritus, furniture, and a stun grenade; a large diamond-shaped canvas made up of small geometric images repeated across the entire surface that collectively create an image of rippling water; paintings of minerals on aluminum; surreal images of floating dancing men in a Starbucks coffeehouse; an inverted double image of a famous painting; a painting of the interior of Versailles; and images of people looking at art in a museum. They are as radically different as the students who made them. What they have in common are meticulous technique and a fearless reach. "Look at their ambition!" Telfair exclaims. "This range of styles and ideas didn't exist at my college. Wesleyan students bring their broad academic and social interests into the studio, and that makes this possible."
Juliana Romano '04 was interested in art but chose not to go to art school. "Tula's rare through-and-through belief in painting is remarkable," Romano says. "She turns people into artists because she believes in it so much." Romano has gone on to graduate school and a career in both painting and teaching art, including a stint at Wesleyan.
By contrast, Henry Kiely '11 arrived at Wesleyan as a mathematician and a musician. Art was not even on his radar screen. But he had promised himself that he would try new things and dipped a toe into Telfair's painting classes. This November he opened his first art show at a gallery in Philadelphia. He points to Telfair's combination of support and high expectations as key to his shift in path. "The level of teaching and attention she is able to give to every student is absurd, truly absurd," he says.
The really remarkable part is that for many of her students that attention doesn't end at graduation. Telfair continues to mentor alumni, helping them network and build relationships in a Wesleyan-transplanted-to-New-York artists' colony. She hosts reunions for 20-plus years of graduates, invites them to gallery openings, and has them over for dinners she cooks at her homes in New York and Connecticut.
"I love people," Telfair says. "In addition to being analytical, I am sensitive to the needs of my students. I try to make their dreams come true, if I can."
To see what that looks like in action, one might drive down leafy Route 9 toward Long Island Sound. After winding your way along country roads, past Colonial-era houses and their old stone walls, you will arrive at Telfair's home on the Connecticut River, where the village of Essex is visible just across the water. It is an area that has long called to artists—the Florence Griswold Museum is nearby. Until last year, Telfair painted only in New York City, in her studio in the West Village.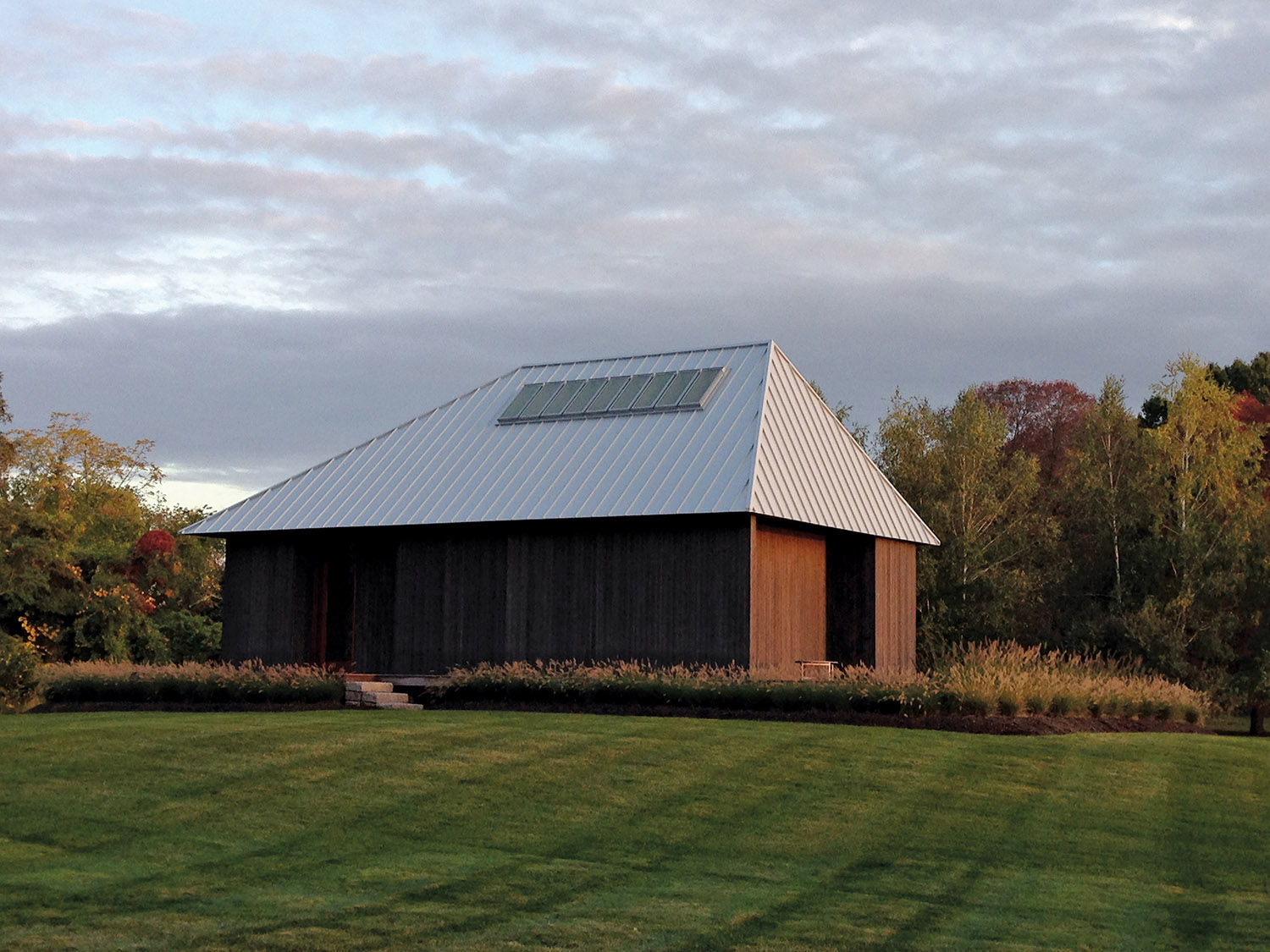 In the summer of 2011, while at dinner with a former thesis-student-turned-architect Nathan Rich '02, she asked him and his partner, Miriam Peterson, a one-time architecture teacher at Wesleyan, to work with her on a new studio.
The building is designed to echo Telfair's work—like a physical manifestation of one of her striking landscapes. Because the house is in a flood plain, it needed to be raised, and it sits, surrounded by a floating deck, 30 inches above the ground. The siding is dark-stained cedar, blending with the forest behind it. The roof is silvery metal and it simultaneously blends into and echoes the sky above.
The building has no traditional windows—at Telfair's insistence. The sole openings are two enormous glass and mahogany doors and 18 skylights. The doors are parallel to each other and on opposite sides of the building, visually piercing the solid exterior and highlighting the birch grove beyond. Families of deer wander in the field and wild turkeys occasionally strut across the deck. The studio itself is incredibly spare; the only furniture in the room is a four- by eight-foot table on wheels that holds dozens of tubes of paint and hundreds of brushes. This has been a busy year for Telfair. In just eight months, she started and completed all 11 pieces in the current exhibition in her new studio. This show will travel to two museums with additional pieces before heading to Forum Gallery in New York City.
"She has changed my life twice now," Rich says. "This was an amazing opportunity. It was the first major project our office has done and it is leading to all sorts of amazing projects. She really helped launch us."
In that studio, on a bookshelf, is a single black-and-white photograph of a gathering of art world luminaries from 1961, the year she was born. It was a birthday gift from her dear friend, former gallery dealer Rick Davidman '84. Obviously treasured, this photograph of a community of artists clearly serves as an inspiration.
Telfair has a similar photograph in the hard drive on her computer at Wesleyan. This one, in color, also shows a group of artists—Wesleyan grads, Tula disciples—gathered on a Long Island beach for a reunion she hosted. One can almost imagine that someday this print—this community of artists—could, itself, provide inspiration to some future artist.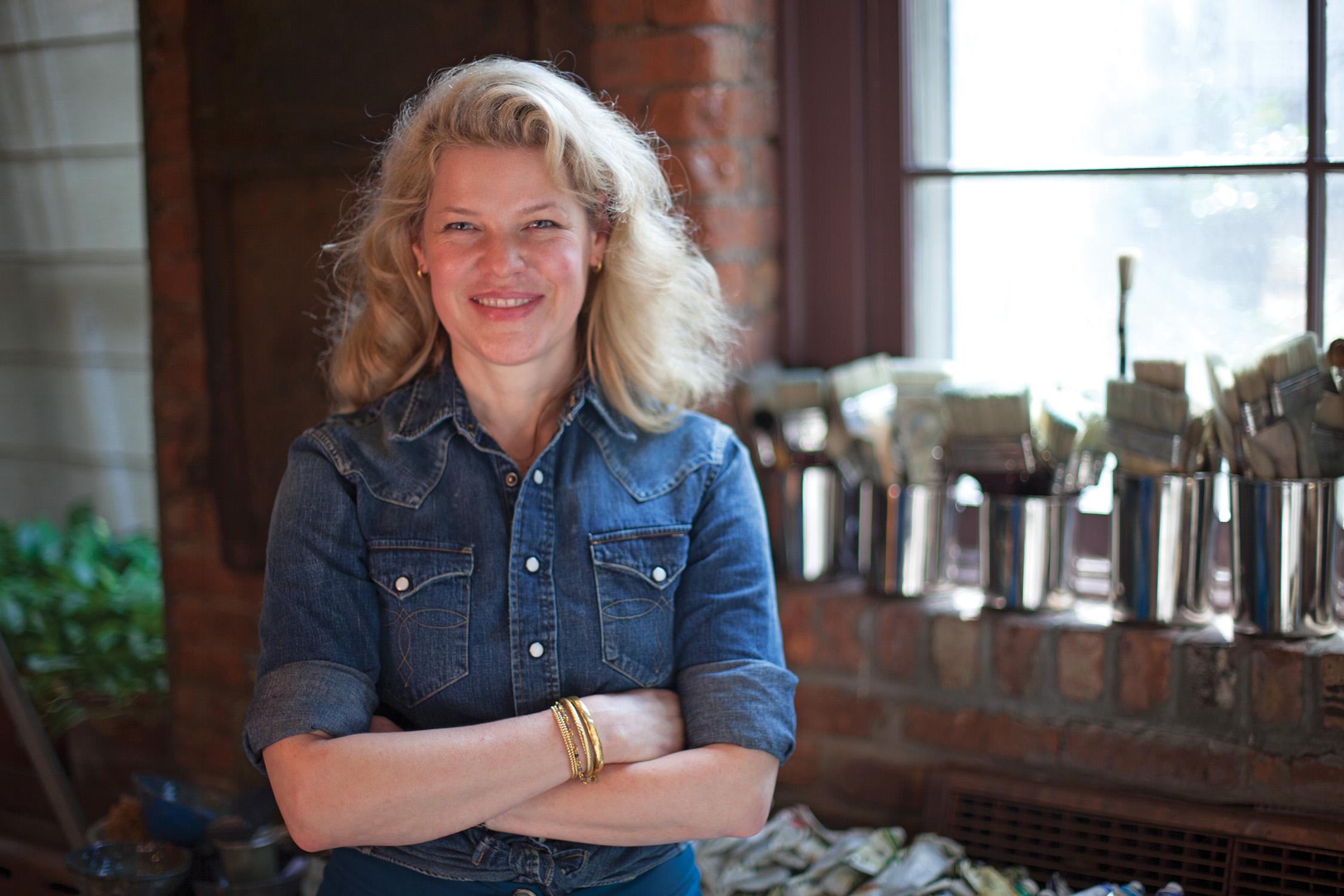 Christine Foster is a freelance writer who lives with her family in Durham, Conn.