A Lifeline for Local Journalism, by Gabriel Popkin '03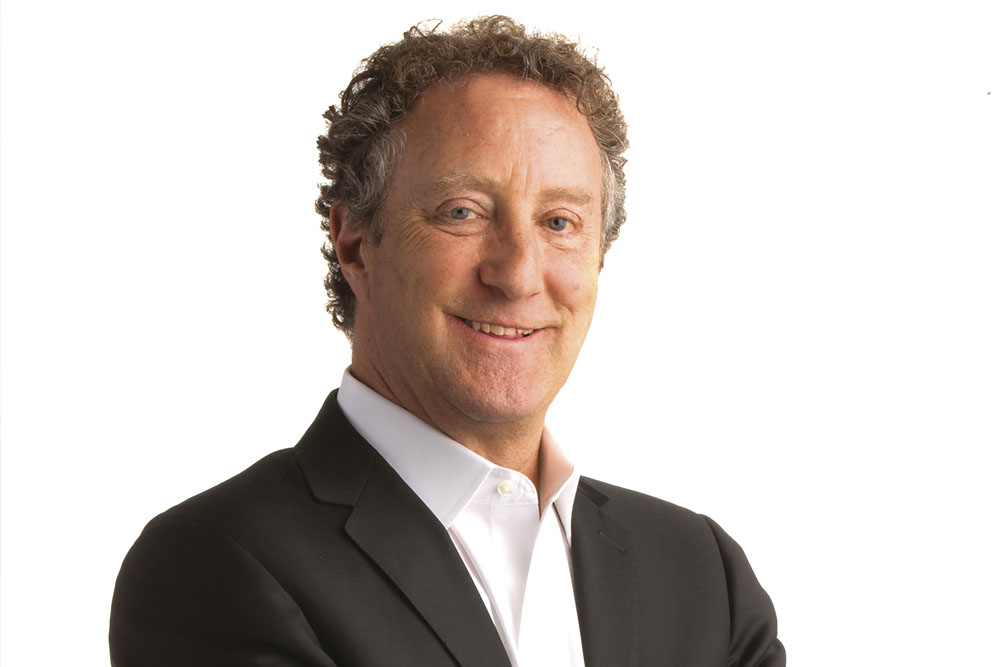 At the Lenfest Institute CEO Jim Friedlich '79, P'17 nurtures smaller newsrooms for the larger good of our democracy.
When I was growing up in Lexington, Kentucky, waaaaay back in the 1980s, there was no Facebook and no Twitter. There were no websites. Instead, there was the Lexington Herald-Leader. It arrived at our door every day, rubber-banded or plastic-bagged, bringing news about the world. Of course, people complained—the paper oversimplified! It sensationalized! It was run by conservatives! (Or liberals! Or idiots!) But we also felt that we had a stake in it. I had three letters to the editor published in the paper by the time I left for college. And I appeared in it at least twice for my chess-playing exploits. More significantly, the paper broke important local stories; for example, it exposed corruption within the prized University of Kentucky basketball team.
My parents no longer subscribe to their local paper. Neither do many of my friends. Neither, perhaps, do you. In small towns and big cities alike, newspapers have lost readers, advertising dollars, and staff. Many are shells of their former selves. Some have folded. Others are being bled by vampire owners with little commitment to journalism.
Jim Friedlich '79 is not a journalist. But he has watched local journalism's decline—partly due to outside forces, partly self-inflicted—with dismay. A society without a strong local press is poorer, less informed, and less able to recognize and correct its mistakes, he believes. "Local journalism is at the heart of democracy," he says. "It's the soul of journalism in America."
That's why in September 2016, when offered an opportunity to run the Philadelphia-based Lenfest Institute for Journalism, a one-of-a-kind nonprofit dedicated to reviving the local journalism industry through experimentation and innovation, Friedlich didn't have to think twice.
Then, less than two months later, Donald Trump was elected president in part by attacking the press. "Suddenly everyone woke up to the importance of protecting the First Amendment," Friedlich says. "My friends went from saying, 'That's nice; cool job,' to 'Thank God; please save us.'" By all accounts, he's well on his way to doing just that.
Jim Friedlich has a friendly demeanor and an easy smile, which may help explain how he's gracefully navigated a rough-and-tumble media industry for three decades. He grew up in Montclair, New Jersey, and came to Wesleyan by way of Dartmouth College in Hanover, New Hampshire, where he spent his first two undergraduate years. At Wesleyan he majored in English, and notes, with characteristic deadpan wit, that he can still speak fluent English.
Inspired to solve the energy crisis that rocked the country in the 1970s, he joined a team that was building a solar-powered house. He met his wife, Melissa Stern '80, at WESU, the campus radio station then housed in Clark Hall; their first date was spent reading the Saturday morning news on air. The combined experiences led him, in an unconventional way, into journalism: His first job was writing for an energy-related trade publication.
From there he went to Stanford for an MBA. During the summer between years of business school, he worked on The New York Times' first digital news site, at a time when publishers were just awakening to the internet's existence. It was a foreshadowing of things to come.
After graduation, Friedlich went to work on the business side of media, taking on the less glamorous, sometimes maligned but also essential task of ensuring that the dollars are there for reporters and editors to gather and publish news. After a stint in The Wall Street Journal's San Francisco bureau, he became publisher of the paper's European edition, which put him in the Brussels office when the Berlin Wall collapsed suddenly in 1989—a "once-in-a-lifetime" story, he says. He later expanded the paper's presence in Russia, Germany, China, and Latin America, and launched the journal's first digital edition, WSJ.com.
In 2001 Friedlich joined with Wesleyan classmate Strauss Zelnick '79 to launch an investment firm, ZelnickMedia (now ZM Capital). The firm acquired various media and entertainment properties, including some top-selling video games and TV shows. But Friedlich found he missed journalism. He missed the immediacy. The urgency. The sense of being in the thick of the societal conversation. So in 2011 he co-founded a new company, Empirical Media, to help news organizations adapt to a digital future. That company consulted for many of the country's top national and regional news organizations, from Bloomberg to The New York Times to The Dallas Morning News.
One of Friedlich's clients was the Philadelphia Media Network, which publishes, among other titles, The Philadelphia Inquirer. The storied newspaper—Pennsylvania's largest and the third-oldest surviving daily newspaper in the U.S.—had amassed 23 Pulitzer Prizes in a nearly two-century-long history. But like most of its peers, it was struggling—readership and revenue were down, hamstringing the paper in its ambition to aggressively cover one of America's biggest and most important cities. The future was looking grim until H.F. "Gerry" Lenfest, whose cable TV empire had made him a billionaire, bought the media network. In a unique move, Lenfest then put his new acquisition in trust and gifted it to a nonprofit, the Lenfest Institute, which he formed and endowed to both act as publisher and use the network's outlets as a living laboratory for reviving local journalism in the digital age.
Then, in September 2016, Lenfest bought Empirical and appointed Friedlich as his institute's chief executive, ahead of some 100 other candidates. "We concluded that Empirical is doing what we consider the work of the institute," Lenfest told Poynter, a publication that covers the journalism industry. [Ed. note: H.F. "Gerry" Lenfest died August 5, 2018. He was 88.]
Virtually everyone has a diagnosis of local journalism's ailments, and Friedlich's assessment aligns with that of many commentators. The collapsing price of advertising on the internet took away much of the revenue papers relied on, while online publication multiplied the number of competitors producing journalism, or at least something resembling it. "We're really in a Gutenberg moment—just after a major technological explosion—and we haven't figured out the full consequences of the internet and the access and reach that it gives anybody, anytime," says Alberto Ibargüen '66, former publisher of the Miami Herald and CEO of the Miami-based Knight Foundation.
Many papers came under the control of vulture-like owners who were more interested in wringing profits from dying corpses than in producing high-quality journalism. Newsrooms were cut and quality declined, feeding a vicious cycle of reader disengagement and shrinking revenues. It must also be admitted that papers, in the face of adversity, haven't always done themselves favors. At a time when retailers, entrepreneurs, and others were developing new digital-based services and revenue streams, publishers often clung to "print first" business models, which helps explain why many newspapers' websites look more 1998 than 2018.
Not surprisingly, given his background, Friedlich believes technology is not just the source of—but also the solution to—many of journalism's woes. He's added tech and software engineers, design thinkers, and media entrepreneurs to the team of Wall Street Journal veterans he has on the Lenfest staff; his board includes Hong Qu '99, a Wesleyan trustee and member of YouTube's founding team. And he's learning from other like-minded thinkers, such as Amazon CEO Jeff Bezos, who shocked the journalism world when he purchased The Washington Post in 2013. Bezos has since infused the paper with an innovative spirit less commonly associated with newspapers than with companies like his online mega-retailer. For example, the Post developed a new digital publishing platform, ARC, which has dramatically reduced the time it takes stories and videos to load on computers and mobile devices—a crucial performance metric in an era of split-second attention spans.
One of Friedlich's first grants at Lenfest went to helping the Inquirer license ARC. "Good artists borrow; great artists steal," Friedlich says. "We didn't see any reason why we could create better content management software than Jeff Bezos."
It was actually the second time Friedlich had approached the Post. The first time, the storied newspaper was uninterested in helping a competitor. But after Trump's election, such parochial concerns seemed petty compared to the threat of a president who has called the press "enemies of the American people," and the Post welcomed Friedlich's overtures. Friedlich, for his part, sees local papers as collaborators in the massive project that is reporting the news, engaging readers, and upholding democracy. "We'll partner with The Washington Post seven days a week," he says.
Friedlich sees new technologies as more than just tools for delivering content to readers, however. He's also working to make them part of the reporting process. In 2017, Lenfest partnered with the Knight Foundation and others to create a Community Listening and Engagement Fund that is helping 34 news organizations—from local outlets such as The Seattle Times and The Virginian-Pilot of Norfolk to national outlets such as Mother Jones and The Christian Science Monitor—license two software platforms. One allows readers to suggest and vote on which stories should be covered; the other helps reporters efficiently gather input and data via text message from members of the public while working on stories.
Friedlich has also embraced bedfellows that many in the legacy media world view warily. Among the many things the social media giant Facebook has been accused of is robbing journalism organizations of much of their remaining advertising revenue. Friedlich decided that rather than view Facebook solely as a threat to his industry, he would reach out and try to make the company a friend. It paid off. He got a $3 million grant to launch a "digital bootcamp" to help 14 news organizations sell digital subscriptions. Thanks to a finely tuned digital paywall, the Inquirer alone has converted tens of thousands of readers into paying subscribers, Friedlich says.
Technology is great, but it's only a means to an end. For a journalistic outlet, that end is publishing high-impact stories that reveal how the world works and hold powerful people and institutions accountable. Philadelphia, for example, has the highest poverty rate among the U.S.'s 10 most populous cities—a clear sign of entrenched injustices and inequalities that need to be brought to light. Newspapers such as the Inquirer have traditionally seen that as part of their job. But they have also sometimes faced competing pressures: Investigations are expensive and can ruffle feathers at businesses and other institutions that papers rely on for support.
As readers become more important than advertisers to newspapers' business models, however, Friedlich sees an opportunity to expand both the kinds of stories local news outlets write and whom they're writing for. In one of the Inquirer's first major investigations under the new ownership, Lenfest funded reporters to collect air and water samples for a series of stories about toxic lead and asbestos in Philadelphia's houses, schools, and drinking water. The paper has also beefed up its reporting on the experience of local immigrants and refugees in Philadelphia, a traditionally immigrant-friendly city, in the Trump era, through a series called "No Sanctuary," produced in collaboration with ProPublica.
Lenfest's grantmaking is now supercharging these efforts. A recent award funded a collaborative project called "Broke in Philly," through which 19 local news organizations will report on solutions to poverty and economic inequality in Philadelphia. Journalist Jean Friedman-Rudovsky '02 is the editor. Before Lenfest, she says, few funders would have supported a place-based initiative like this. "Sometimes it's really hard to get on [foundations'] radar with a local journalism project," says Friedman-Rudovsky. "Lenfest is doing something unique."
The institute has also created a Lenfest Journalism Fellowship aimed at increasing diversity in journalism—a goal far more often stated than achieved. This spring, six young journalists of color joined the Philadelphia Media Network through the program. Including the fellows, 14 of the last 22 reporters hired by the network are journalists of color and 16 are women, according to a recent article in Poynter. "We have made a very big commitment to diversity in the newsroom, and to the coverage and the audience that it generates," Friedlich says. "This city is highly diverse. Most big American newsrooms are not. We're trying, I think with some success, to balance that scale."
Colleagues applaud Friedlich's inquisitive, thoughtful approach to decision-making; commitment to teamwork and coalition building; and low-key, self-effacing style in an industry with its share of egos and prima donnas. "If you've met him, you know that this is a guy who is about as even and unflappable as you can get," says Ibargüen. "You really want that in somebody who is dealing with roller coasters."
Laura Walker '79, president and CEO of New York Public Radio, recalls that before Friedlich started at Lenfest, he peppered her with questions at a breakfast meeting about her nonprofit business model. She didn't understand why he was so curious, until she realized he was considering running a nonprofit for the first time, and he needed her expertise.
"He's a very insightful person," Walker says. "He has the ability to look at an ambiguous environment, like what we're facing now with great disruption in the newspaper industry, and to chart a clear path—and to bring a lot of people along with him."
For all the lofty goals about saving local journalism, Friedlich acknowledges that future generations of Wesleyan students may never know the experience of opening the door and picking up the morning paper. But if he succeeds, they will know the experience of living lives informed by a robust and meaningful local press. "We're not necessarily here to save the print newspaper," he says. "We're here to save local journalism and its value to democracy."