University Relations Debuts New Name, New Main Street Location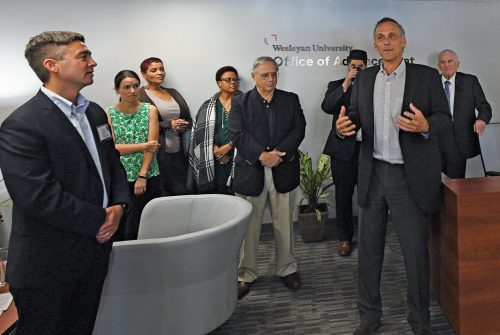 Wesleyan's Office of University Relations now has a new name and a new home.
Effective August 1, University Relations was renamed the Office of Advancement, which aligns with industry standards and reflects the evolution of the team's work as they refine their focus and prepare for a new campaign.
"Of course, the staff's commitment to the Wesleyan community and to engaging alumni, parents, and students in the life of the University remains unchanged," said Frantz Williams '99, vice president for advancement. "We're all excited for this new chapter."
Over the summer, Advancement staff relocated to 291 Main Street, the former Middletown Post Office building. Bringing together team members previously located in four different campus locations will facilitate collaboration and provide many opportunities for increased synergy.
Altogether, roughly 70 employees have moved to the new building. The Advancement team occupies the first and second floor of the renovated office space, while most of Wesleyan's Finance Office staff reside on the third floor. Financial Services—including payroll, purchasing and procurement, auxiliary operations, accounts payable, financial planning, grants, and the purchasing card office—are among the services that relocated to Main Street.
"I love our new finance space on the third floor and the connection and reunion with the Financial Services team," said Olga Bookas, director of purchasing. "I am grateful to be able to work and collaborate with my friends and co-workers. For me, it means a lot to be able to walk to colleagues' offices and ask a question and get a quick answer."
Wesleyan hosted an open house on September 18 for members of the campus and local communities. A welcome ceremony was led by Senior Vice President, Chief Administrative Officer, and Treasurer Andy Tanaka '00; Wesleyan President Michael Roth '78; Jennifer Alexander '88, Hon. '09, P'15, '16; Middletown Mayor Dan Drew; and Larry McHugh, president of the Middlesex County Chamber of Commerce. Brandi Hood, senior project planner, was honored for her efforts overseeing the building renovation.